Achieving web celeb status in a milieu as saturated as the fashion/home decor blogger sector isn't easy, but Aimee Song's done it with aplomb. The sartorial sensation maintains her day job of interior design, which lends an unexpected aesthetic layer to her use of colours, patterns, textures and shapes. Song's sought-after style has attracted many a follower—2.8 million of them on Instagram, to be precise. Here, Estée Stories caught up with the Internet it girl to dish on her favourite haunts for the coolest coif, horoscope-inspired manicures and a vegan venue for Mexican fare in her hometown of the City Of Angels.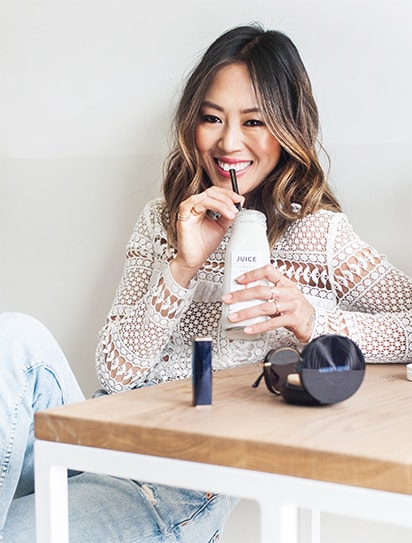 Ramirez Tran Salon
I asked Anh Co Tran to style my hair at the brilliant suggestion of Cherin, my colourist at the salon. I see Ahn every 3 or 4 months. The beautiful studio is not your typical, clichéd LA hair salon. I like Anh as a hairstylist, but also as a person—he really cares and understands my style, rather than simply changing it. He's great at enhancing what I really want. I also love how free and tousled my hair is because "too perfect" doesn't feel like me. I like anything that is comfortable but polished—I don't stick to one style. Sometimes I like boyish, sometimes feminine and girly. I mix and match and polish the look with tons of accessories. I had long hair for the longest time and was afraid to change it, but when Anh cut it short, it was one of the best beauty changes I've made.
8912 West Olympic Boulevard, Beverly Hills,
CA 90211; (310) 724-8167
Sometimes I like boyish, sometimes feminine and girly.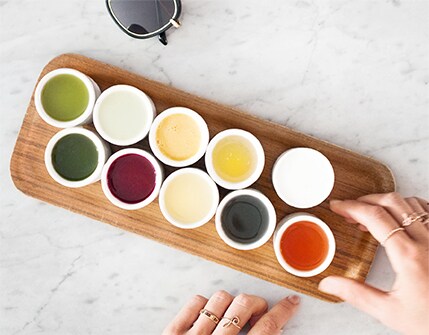 Juice Served Here
I discovered Juice Served Here going to the restaurant around the corner and just noticed the building. I initially was struck by the decor and bottle design, but once I tried the juices, I was hooked. Their coconut juice is my go-to order. Whenever I'm in LA, I'm always there.
8366 West 3rd Street Los Angeles, CA 90048; (323) 944-0409
Enamel Diction
My friend told me about a new nail place that also does astrology. I went in strictly for their amazing selection of nail polishes, but the space really appealed to me. Nail salons typically smell like chemicals and are too crowded, but I feel like I can relax at Enamel. Founders Mariana and Rosie are so fun and know all about astrology. If I can't decide on a lacquer, I'll go with whatever it says in the Sagittarius section. I brought Estée Lauder polishes for my last mani there. I went with Estée Lauder Pure Nail Lacquer in Empowered with an accent nail in Black Plum. I usually like soft neutrals like beige-nude tones, pink or light blue, but once a month I'll switch it up and do a fun nail-art effect.
5405 West Pico Boulevard, Los Angeles, CA 90019; (323) 900-0355
Once a month I'll switch it up and do a fun nail-art effect.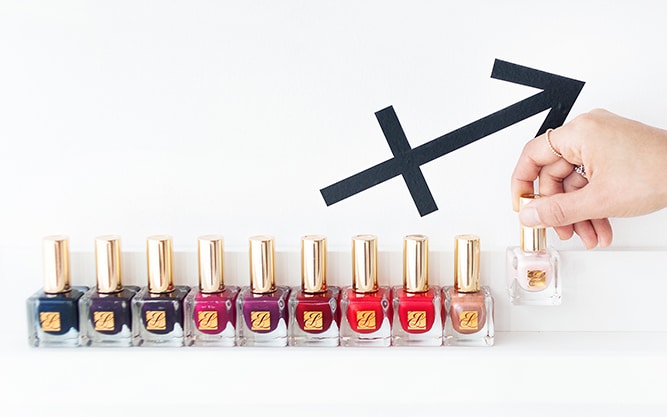 Gracias Madre
I love vegan food and the cauliflower taco is my absolute favorite thing to eat here. The homemade chips and guacamole and ginger ale are also must-haves. When Gracias Madre opened, a waitress from my other favourite vegan restaurant told me to check it out. It's near my home and I'm hooked.
8905 Melrose Avenue, West Hollywood, CA 90069; (323) 978-2170
Claudia Martin Studios
I really like the vibe of this Pilates studio. I also like that it's a small intimate studio. Claudia is very patient and soft-spoken. I go whenever I have time!
7603 Melrose Avenue, West Hollywood, CA 90046; (310) 430-8592