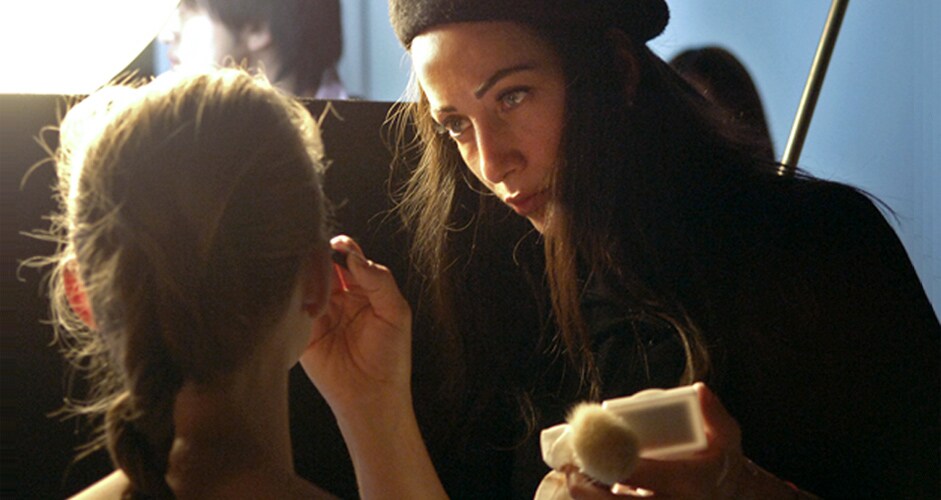 1
Add Oil For A Flawless Finish
Beautiful makeup begins with the skin—always. So, rather than use foundation, I use concealer mixed with a little bit of Bulgarian rose oil. I put a small bit of the oil on my forehand and, using a nylon fiber foundation brush, I pat the brush onto my stick concealer and then I touch it into the oil and do the whole face. I apply it in the direction of the hair follicles, and I always do the skin last because I don't like to have any makeup particles fall on top of it.
2
Multi-Task With A Mask
When I'm prepping the skin, I always put a face mask on ice, cutting the eye holes a bit bigger so the eyebrows are showing. Then, I'll put the mask on the face so it tightens the pores while I work! I'll start on the eyes with the mask still on so I'm hydrating the face— and so that any liner, shadow, or mascara that falls, falls on the face mask. This way, by the time the eyes are done, and the lashes are done, and the brows are done, I can start on the skin. Even if you can't do a full face mask, do an eye mask while you're doing your mascara. Nobody really gives themselves that time, and it's nice to prep your skin while you're doing something else.
3
Hightlight Your Way
To Better Brows
I like to use a neutral colour around the perimeter of the eye and under the brow bone. I use a nude pencil—not a white one, which looks really artificial—and I apply it to the arch of the brow, dragging it right below the brow bone. Then, I draw a little line above the brow to accentuate the arch, and a little line on the inner corner to open up the eye. Using a nude colour also makes it look like your wearing less makeup. It's like painting; you're adding light to the high points of the face.
Photo courtesy of Harumi Muraoka