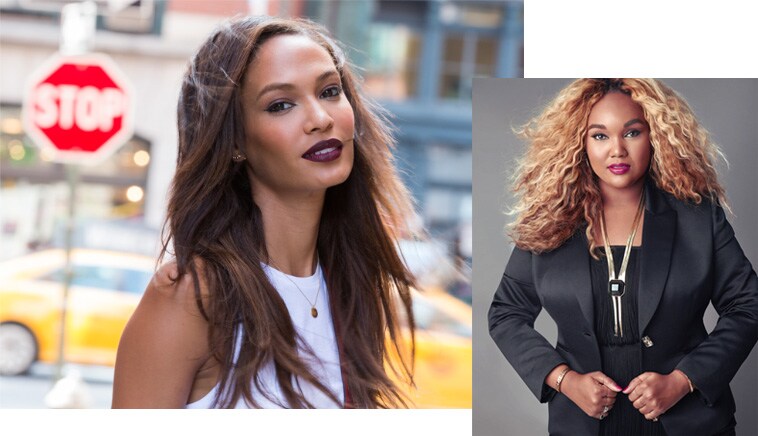 1
Start Strobing
Everyone wants to talk about strobing these days and I love the enthusiasm about the makeup trend! It's actually the same technique as highlighting, with a different name. Plus, you don't have to pair it with contouring. Strobing is about reflecting light off of the high planes of the face: the forehead, brow bone, bridge of the nose, cheekbones, inner corners of eyes and the chin. When strobing, I like to layer cream or liquid shimmer under powder to set the look. Liquid highlighter, like the Double Wear Brush-On Glow BB, is great because it mimics skin's texture. It's important to make sure your canvas—your skin—is hydrated, as sheen on top of dehydrated skin makes it look even drier. I like Revitalizing Supreme Global Anti-Aging Creme, which keeps the skin supple and looks luxuriously smooth while maintaining the moisture levels for hours. Shadewise, most versatile is a light champagne-hued highlighter. Creamy shades like peach or pink look good on light skin. Deeper skin tones look good in burnt orange or deeper gold luminescence. You want to keep the colours warm in tone. You can use a bronze on a deeper skin tone, but make sure it has the right amount of gold to it, so that it reflects light. You can even layer a champagne colour on top of your bronze to ensure iridescence.
I love that contouring is no longer a trend, it's a staple.
2
Keep Contouring
I love that contouring is no longer a trend, it's a staple. It goes with every look from smokey lids to berry lips. Think of those looks as your picture and your brow and contouring concepts as the frame. It helps you slim your face and look more polished. When contouring, you want to start with a cream formula like the one in the New Dimension Shape + Sculpt Face Kit. Cream formulas provide more coverage and dimension than you can achieve with powder alone. Use a contouring brush and apply the cream starting at the beginning of the cheekbone, near the ear. Then, follow along where the hollow of the cheek begins and sculpt that by shading softly. Apply powder bronzer in a matte finish on top of that to soften the finish. You always want to contour with something matte, as shimmer reflects the light. You want to absorb the light to create depth. Dab some cream highlighter along the highest part of the cheekbone to keep it from looking flat. Then buff it out with a brush, and set with loose powder if your skin is oily. You want your contour to look like higher cheekbones, i.e., believable, so use a lighter hand and a little less product.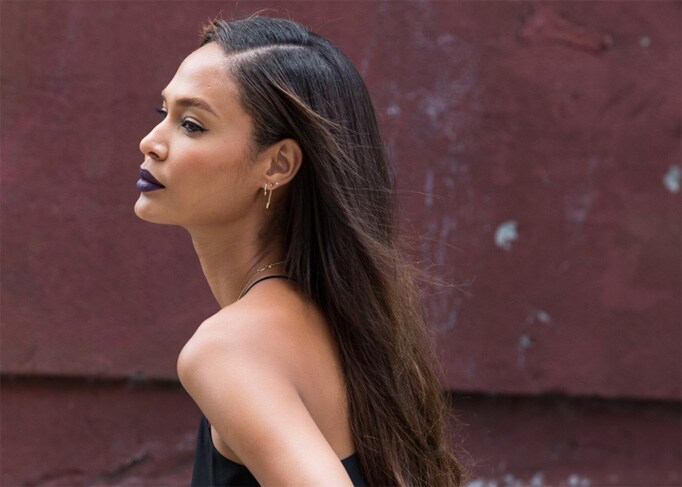 3
Stun With Statement Lips
I'm a total matte lipstick girl because it never goes out of style and is always appropriate, whatever the shade. I wear a classic red lip every day for a touch of glamour. With a little strobing, brushed brows and a red lip, you are instantly polished. For Fall, I'm loving a deeper, richer, more luxurious colour—a vamp or bordeaux tint like Pure Color Envy Matte Sculpting Lipstick in Commanding, produced in collaboration with Joan Smalls. It has the right amount of purple to keep it current, but deep and rich in that '90s way that's so on trend. Make sure your lips are hydrated and conditioned underneath the colour. I apply balm before I put on foundation, then blot lips after to take away the topical creaminess so lipstick glides on over the top of it and sets the hydration. Sometimes I'll even put powder on a puff and apply it to my lips to create a dry canvas before my matte lipstick application. Or, I'll do a watercolor-esque, sheer stain effect by using my ring finger to apply the lipstick and press it into the lips.