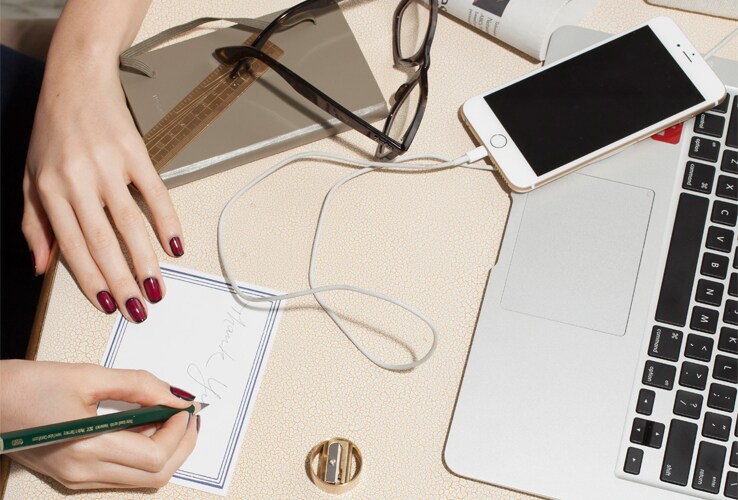 As the editor-in-chief of Yahoo!'s food platform and the co-founder and editorial director of her own biannual magazine, Cherry Bombe, Kerry Diamond has become a fixture in New York's growing female-led food scene. But her path to sweet-and-savoury success started in a rather unlikely place: the beauty industry. "I answered an ad in The New York Times for a job at Women's Wear Daily," Diamond recalls of her pre-LinkedIn days as an editor, first at the legendary trade publication, and then at Harper's Bazaar where she once traveled to Niagara with Estée Lauder to see its famous falls lit up pink for breast cancer awareness month.
I'm obsessed with all things digital.
But Diamond's career path took a distinctly different turn when, following a few high-powered jobs in public relations, she started dating chef Rob Newton. "He asked if I would like to open a restaurant with him, and I said yes," Diamond says of the simple enough conversation that led to the couple's first joint venture: a Southern-inspired eatery called Seersucker that opened in Brooklyn's Carroll Gardens'neighborhood in 2010. (The restaurant has since been re-branded as the similarly themed Wilma Jean). It was an overnight sensation, thanks in equal part to Newton's fan-favourite fried chicken—and Diamond's passion for the project, her marketing skills, and her impeccable taste, a hold-over from her days spent in the business of perfume and pigments. "The two mediums are very similar," she insists of food and beauty. "It all comes down to attention to detail—both the detail you notice and the detail you don't. Sometimes it's the details you don't notice that make the experience that much better."
Three restaurants and her own food magazine later, Diamond is clearly paying close attention to the details—with every dish she and Newton put on their menus; every page of copy she approves; and every blog post she writes. "I'm obsessed with all things digital," admits Diamond, who joined the talented team at Yahoo! last Fall. While she's responsible for overseeing all of the site's comestible content, the multi-talented brunette still has her favourites when it comes to food-centric Web destinations. Here, Diamond shares her top 10 URLs for D.I.Y recipes, culinary conversation, and a lot of inspiration.
"Izy, who is the brains behind this blog, is a high school student living in London. She's my favourite teenage overachiever. She also happens to have a terrific cookbook that just came out this fall."
"Sisters Laura and Danielle Kosann are the founders of this great website. They are chic, smart, hilarious, and two of my favourite gals in New York City. There's always something fun and entertaining on their site."
"This is a great blog to follow if you are trying to eat healthier—and who's not these days? Ella is one of those people who is beautiful inside and out. And her story of how she healed herself through food is very inspiring."
"This site is so much fun to look at. Lyndsay, the baker and blogger behind Coco Cake Land, is so talented and creative. I have a major sweet tooth so looking at these cakes online is a lot less dangerous than looking at them in person!"
"I adore Molly Yeh, the blogger behind this site. She's really charming and has put together an engaging blog with great recipes you really want to make. Plus, I love her story of how she left Brooklyn and wound up on a farm in North Dakota."
6. Manger
"Mimi Thorisson has the storybook existence that so many of us daydream about. She lives in southwest France with her husband, seven children, and 14 dogs, cooking the days away and exploring the region. She is also ridiculously gorgeous, as are the photographs on her blog."
7. Hipster Food
"If you are a vegan or vegan-aspiring, you will love Hipster Food, which is the blog from the couple behind Chickpea Magazine. If you're looking for great recipes or advice on having a less meat-centric diet, you'll enjoy reading this."
8. Orangette
"Molly Wizenberg has been blogging for a long time and continues to attract readers with her top notch writing. If you are a fan of her blog, you should read her most recent book Delancey. She tells the unvarnished story of opening a pizza restaurant with her husband in Seattle."
"This blog was founded by my friend Elettra Wiedemann and is a really fun read. Like so many of us, she wants to be a better cook but is time pressed, so her recipes are never overly complicated. I ran her two-ingredient pizza dough recipe on Yahoo! Food recently and it was so popular it almost shut down the Internet."
"Bethany Harper Walsh is one of the funniest bloggers out there. Dirty Filthy Healthy is all about eating clean but with a sense of humour—not a combination you always see in the blog world. If you love your avocado toast and homemade almond milk with a dash of irreverence, DFH is perfect for you."