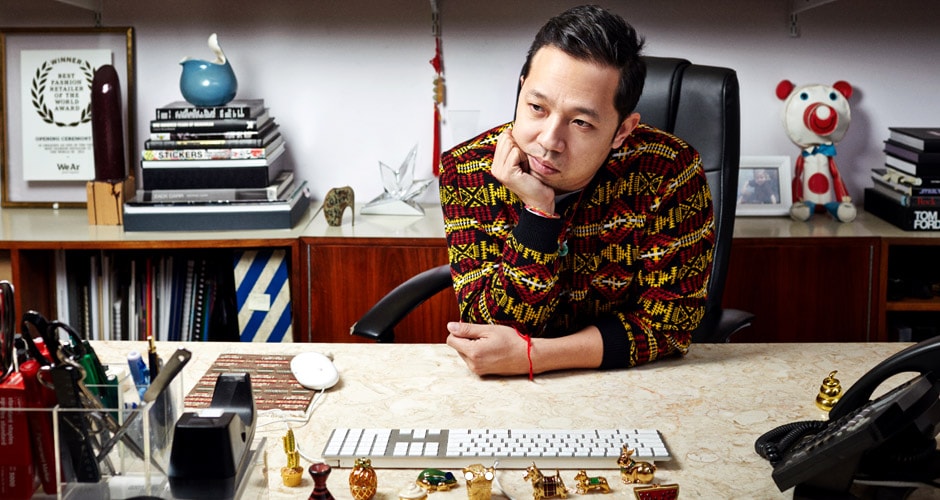 Estée Lauder first met Humberto Leon last year when we tapped the Opening Ceremony co-founder and Kenzo co-creative director—along with his partner, Carole Lim—to design a new wardrobe for our worldwide beauty advisors.
My pride and joy is probably the coffee cup—and the Chinese to-go box!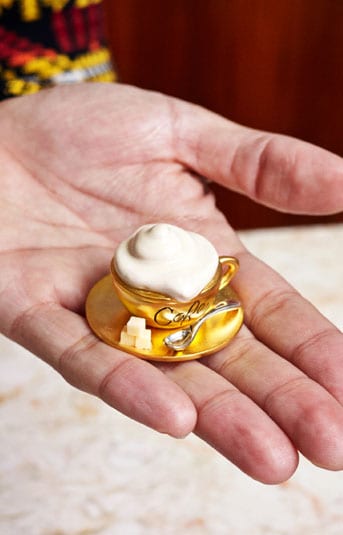 It was not the first time Leon met the brand, though. On his desk at Opening Ceremony's headquarters in lower Manhattan he points out 11 glittering baubles: solid perfume compacts from Estée Lauder.
"I got my first one in Palm Springs about ten years ago," the NYC-based California transplant explains. That was just the start: his collection now includes 25 of the sought-after sparklers.
Since Estée Lauder introduced the concept of limited-edition solid perfume and powder compacts in the 1960's, the program has inspired countless collections. Released once a year around the holidays, there are over 700 designs in circulation, from traditional cameos and art deco pieces, to the Youth-Dew Boutique Oval Compact that Estée herself created in her signature shade of pale blue. Leon has his eye on them all. "It's one of those things that I feel like once you begin, you can't really stop," he admits of his hunt for more scented treasures. "There are definitely some good ones out there that I don't have."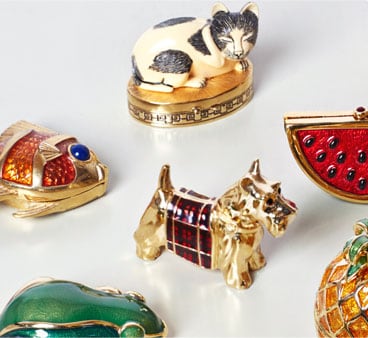 He's off to a pretty good start, though. "My pride and joy is probably the coffee cup—and the Chinese to-go box!" Leon reveals, pointing towards a tiny, gilded takeout box with a multi-colored bejeweled top that opens to reveal the solid, touch-on fragrance inside.
The intricate figurines contain Estée Lauder scents from Beautiful and White Linen to Knowing and Cinnabar, but Leon has never indulged in any of them—a deliberate decision he made to maintain the integrity and history of each compact. In some, the perfume is untouched, in some it was loved to the last drop. "I think, in many ways, it's cool that the solids are preserved to the original owners," he explains, motioning towards a gleaming, juicy Pineapple with a thumbprint in its centre.
Two newer pieces—Gemini and Scorpio powder compacts from a recent Zodiac series—haven't even been opened. "This one is supposed to be a gift for Chloë Sevigny, actually," Leon notes. The actress and downtown fashion fixture, who designs her own line of clothing for Opening Ceremony, has a glimmering trove of her own. "She collects the Estée Lauder powder compacts, and I do the solid fragrances," he reveals, without even a hint of collection envy. (Well, perhaps just a hint.)