Long Island-native Kate Gilman's road to becoming one of Manhattan's most buzzed about new florists started in something of an unlikely place. "I had just graduated from the University of Virginia Law School," the 27-year-old admits with a laugh. Having returned to New York to look for a job, Gilman found herself going to the Union Square farmers market. A lot. "It was there that this idea kind of just happened," she says of Petal by Pedal, her direct-to-consumer flower delivery service that launched this past Valentine's Day. Noticing that the flowers she bought from the farmers market, which were sourced from local growers, were lasting her longer than the blooms she purchased online, or at brick-and-mortar flower shops, Gilman started to think about the institution of buying bouquets—and how that system was ripe for disrupting.
Use your best judgment and mix it up!
"It's a really heartless experience when you buy flowers online, and a really
time-consuming expensive experience when you buy at a florist. Plus, you're getting these bouquets that are full of wrapping that you're throwing away, so it's not sustainable. Even the card is an afterthought," she points out. "So our idea was to distill flowers down to what they really are: a transmission of love, or thankfulness—and to keep that at its most simple." To do that, Gilman struck a deal with about five farms in Brooklyn and in Upstate New York to sell to her directly, so that she can offer her customers bouquets that are delivered the same day, or a day after the flowers are cut, wrapped in a single piece of twine, arranged in a reusable mason jar, and delivered via bicycle, which limits her carbon footprint while offering a superior, environmentally conscious product. Gilman's adorable typewritten notes that she prints on heavy card stock herself offer an additional point of difference.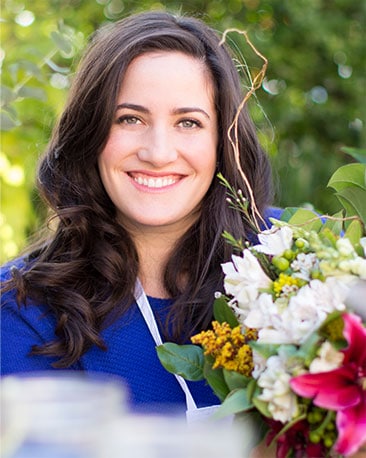 With an intuitive Web ordering process that lets you see what's fresh on any given week—and allows you to set a calendar for regular deliveries (a service Gilman says is particularly popular with men who want to be systematic with their flower gifting "but still appear thoughtful")—the Petal By Pedal protocol is easy and engaging. Gilman just expanded the experiential component of her brand with the launch of monthly flower arranging workshops. But in the name of holiday spirit, she's giving The Estée Edit a private master class on flower arranging.
Step 1: Buy In Bulk
When you buy flowers from the green market, you typically buy them in mono- chromatic bundles. Make sure to select flowers with a size and height differential to make for a better bouquet, and mix some greens into your purchase as well.
Step 2: Clean Your Stems
Once you get your flowers home, spend a little time cleaning them. First, give them a fresh cut at an angle because they've been sitting in the same bucket of water all day. Then strip off the leaves below the water line to prevent anything coloring the water and causing bacteria.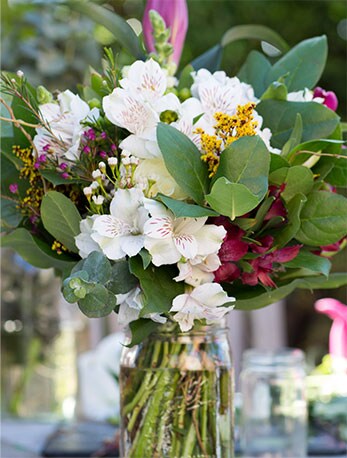 Step 3: Spread Out
Bunch your flowers by type and separate them out onto a table so you see what you're looking at, the same way you would with food ingredients if you were cooking.
Step 4: Pick Your Vessel
We use mason jars, but your flower receptacle could be anything—wine bottles, little votives, etc. This is a place where you should try to get creative!
Step 5: Pick Your Binding
We use a green twine that disappears in the bouquet, but rope, ribbons, or rubber bands will also work.
Step 6: Start Arranging
Some florists build their bouquets in the vase and use netting, or chicken wire to keep it in place, but we build our bouquets by hand using a "spiral stem technique:" As you're putting each flower into your hand, you're always turning it, which makes it easy to change things as you go so you don't have an immovable mass in the end. Use sturdier branches or stems first to build a stronger structure, then add in different blooms. There is a lot of thought about color placement with warm and cool tones, and how you should scatter them throughout a bouquet, but everyone has their own taste so use your best judgment and mix it up!
Step 7: Add Scents
We often commit to adding a certain scent to our bouquets, especially when the flowers we're using aren't particularly aromatic. We like using sage, which is incredibly fragrant but we make sure that we're not adding it to a flower that is already fragrant so it doesn't conflict. The other most predominant herb we incorporate is mint, but anything you use as a green can be taken up a notch.