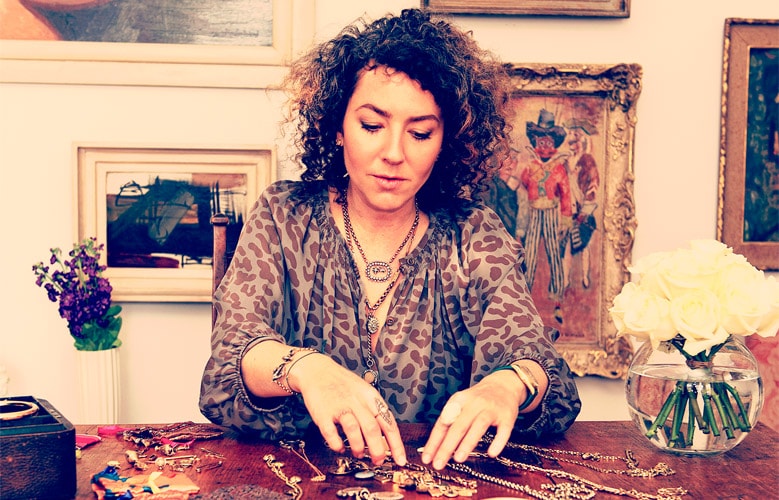 Estée Lauder's keen eye extended way beyond creating subtle washes of pastel pigments and vermillion lipsticks. When it came to properly accessorising her closet of custom Givenchy, Dior, and Ungaro frocks, the beauty entrepreneur's reserve of earrings, brooches, and the occasional tiara was nearly as legendary as her back-stock of blush and base notes.
British-based jewellery designer Annina Vogel is a similar collector of fineries. "I bought my first charm when I was 8 years old," reveals Vogel, whose popular necklaces and bracelets adorned with antique trinkets have catapulted her into the jewellery design elite. A television production alum who left her career in entertainment in 2008 after her mother, an antique dealer, passed away, Vogel found cathartic solace in stringing together keepsakes wrought with symbolism. "It was very therapeutic for me," she explains of sourcing rare, sentimental jewellery and repurposing it to create wearable stories with a modern twist. Elaborates Vogel, "[Charms] can inspire you and create good energy for something you want to happen in your life, or they can help commemorate an occasion."
The Oxfordshire-based artist gravitates mostly toward Victorian motifs—arrows, horseshoes, and rose-cut diamonds—that she reconfigures in 21st-century settings, a now-popular technique for which she was truly in the vanguard. But it is Vogel's singular outlook and deep passion for what she does that keeps her work ahead of the curve, and her personal bauble bounty to die for. That, the designer shares her tips for becoming a true collector, including the best way to source—and store—your miniature treasures.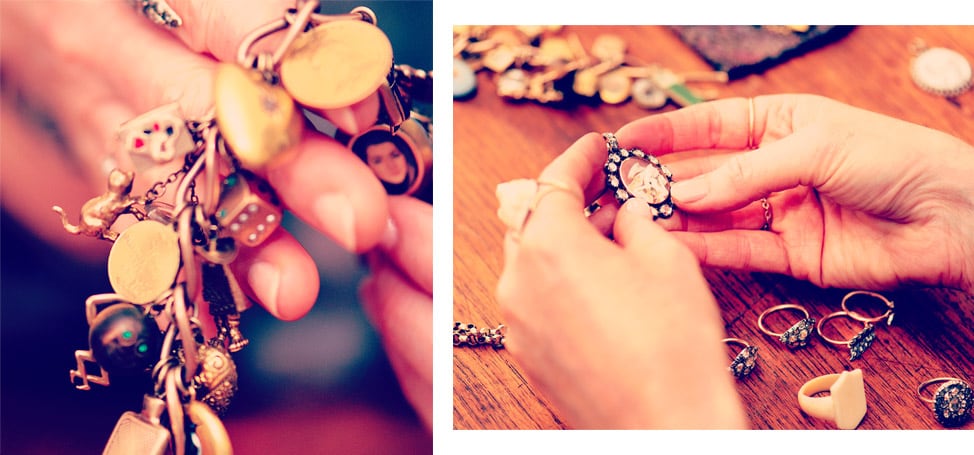 EL: How do you go about selecting the antique pieces you use in your designs?
AV: I always have my eye out for rare and unusual charms but symbolism is really big in my work, so anything having to do with love and luck really does it for me. I recently moved out of London to the countryside so I've become obsessed with pheasant charms, and hare charms, and stag charms, and little bird charms because I've become a birdwatcher. This is what's particularly meaningful to me now—and anything Victorian. It was very Victorian to use hair and teeth in jewellery so I have my dog Rosie's baby teeth and hair in a locket!
EL: In your decades of collecting antique jewellery, what is the most unique piece you've come across?
AV: There are so many! There is one thing, though, that I've kept and never made into something else. It's a bubble gum machine charm that's about 2" tall, and the glass bubble is filled with loose gemstones. It's too big and precious to put onto a charm bracelet but it's so amazing I've kept it in my personal collection.
EL: How do you typically decide what to keep in your personal collection, and what to sell?
AV: Well, what usually happens is I'll wear the stock for a while but then every 6 months or every few years, I have a cleanse. I don't wear my pieces forever—it feels greedy! There are a few things that I will never sell, though: my rose-cut diamond anchor bracelet, and my diamond dog lockets. I have two dogs now and four lockets! Those things are very precious to me.
EL: Do you collect anything else?
AV: I'm a huge collector of everything! Sterling silver dog-enameled matchbox cases. Pillboxes. Vintage kiln jars (which I displayed my charms in when we were first stocked in Liberty's so they looked like sweets). I collect shoes. I have a huge cashmere obsession. I also collect sterling silver Victorian picture frames because I studied photography at University. And 19th century dog art!
EL: How do you organise your jewelry?
AV: I have some beautiful Victorian jewelry boxes that I like to keep pieces in and for the items I wear everyday, I use a sterling silver, abalone-lined caviar dish and shell-shaped soap dishes. I also have a collection of Victorian trinket trays that I pluck things in at the end of the day.
EL: Do you have any tips for how to effectively mix the old with the new?
AV: Silver-set diamonds look really good with rose gold. And look for "breakers"— much bigger pieces, like a brooch that is so boring but has lots and lots of little settings, that could become little earrings and rings. Rather than melt those things down for the stone, I prefer to save the integrity of the diamonds and the form of the settings and simply display them in a different fashion.