In the dead of winter, in the southwest of France, a farmer becomes an explorer. Armed with a small shovel and accompanied by his trusty canine companion, he and his search party set out at sunrise. As the fog lifts and the light starts to break through the woods, the dog's heightened sense of smell leads his master to the base of oak and hazelnut trees, whose roots play host to one of nature's greatest prizes: the elusive Black Diamond Truffle.
Known for its exquisite flavour, incredibly short and unpredictable harvest, and high price tag, Estée Lauder has found another reason to covet this culinary rarity: its ability to renew the skin's natural age-fighting abilities. The discovery was key to the innovation behind our new Re-Nutriv Ultimate Diamond Sculpting/Refinishing Dual Infusion, which gives cells the energy to repair and defend themselves so they can live longer and act younger.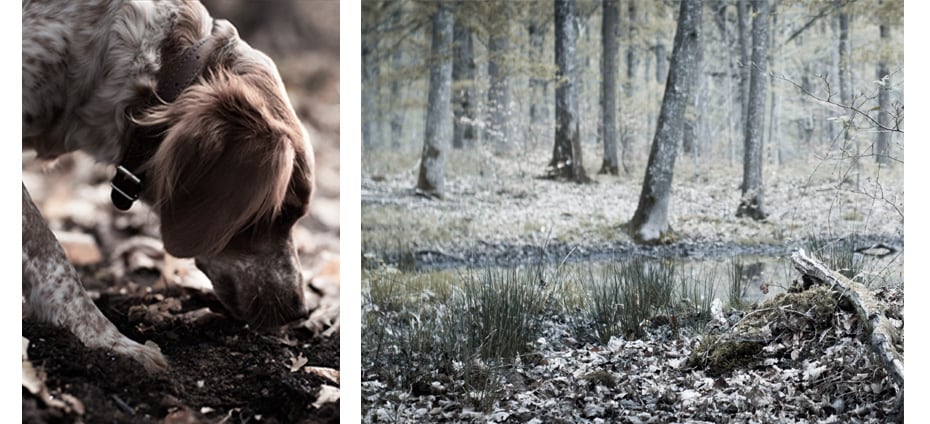 The soil-to-bottle process of securing this precious elixir in the product's golden vial — one of two, side-by-side chambers — is almost as difficult as unearthing the truffle itself. Finely ground, double-filtered and ultra-purified to preserve it maximum potency, it takes about 10-15 kilograms of the raw Black Diamond Truffle to yield just one kilogram of pure extract. True to Re-Nutriv's heritage of sparing no expense to source only the best ingredients from across the globe, the truffle essence is then paired with a supporting cast of equally effective actives: a blend of algae and bioferment maintain cellular integrity to help slow down the ageing process by controlling inflammation; peptides spiked with vitamin C promote the natural production of collagen and elastin to improve skin firmness, density and volume; and a calming infusion of 24K-gold soothes skin while preventing irritation for a more sculpted and contoured appearance.
The products's adjacent platinum vial provides a preserved environment for a blend of brown algae and South Sea pearls that gently resurface and retexturize the skin to minimise pores and boost radiance.
With a single pump, both vials combine for an unprecedented anti-ageing solution with a light, fresh floral scent that stays true to the eight words with which Estée Lauder launched her original Re-Nutriv cream in 1956: "Every woman wants a little luxury in life."