If you don't know Deepica Mutyala by name, you might know her via YouTube—her tutorial showing how to mask under eye circles using red lipstick (now with well over 9 million views and counting) sparked mayhem when it first debuted a year ago. Only the second video she'd ever made, and shot simply on her own iPhone, it turned out to be the beginning of a new career as a beauty vlogger and expert. And when The Today Show came calling, that was all the push she needed to quit her day job and strike out on her own.
Of course, this was all against the wishes of her father, who wanted his Texas-born daughter to become a doctor. Now, with 50,000+ YouTube subscribers, Deepica is developing a vision to build a global brand. Estée Stories caught up with her to find out just what inspired that career-defining video, her advice for taking risks, and, of course, the beauty of a classic red lip.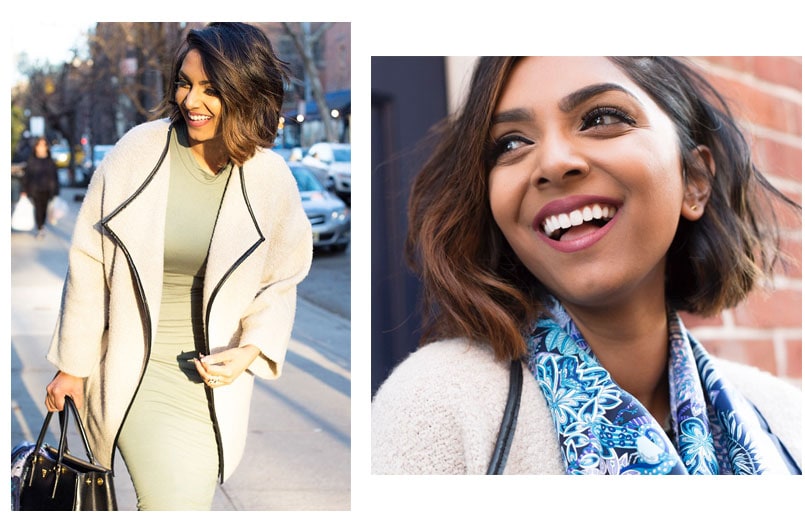 Talk to us about the video. What gave you the idea to conceal with lipstick?
I was having my makeup done by an artist who used an actual color corrector on me, and I remember freaking out thinking she was putting red lipstick on my face! She explained what it actually was, and then I wondered how it was any different from using a real red lipstick—so I went home and tried it out, and have been doing it ever since.
How did you feel when the video started to go viral? Were you shocked by the response?
Shocked is an understatement! I had just launched my YouTube channel a week before, and this was my second video that I shot on my iPhone. I was first just excited to see the video hit 10 thousand views—but before I knew it, it hit one million, two million, and now almost 10 million views! I would wake up and see my face on every major publication around the world...it was surreal.
You took a great leap in leaving a regular office job to build your own brand. What was the scariest part of doing that? And what has been the most exciting?
The day I got an email from The Today Show was the day I put in my two-week notice. I was looking for a sign to say I should make the leap, and that felt like it. I've approached all of my career decisions with the question, "What's the worst thing that could happen?" The scariest part was being on my own—I was used to having structure in my day, and that was gone. It required a new level of self-motivation I didn't know I had.
If you could describe your beauty style/aesthetic in one sentence, what would it be?
Be bold. It's my life and beauty motto.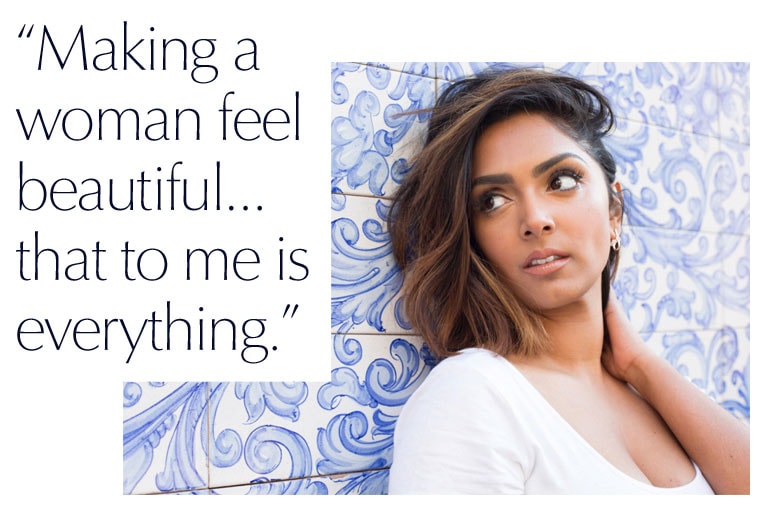 Talk us through the merits of a good bold lip.
It screams confidence. I love Estée Lauder Pure Color Envy Matte Sculpting Lipstick in Irrepressible, a gorgeous deep brick red. I love all shades of red lipstick, and usually opt for a cherry/crimson color, but something about this one feels elevated, very runway-chic, while maintaining the class of an iconic red lip. I also have a ton of pictures on Instagram wearing Pure Color Envy Lipsticks, because I'm obsessed! The past few seasons have been all about neutrals, glosses and nudes so I'm excited to have [color] back.
What was your first makeup obsession growing up?
My mom always wore red lipstick and I remember stealing hers and putting it on my cheeks. I guess I was always thinking about multi-tasking products, even then! I was that little girl whose idea of a fun Friday night was staying in and doing her friends' makeup. I lived for it and still do.
Do you have a first Estée Lauder memory?
My first-ever fragrance purchase was Estée Lauder Pleasures. It was the first floral fragrance I fell in love with.
Where do you get the inspiration for your tutorials? Do you feel pressure to be on the cutting edge?
The way I approach making my videos is to think about who my audience is. When I started on YouTube, there were already hundreds of [vloggers] who had established themselves with amazing makeup tutorials. What I want to do is simplify beauty for the everyday woman—for someone who has been intimidated by winged liner to realize it's not as scary as it seems, or someone who has shied away from a bold lip to realize she can rock whatever she wants. This is why I love beauty hacks, and I made it the core of my channel. Makeup should be fun, not overwhelming!
What is the one thing you love most about makeup?
The way it makes people feel. The most rewarding part of what I do is hearing someone who watched one of my tutorials say that I've helped their confidence. Making a woman feel beautiful...that to me is everything.
Photos by Erica Livoti / @ericalivoti.