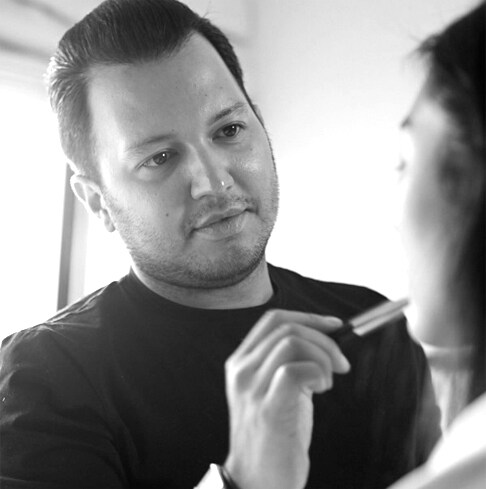 There are those who are simply good at doing makeup, and then there are true artists. Over the next few months, we'll be talking to four masters of the craft who have the honor of being called Estée Lauder Global Pro Makeup Artists. They have a literal hand in everything, from face chart how-tos to developing new products, and, of course, their work graces our most famous faces. Discover their stories and try their tips. Up first is Victor Henao.
What does makeup mean to you? What is the power of makeup?
Makeup is so much. It can be as straightforward as making someone feel good, or as powerful as making someone feel invincible. I love the responsibility we as makeup artists have to educate women. We meet so many women who see what makeup can do, but often underestimate its power. There is something to be said for taking the time to do your makeup and cherishing and taking care of yourself. It can be so transformative.
What made you want to be a makeup artist?
I had never picked up a makeup brush or a lipstick or anything until high school, when all my friends were going to junior prom. I started doing their makeup, and, sure enough, after two months of playing around with it, I knew I wanted to make it my job.
Were you always artistic growing up?
I've always played with art. I've been a painter. My first memory of childhood is in art class, and I've always been involved in the arts one way or another. When I was in tenth grade, my art teacher said, "You have to pick a concentration," and I remember picking women. Most of the subjects I sketched were women, and most of my photo subjects were women. Bizarrely enough, I think all of that led me to doing makeup, because I had studied women for so long.
What does it mean to you to work for Estée Lauder?
When I started working for the brand, it really was just a matter of survival. It was a matter of surviving in New York City as a freelance makeup artist and not knowing where my career was going to go.
Now, it's family. I'm not only incredibly lucky to sometimes get to work with the [Lauder] family, but there's a sense of comfort and community and family feeling within the brand itself. I don't know if that's normal in any other company. There's this feeling of embrace that people at the brand have. And it's such a big brand that I really get to learn every single day that I'm here, and to me, that is what life is about, just learning and getting to the next level.
There is something to be said for taking the time to do your makeup and cherishing and taking care of yourself.
Who do you see as the Estée Lauder woman?
It's somebody who loves good product, but who doesn't want to complicate it—she just wants to trust it. She's tech savvy. She's chic. She likes good taste. She has good taste.
What are your top 5 Estée Lauder products and why?
First is Double Wear Stay-in-Place Eye Pencil in Onyx, because there's nothing sexier than a black eyeliner. It just changes the vibe of the makeup.
Bronze Goddess Powder Bronzer. I love that it has yellow undertones, and I'm fond of women looking more golden versus red or orange.
Pure Color Envy Lipstick in Insatiable Ivory. I just asked for 20 more of this shade. I use it on every shoot.
Our Pure Color Envy Defining EyeShadow. I don't think people give them enough love. Some are matte and gorgeous, some are metallic and pigmented, but they're all rich and they're really beautiful.
And a personal favorite is Re-Nutriv Replenishing Comfort Creme. It makes skin look really radiant.
What is the most frequent makeup mistake you see women make?
I don't think women make mistakes.
Really?
Yes. I don't like to makeup shame anyone. I think it's something that's really important for women to understand that these "top five, ten mistakes women make," and it's on the cover of a magazine…it's like, at what point are we, as educators or as makeup artists, going to start talking about the fact that there are no mistakes?
It's kind of cool to wear your blush really high up, and it's kind of cool to wear a burgundy lipstick in the middle of summer. It's okay. If you don't want to use the apples of your cheeks as an index for your blush, that's fine, or if you don't want to be precise with your eyeliner, that's cool, too. All of it has a look and a feeling, and I think it's really important for women to embrace their personal style.