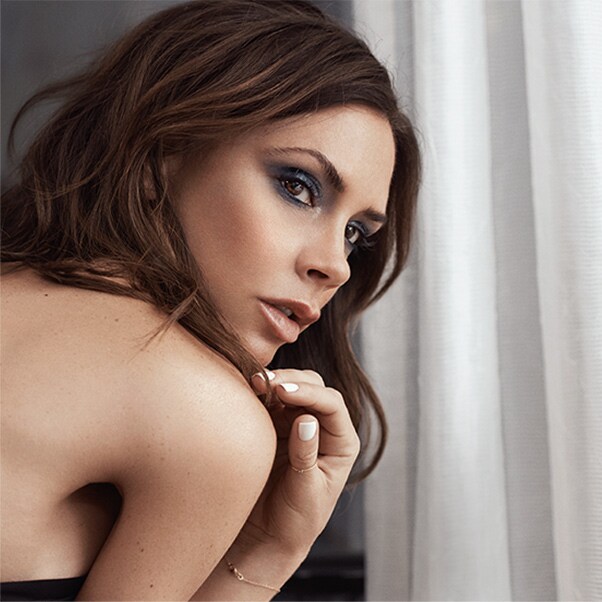 You may have heard a little something about Estée Lauder and Victoria Beckham lately. That's right, once pop star, established fashion designer, and now beauty collaborator Victoria Beckham has launched an exquisite limited-edition makeup collection with Estée Lauder. Dressed in one of her own designs at the collection's press preview in her Dover Street store in London's Mayfair neighborhood, Beckham spoke of her excitement: "This is a dream collaboration. I have always dreamed of having my own makeup line. I get goose bumps when I think about it!"
The attention to detail is phenomenal: from the radiance-inducing Morning Aura Illuminating Creme featuring micro-pearl pigments, to the Eye Foil eyeshadows that glisten with "just the right amount of glitter." There's also a Highlighter in Modern Mercury, inspired by a discontinued Estée Lauder product that Victoria loved so much she had to bring it back to life; and packaging inspired by the Estée Lauder archive. No stone has been left unturned in making this the ultimate makeup collection.
A very excited Estée Stories team sat down with Victoria to break it all down. Here's how to beautify like Beckham.
This collection wasn't about me. It was about celebrating Estée Lauder.
So, tell us, how did the collaboration come about?
Sarah [Creal, Estée Lauder's Lead on Global Partnership Initiatives] came to my house, and I had a dining room table full of makeup colours I had mixed myself, and things that I loved that have been discontinued, and we talked about the possibilities. As a woman who wears makeup and loves makeup, it's been a dream come true.
Is a makeup collection something you have always wanted to do?
Yes! I want to share what I know with women all around the world. I have worked with makeup artists since I was 18 years old. I have seen pictures of myself and learned what works and what doesn't. What we have here is truly me. It's tried and tested and, for me, it's perfect—we have created the perfect capsule.
Tell us more about how your favorite cities inspired the collection.
When I am in different places, I do tend to change how I dress and the makeup that I wear. I am from London, I love LA—I live there, I have offices and I show in New York, and then Paris—well, Paris is fashion! I want to make it simple and easy for the customer so she knows she can rely on me to get the full makeup look, and each look is 4-5 products max. I want her to know she can rely on me for everything—from the clothes to the makeup.
How would you describe each of the looks?
London is cool, edgy, rock and roll. It's very evening, but a little bit messed up and imperfect. She is a cool girl with dark eyes and a bit of glitter.
Paris is all about a matte sunset lip with a charred emerald winged eye. It's really modern and effortless.
New York is luminous, bronzed skin with a bright blue shadow, which is really vibrant. If you're going to do colour, let's do colour—if you're going to commit, then commit!
LA is glossy, bronzed, youthful and fresh, and everything that I love about LA. It's about creating a warm glow.
Miami is sultry hot and shot with vibrant local colour. Dewy flushed cheeks and warm bronzed skin, accented with rays of liquid gold light. Art Deco electric blue gives a jolt of cool.
What inspired the packaging?
I loved going into the Estée Lauder archive. This collection wasn't just about me. It was about celebrating Estée Lauder, and I chose a case from the '50s and put it in my signature blonde gold. You also get a feeling for my sense of humor and personality, as some of the packaging has the spots, which are in the window of the front of my shop. It's important to have a bit of fun. That is very signature to me and my brand.
What does your beauty regimen look like?
I start with Morning Aura Illuminating Creme, and then I will always wear some sort of a dark eye. I typically use a brown shade as the base and then black closer to the lashline. I always wear eyeliner and bit of bronzer—because living in London we need that—and you can use it to contour. Then I use a lighter lipstick or liner with a bit of lip balm or gloss over the top.
Photo by Lachlan Bailey.
The Victoria Beckham collection is no longer available.