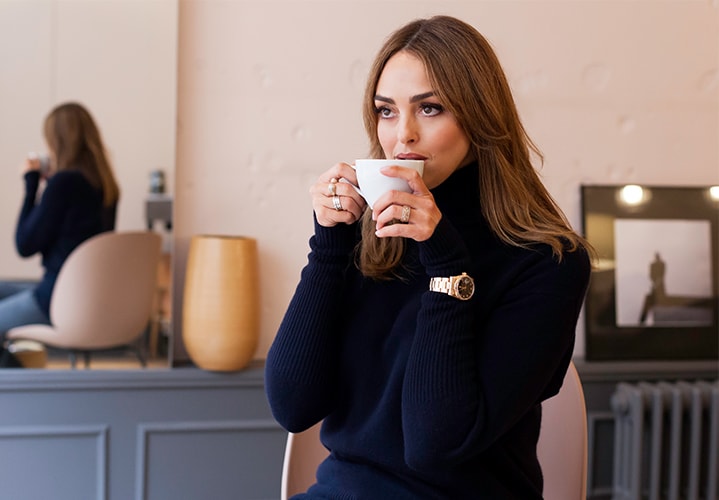 Check out the hashtag #AskAlex on Instagram and you will find over 3,000 entries, the majority of which belong to a certain London-based Beauty Editor, Alessandra Steinherr (or, Alex, as she is best known to her friends and followers). What started as an idea to interact with readers and followers quickly became a focal point for beauty aficionados wanting to 'ask Alex' all of their burning beauty questions. And that is the best part – ask Alex, and she will answer. She has made her Instagram account @AlessandraSteinherr the vessel for honest, genuine, real beauty advice – see all the questions (and her subsequent answer) and you will understand why: when she recommends a product, you know it's the real deal. Most known for her 'Sunday Facials' and for having skincare as one of her pillar passions, she has long documented her love of a certain little Lauder brown bottle.
"I think my relationship with Estée Lauder Advanced Night Repair is my longest standing relationship to date", Alex jokes whilst being filmed at her favourite London hangout, nail and blow-out bar, DryBy. "I remember first trying it when I was in my mid-20s and I can honestly say that I have never looked back". Citing this serum as the one product she keeps coming back to time and time again, she explains, "I love that it's a serum that promotes balanced, healthy skin - for life. I love the texture, the way it makes my skin say 'ahhhh', and that it has no potential for irritation or making skin greasy. My job involves trying out new products all the time and Advanced Night Repair is the one constant in my skincare routine."
Advanced Night Repair is the one constant in my skincare routine.
Now, Alex has joined forces with Estée Lauder to create a step-by-step video tutorial that you will see on counters nationwide for the month of January for the Advanced Night Repair Power Nap Facial (your 5-step routine to glowy skin dreaminess). But that's not all, watch our exclusive Estée Stories video, which follows Alex on a typical busy day in London with her trusty Advanced Night Repair sidekick on call ("it's like eight hours sleep in a bottle").
Here, Alex also shares her top tips on the myriad of ways she likes to use the serum. SPOILER ALERT: it's not just for night time.
In the morning, I use it all over. I put it everywhere even around my eyes as a primer to eyeshadow and over my lips before lipstick. It's not greasy and plumps everything up beautifully.


Smooth any excess into brows so they look glossy and nourished and if there is any more left over (a little goes a long way) work it into the back of your hands.


If my skin is feeling delicate or dry, I like to put a drop of it into my foundation. It makes it instantly more hydrating and dewy so that skin feels more fresh, youthful and plump.


I get this thing I like to call 'the 4 o'clock face', where everything feels dry and makeup starts to look tired. Because I am in my office environment and in winter, skin tends to dry out regardless of your skin type, I'll tap a few drops of Advanced Night Repair around the eyes and laughter lines to refresh concealer and foundation and smooth out any cakiness.


In the evening, the first thing I do when I get home is take all of my makeup off and put on comfy clothes. Taking my makeup off and slathering on some Advanced Night Repair signals it's the end of the day, and it's time to relax.


When applying a mask, I'll put some Advanced Night Repair on first, as it amplifies the hydration of face masks.


If I fake tan, I will 100% add a few drops into the fake tan and mix it in because it dilutes it and makes it more natural. This serum literally goes with everything!