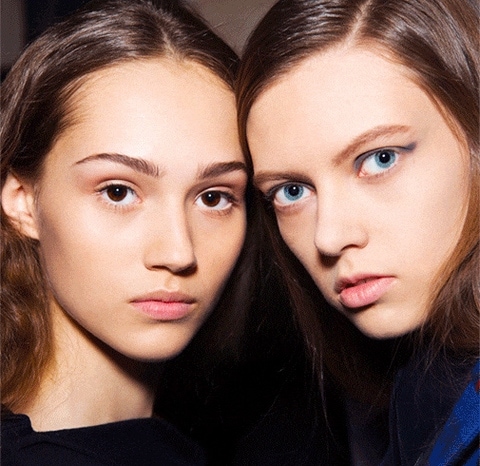 "It's all about beautiful skin," Victoria Beckham explains of the ethereal beauty look to complement her autumn/winter fashion show. "She looks smart, chic and sophisticated, confident, fresh and strong, but cool."
It's many descriptors, but each word does the look justice. Beckham's models lit up the runway with preternaturally glowing skin, which allowed the deep fall colors of her fashion collection to really shine. In addition to their luminescent complexions, some models showcased a soft, nearly suede-looking gray on their eyes, which Beckham described as the "fashion shade." This teased at products from a forthcoming second makeup collection, due in September.
But you don't have to wait until next season to get this gorgeous skin. Here's how to recreate the look now:
Step 1: Prep skin with Advanced Night Repair and Revitalizing Supreme+ Global Anti-Aging Cell Power Creme. Give yourself a face massage as you apply to reinvigorate skin and get the glow going.
Step 2: Mix Morning Aura Illuminating Creme with Double Wear Light Stay-in-Place Makeup to create an allover dewy finish. Blot lightly with a tissue after application to take weight out of the base and help the products look more like your natural skin.
Step 3: Dust on a pressed powder just where needed (typically oilier areas, like the T-zone) to keep the skin balanced.
Step 4: Apply Modern Mercury Highlighter to the high points of your face—tops of the cheekbones, bridge of the nose, inner corners of the eyes, and the Cupid's bow of your lips. Add an extra tap of Morning Aura on cheekbones for a truly lit-from-within effect.
Step 5: Line eyes with the Vanille shade of the Eye Kajal Duo to brighten and widen. Add mascara to the roots of the lashes only to subtly define.
Step 6: Complete the look with a rosy pink lipstick. Dab it on with your fingertips for a natural, imperfect finish.
Your favorites from the Victoria Beckham Estée Lauder collection are coming back soon! Click here to sign up to be notified when the products are back in stock.