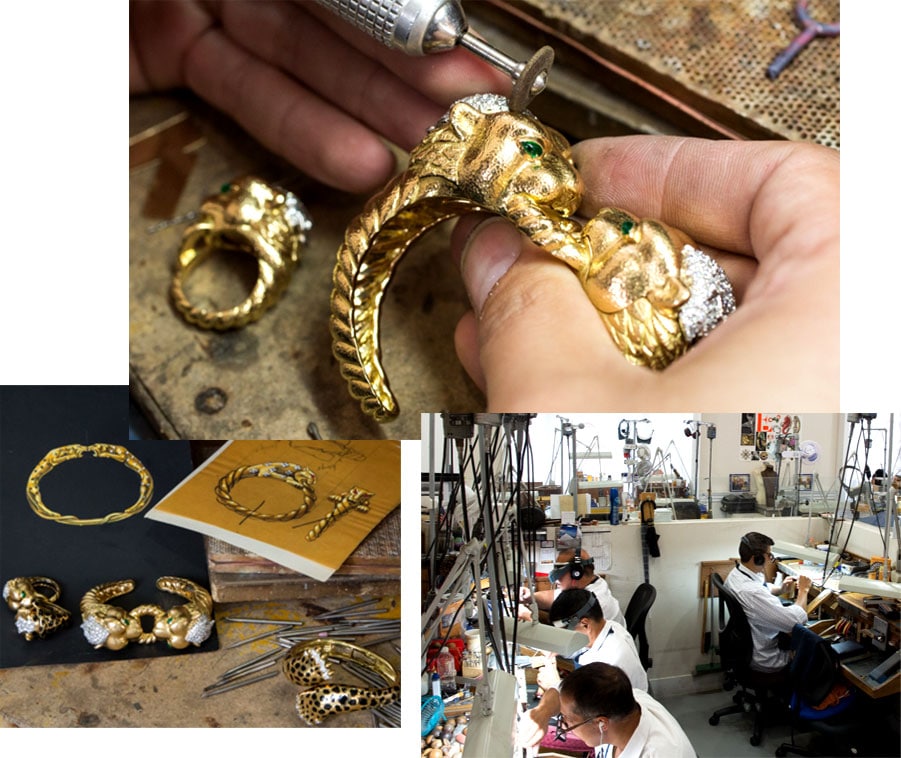 Inspired by the personal relationship between storied American entrepreneurs David Webb and Estée Lauder and their iconic companies, the storied jewellery house and beauty brand have collaborated on a stunning limited edition collection. Launching exclusively at select Neiman Marcus, Bergdorf Goodman and Saks Fifth Avenue locations, the two rings and two bracelets gleam in David Webb's popular feline motifs, and each cleverly conceals a touch-on version of Estée Lauder Modern Muse, the fragrance of sparkling florals and sensual woods.
In the '60s and '70s, Estée Lauder herself donned David Webb adornments. "Estée Lauder was a customer [of the jewellery house] during a formidable time in her company, as it grew into a great beauty-product entity," says David Webb co-owner Mark Emanuel. Both famed brands experienced a similar success trajectory: Estée Lauder in cosmetics, David Webb in jewellery. "Estée Lauder was a business magnate, with refined taste and known for her art collection and jewellery collection," Emanuel recalls. "She bought a number of David Webb pieces and wore them with pride, verve and style."
Just as the two brands have long been associated, fragrance and jewellery themselves boast an interconnected history. According to Emanuel, "it was not unusual in the 17th century to have pieces of jewellery double as perfume vessels." As both scent and jewellery have to do with the enhancement of female beauty, it's a perfect pairing. From ancient times right up to the present, there is something beautiful and noble about jewellery and fragrance: "They elegantly combine into the look, feel and scent of the modern woman.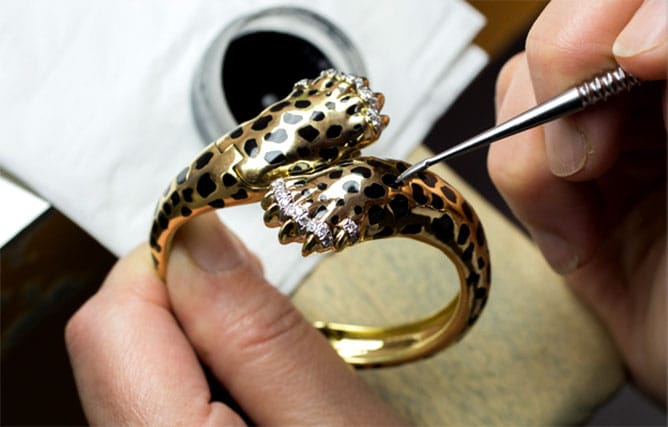 As for the leopard and lion forms, Emanuel adds that the cat style has been a strong motif throughout jewellery history. "The style speaks to strength, nobility and femininity. These are animal-world qualities that would theoretically be imparted to the wearer." The use of precious stones has to do with dressing a form with colour and with brilliance, much like you would dress a female body, he adds. "By subtly enhancing gold with diamonds and coloured stones, you achieve an additional effect."
The creative process for this project included a search through the David Webb archives, "pulling drawings that had not been exploited in our collection and coming up with something innovative," Emanuel explains. Everything the jewellery brand does is archive-based, so the house maintains renderings that are later transformed into elegant accessories. Working with the Estée Lauder creative team, the David Webb group created a number of drawings and narrowed down from there to arrive at the four-piece collection. It involved a lot of sketching and sculpting, rounds of refining the designs, even a bit of technology, when creating the placements and containers for the perfume. "Several months goes into making the jewellery itself," Emanuel shares. "The final result is timely and modern, but most importantly, an extension of the owner."