What do you love most about the holiday season?
I love the sense of family and tradition and the mix of generations coming together. When I was a little girl, we'd always spend the holidays in New York. My grandfather's birthday was Christmas Eve, so we'd celebrate at the 21 Club.
How do you keep it all organized while you're prepping for a party?
I make lists—the old fashioned to-do kind. I keep track of things like candy, flowers, the guest list, music. I play songs from the Vienna Boys' Choir, Bing Crosby and Frank Sinatra.
I'll wear a red lipstick or a sexy, wintry fragrance.
Talk to us about your holiday decor aesthetic.
I always decorate with fresh flowers. Last year, I went down to the flower market and incorporated red peonies, berries and holly into the decor. I decorated the table with bowls of ornaments and beautiful objects. I have several red and green tablecloths and rotate them depending on the year. I bring out these crazy, amazing Russian red plates with gold flowers on them that had belonged to my grandmother. Estée always taught me that tradition is about bringing varying elements onto your table from different generations. She used wonderful pieces that had belonged to people in her family and it's a great tradition that I've maintained. I've inherited some beautiful candlesticks and plates from her and I love to mix those with contemporary glasses and napkins with my initials, so it has this sense of tradition and storytelling.
Your grandmother was known for her incredible parties. What have you learned from her about throwing a bash?
Estée always talked about the importance of details. She printed gorgeous menus on handkerchiefs, which her guests would then take home as a gift. I don't do that, but I love to do menu cards. She decorated with flowers and would put bold, beautiful containers of nuts and candies on the table. Even before dessert came out, she'd have gorgeous objects and delicious sweets out.
Assigned seating or free-for-all?
I'm a fan of place cards. It's nice for people to sit down and know where they're seated. It's good to think about placement as well—people who might not know each other whom you think may get along.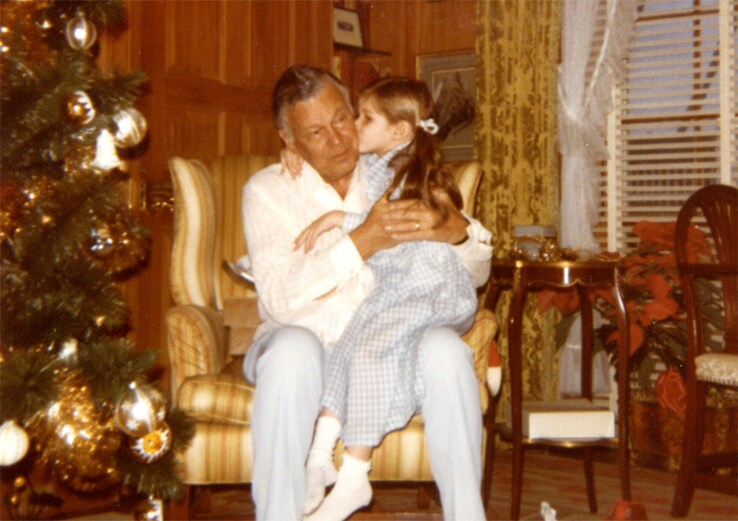 What's your centrepiece strategy?
One thing my mom always taught me: Keep the centrepiece low so people can talk over it. I like to use holly for centrepieces and if I have time, I like to make them myself. Last year, I combined holly with little red berries mixed in. It's casual, festive and fun.
What is your favourite holiday libation?
Champagne is always fun. I like to pair the flutes with cocktail napkins to bring in an element of surprise. I like printed ones featuring snowmen, sleds or reindeer. Those put a smile on your face.
What do you like to wear when you're hosting?
Holidays are about ornate, decorative style, whether it's for your table, your home or yourself. I like embellished smoking slippers because they're flat and comfortable, but festive. I'll bring out pretty pieces of jewellery. I'll wear a red lipstick or a sexy, wintry fragrance, like Aerin Evening Rose which features cognac for a cozy, warm appeal.
Champagne is always fun.
What are some of your favourite holiday hair looks?
I tend to be pretty consistent with my hair, but I do like the abundance of bows this season. I can see myself attending parties this year wearing a velvet version. I wore a lot of them as a child and there's something really modern and fresh about wearing a big, fabulous velvet bow.
What have you learned about entertaining from your travels?
I learned to incorporate the element of the unexpected. There's something wonderful about the ease of entertaining and bringing in different finds from different places and generations—for example, mixing gingham with gold and beautiful flowers. You see a lot of inspired mixing and matching overseas.
What's your favorite way to relax once the guests have left?
After everyone leaves, I'll probably enjoy another glass of champagne. And a Christmas cookie.