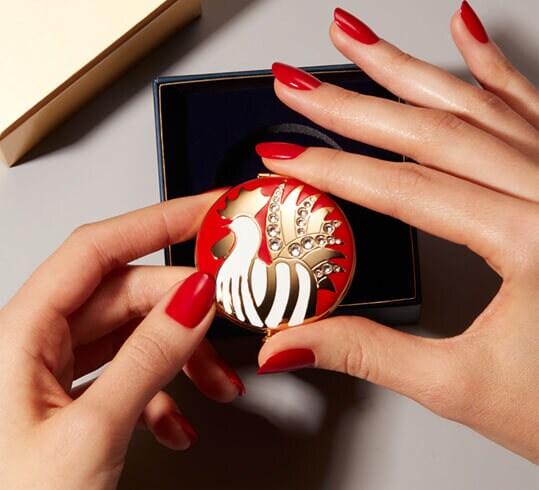 If you're already lapsing on your New Year's resolutions, consider this a fresh start: the Lunar New Year is marked by the lunisolar Chinese calendar, so you get a second chance to set yourself up for success in the year ahead. This year celebrates the Year of the Rooster, and according to Chinese tradition, those who were born in this year are characterized as honest, talented and ambitious with a strong work ethic.
So what better way to treat yourself (Rooster-born or not), than with a stunning collectible compact dedicated to this special zodiac sign? Available at select retailers, it's part of our exclusive collection designed by Monica Rich Kosann, and each compact features unique elements that capture your personal moments, beliefs and inspirations—your own story. Inside is our Perfecting Pressed Powder, which gives skin a soft-focus, luminous finish. And while it's true that what's most important is what's on the inside, this compact is definitely something you'll want to show off for its good looks.
You can also keep the celebration going with our limited edition Advanced Night Repair in a red metallic bottle. So festive and stunning, you'll want to show it off on your bathroom countertop all Rooster-year long.