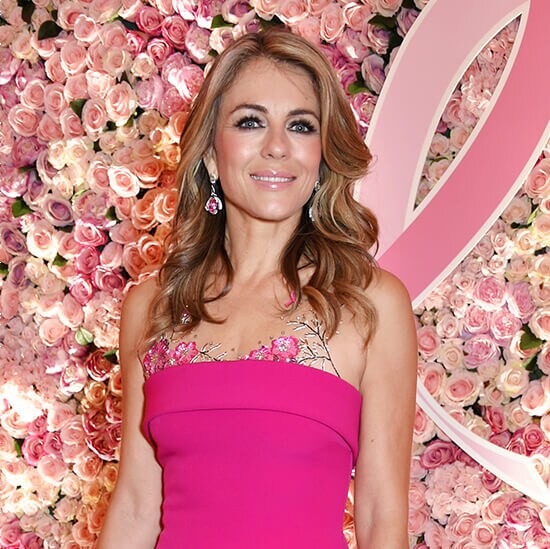 You've long known Elizabeth Hurley as a model, actress and face associated with the Estée Lauder brand. But did you know she is also a tireless advocate for breast cancer awareness and a champion of petitioning resources to fight against the disease? Here, she shares some of her most special memories as an ambassador of The Breast Cancer Campaign.
You've been an ambassador of The Breast Cancer Campaign for more than 20 years. What has this meant to you?
Being the Global Ambassador for The Estée Lauder Companies' Breast Cancer Campaign has been the most meaningful work of my career. Knowing that we can truly make a difference in the lives of those with breast cancer, and also raise funds to bring us closer to a cure, is something I am so passionate about advocating for.
How has breast cancer touched or affected your life personally?
I lost my grandmother to breast cancer during a time when women were afraid to speak openly about it. We didn't even know she had breast cancer until it had progressed. It always saddens me to think that she kept this secret from even her family. She passed away from the disease just around the time I started as a model for Estée Lauder. Shortly after, Evelyn Lauder [Estée's daughter-in-law] asked me if I wanted to get involved with The Breast Cancer Campaign she had recently started, and I knew that I wanted to honour my grandmother and help bring breast cancer to the forefront as a public health issue.
I think it's important to honour each individual who may be in this fight. Evelyn always said it was never something that could be done by one person—it has to be done by a group.
What are some of the changes you've witnessed, either in the fight against breast cancer, or in the conversation around it, over the past two decades?
When we first started our work, people weren't talking about breast cancer. It wasn't covered in magazines or on breakfast TV shows. Now it commands the attention it deserves on front page headlines and in global heath forums. I'm so proud of how far we've progressed in the entire breast cancer movement, and that has led to early detection, major advances in research and treatment, and better chances of survival. We do know, however, that there are still parts of the world where breast cancer is not spoken about openly and comfortably and that still needs to change.
What are some of the biggest challenges you continue to face?
Tremendous progress has been made in the fight against breast cancer but we know that the work is not done. There is still no cure. Breast cancer is the most common cancer in women worldwide and one in eight women will develop invasive breast cancer in her lifetime. We must continue to support research to put an end to this disease so women and men around the world stop being impacted by it.
What has been your most memorable experience as an ambassador?
As the Campaign's Global Ambassador, I've had the honour of travelling the world to spread important messages about breast health and the need to fund research through organisations like the Breast Cancer Research Foundation® to bring us closer to a cure. My most memorable experiences have really been about the people I've met and the stories they've shared—whether it be about their own diagnosis, a loved one battling the disease, sharing that they got a mammogram after hearing me talk about the importance of screening—those are the moments that have left such a lasting impression on me. That is what makes this work that we do have such great meaning.
Where have you travelled with The Campaign? Do you have a favourite city or landmark that you've illuminated?
I've been fortunate enough to travel to so many places for The Campaign, many of which were with Evelyn, and we used to have the best time together! Of course I always love to return to New York City each October, and I will never forget when Evelyn and I illuminated the Empire State Building in pink to receive the Guinness World Record for most landmarks illuminated for a cause in 24 hours in 2010—that was just an incredible moment of global attention for the cause! I've also been to India, South Africa, China, Canada, France, Italy, Spain (all over Europe), and of course the US, to educate people and raise funds.
Can you talk about the people you've met as a Global Ambassador? What has been most inspiring to you?
I've met so many people over the years who have either personally been touched by breast cancer, know someone who was, or is working to make a difference and bring this disease to an end—each has a unique story. I'm inspired by them all and I think it's important to honor each individual who may be in this fight. Evelyn always said it was never something that could be done by one person, it has to be done by a group, and that vision continues to inspire me today in our mission of creating a breast cancer-free world.