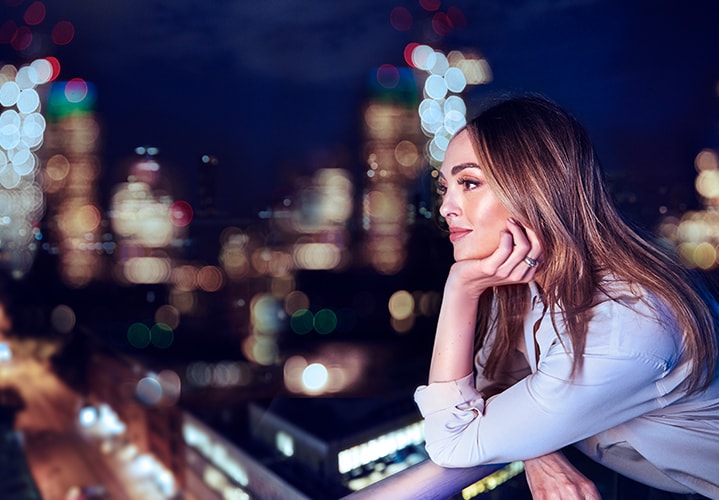 Eye creams. The unsung heroes in our beauty cabinets that perhaps one of those products that we don't start using until we feel like we need it (FYI prevention is better than cure, people). Beauty Editor and Advanced Night Repair Ambassador Alessandra Steinherr (@alexsteinherr) has long championed the effects and benefits of an eye cream. Well known for her Sunday Night Facial regime that she documents in detail on Instagram, an eye cream will always appear, with the offering from Advanced Night Repair a recurring favourite. In fact, both her and her followers can attest to her long-standing relationship with the Advanced Night Repair franchise: "It's genuinely one of the ranges that I have been using the longest. When you talk about having a love affair with a product, this is it, and that's how you know if something works - to use it over time."
Like many of us, Alessandra suffers from sensitivities around her eyes and found that many eye creams were too heavy for her. "I always prefer a gel-cream texture", she explains. "This one feels so nourishing, without being tacky or heavy – plus there is no fragrance and it's oil free which is ideal for the delicate eye area. I love it". She's talking about the new Advanced Night Repair Eye Supercharged Complex Synchronized Recovery, an upgraded version of its original predecessor. The fact that it's the same iconic texture given the technology that's packed inside, is quite some feat. Supercharged with Hyaluronic Acid and antioxidants it helps to prevent visible damage from pollution and UV rays, whilst smoothing, de-puffing and hydrating to make the eye area look significantly brighter and more energized. But the real talking point is the new addition of the ChronoluxCB technology that protects against blue light, which really comes into play when you consider time spent lying in bed scrolling through our phones.
When you talk about having a love affair with a product, this is it.
"It's very timely", admits Alessandra. "This is the reality of our lifestyles and I am guilty as hell for being in bed at night on my phone. To have an eye cream that has got all the hydration and all the repair, but also an ingredient that protects against the blue light, which is a type of pollution in itself, is great. But beyond the blue light, the issue with being on your phone at night is the scrunching and the straining of the eyes. I feel like it's protecting me against the effects of that too."
Any application tips beyond the just, well, applying of the cream? "I tend to be quite generous, I like to put it on mask style - applying maybe just a little bit more than you think you need, then let it settle and massage in the residue. I also apply it on the eyelids too and use it morning and night. Don't be confused by the name Advanced Night Repair - yes, it repairs at night but it protects during the day too!". The true definition of an all-round essential.
Watch our exclusive Estée Stories videos below to see Alessandra's expert application tips for our newest eye care innovation in action plus find out why it's her latest skincare favourite.