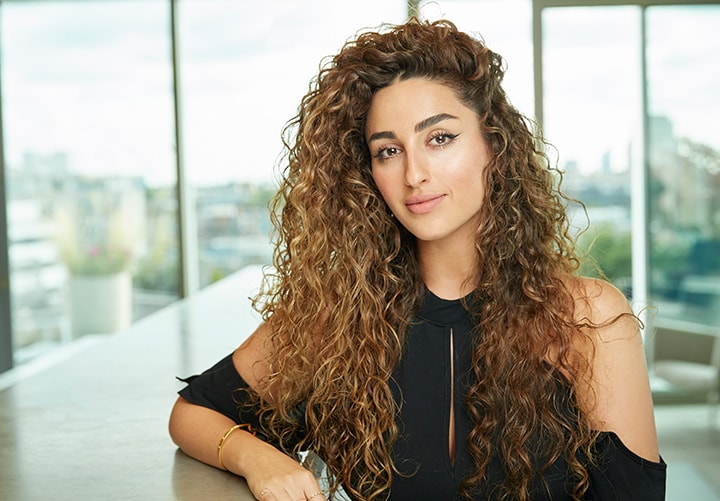 Meeting make-up artist Nikki Wolff, you wouldn't think that you have a social media sensation right in front of you (her Instagram has 200k followers and counting). She is quite possibly one of the nicest, most down-to-earth people in the business, but she is also the most ambitious. Having studied make-up at the London College of Fashion, Nikki has make-up artistry running through her veins: "From day one I knew that I wanted to be a make-up artist. As a teenager I would look at beautiful images in magazines and say 'I want to be the person who does the model's makeup!'". Working as part of a make-up brand's events team (MAC) once graduated, she would assist backstage at shows and behind-the-scenes on shoots, which cemented her passion for the industry.  Shortly after, she went freelance to become mistress of her own destiny. Since then she hasn't looked back.
"I have been doing this for ten years, and it's been a steady process raising my profile, but now with the rise of Instagram, I have the perfect platform to showcase my work and I'm busier than ever. Social media has given me a much wider reach and variety of jobs: fashion ads, celebrities, Middle eastern royalty – it's really quite diverse, but that's why I love it. I joined at just the right time and was thrilled to learn that more people than I imagined share my passion for make-up." Looking at her feed now, you might be surprised to know that she was initially a reluctant adopter of the platform: "I was on a job a few years ago and I remember a conversation with a model who asked, 'do you have Instagram?'. I said I didn't really use social media but the model insisted 'People would want to see your work, so try it'. I started to post pictures of what I was working on and it took off from there. I have found it to be such a positive space where people want to give good feedback."
The freedom to make people beautiful, whether it's an on-trend look or something natural and empowering- that's what makes me tick.
And the good feedback is entirely down to the fact that Nikki's make-up is off-the-scale good. You see, she has this special talent that when she does your make-up, it looks as good in real life as it does on camera. No cakiness, no over-the-top application, just out-and-out radiant luminosity that makes you feel like you're living your best life. "The freedom to make people beautiful, whether it's an on trend look or something natural and empowering- That's what makes me tick.", Nikki explains. "I love it when I have done someone's make-up and they take selfies. It's the biggest compliment to me that they feel confident and love how they look." Skin is her thing. She favours cream products to give a lighter, fresher approach, but says it's all about where you put product that will make skin radiant, "glowing skin is all about clever product placement rather than overloading with layers."
If you want to know just how she does it, look no further that these three You Tube videos that Nikki has shot exclusively for Estée Lauder. Three looks to make you look like the best version of yourself. And, add to bookmarks.