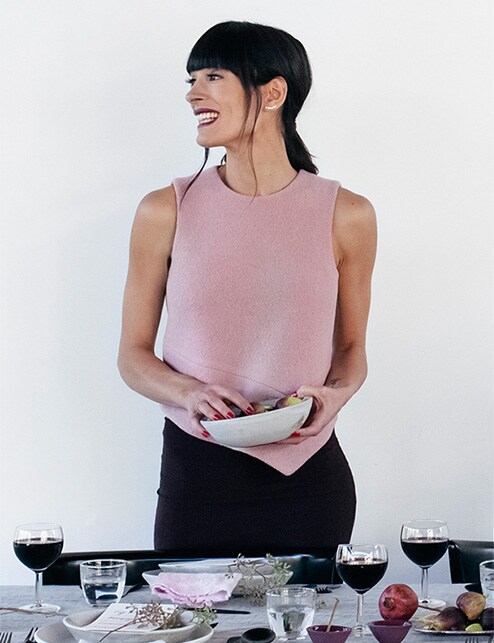 "The best hostess gift can go one of two ways," says Eyeswoon blogger Athena Calderone. She should know: the former interior designer turned food and lifestyle blogger throws frequent fêtes. "You can gift something timeless that evokes a memory, or something beautiful and basic your recipient will have forever and will use all the time, like a beautiful wine opener."
Calderone's interest in cooking began when she was in her twenties. "I love to create beauty, an interesting composition, whether it's food on the plate, sharing a personal story or a tablescape," Calderone explains. "It doesn't have to be complicated—it's about simple ideas that are thoughtfully executed." While Calderone loved working in interior design, "it didn't speak to all the things I was passionate about," she says. "Eyeswoon began as a way for me to catalog recipes and the images I took of the meals I made for my friends," she says. With Calderone's current Instagram following of over 63,000, her creativity clearly inspires the masses, as well. Here, her swoon-worthy beauty picks.
I'm always exploring different moisturisers, oils and serums.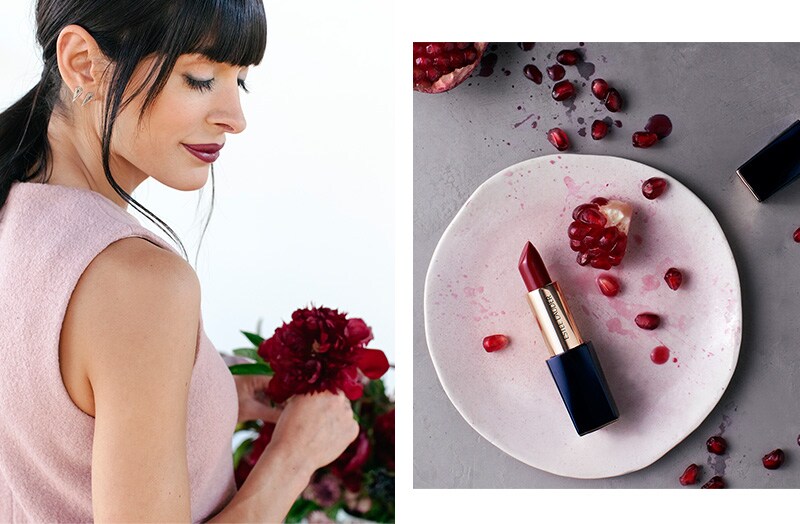 On Perfume:
"I tend to like really fresh fragrances and gravitate toward those that are bright. Many of my favourites feature citrus among their notes. Or, I love one that's super feminine, with jasmine or rose or something floral."
On Skin:
"I have really dry skin, so I'm always exploring different moisturisers, oils and serums. As I get older, there's an emphasis on having a regimented beauty routine in the morning and at night. When I was in my twenties, I didn't put as much care into it. In my thirties and now that I just turned 40, skincare is of the utmost importance to me."
On Hair:
"My hair is naturally wavy and it can get a little frizzy and fuzzy, so I use a serum to give my hair a finished look. Having bangs means a lot of smoothing treatments. I've worn a fringe for the past 15 years on and off. I like to make a strong statement look with my hair—either hippie long and wavy with a part down middle, or totally structured with bangs. I trim my bangs myself and I find that changing them up, even an eighth of an inch, makes a difference!"
I wear a bold, strong lip either in red or a wine hue
On Makeup:
"I wear a bold, strong lip either in red or a wine hue. It instantly makes you feel pulled together. I don't wear a lot of other makeup: just a clean, kind of matte face, no blush, no eyeliner or shadow. For a long time, I was strictly into a blue-red lipstick, but lately I like an orange-red, like Pure Color Envy Sculpting Lipstick in Impassioned. I have a photo of my mom and me at my first communion and my mom was sporting a red and white striped dress and beautywise, exactly my look: dark, straight hair and a bold red lip. She looked so chic and glamorous. My mom wouldn't walk out of the house to go to the corner store or the market without a full face of makeup. She wasn't overly posh, but she put value on her presentation."
On Treating Herself:
"I've practiced vinyasa yoga for well over 15 years. The past couple of years, I've practiced less and my body just screams with joy when I go back to it. It's what my body craves—it makes me feel alive, whole, like myself. I used to practice five days a week, but now I go about two or three times per week. Life has gotten so scheduled, but I love to be in nature on days when I can just let one decision lead to another and have the luxury of time."
Photos by Sharon Radisch