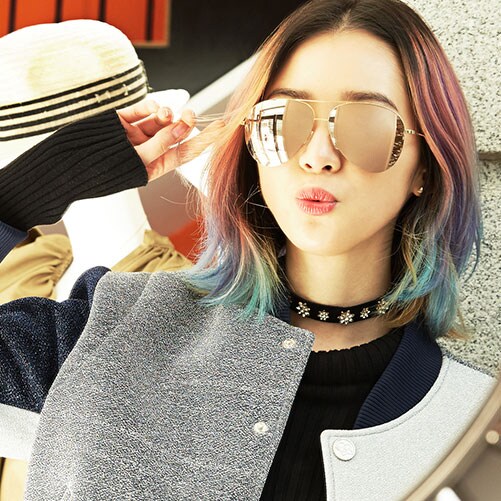 While we're all glued to our phones during New York Fashion Week, watching the latest trends roll right off the runways and into our social media feeds, It Girls like Irene Kim are running from show to show, party to party, and then hopping on a plane to do it all over again in London, Milan and, ultimately, Paris. For them, it's a month-long marathon, not a sprint, and one for which the preparation and endurance required is similar to that of an athlete. Wonder how they make it through to the finish still looking gorgeous? Last but not least in our Fashion Week Survival Guide series, Kim shows us the other side of the fashion show scene.
What is your preparation for Fashion Week like? Do you have any workout or nutrition secrets you can share?
About two months before, I will start working out a little more than usual. I try to avoid alcohol and eat a balanced diet.
How does your beauty routine change leading up to Fashion Week? Do you do anything special to prep your skin?
I apply a lot more masks. I also make sure to get my sleep, because there is nothing better for your skin than regular sleep. I'll also apply a little extra cream before bed so it acts as an overnight mask.
What is the best part of the experience for you? What are you most
excited about?
Catching up with my friends from all over the world. And, of course, I always get excited to dress up!
How did you feel during your very first Fashion Week? How different is it now after having walked a few runways and been to all of the parties?
I had no idea what to expect. I started my career as a model, so I should have been going to castings. But I decided to start over as an influencer and attend the shows. I came from Seoul and no one knew who I was, they just knew me as "the girl with the rainbow hair." Now after a few seasons (this one will be my eighth), I'm so grateful to be doing what I love, and every season it gets better.
Which beauty products are always in your bag when you're running around from shows to parties and everything in between?
One of my favorite products is the Estée Edit Inside Track eyeliner, which I use to touch up my eyes. I also love Beam Team, which brightens up my face. I just rub a bit between my fingers and dab it on top of my makeup to freshen up.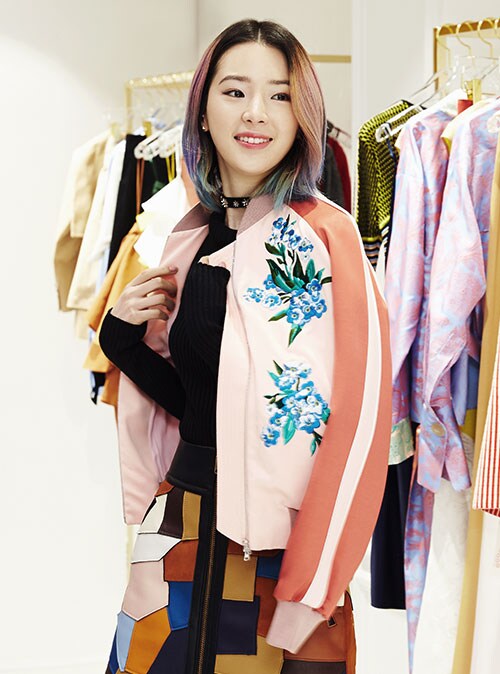 I'm so grateful to be doing what I love, and every season it gets better.
Any guilty pleasures that you can't get through the month without?
I always carry gummy bears with me. I also have a pink silk robe that I take with me to every city, because it makes me feel like I'm home. Before I go to bed, I'll add a few drops of lavender oil around my pillow to help me sleep.
What is your no-fail trick to looking bright-eyed, awake and camera-ready, even when you're feeling exhausted?
Going to the gym in the morning. Even if it's just for 30 minutes, that gets rid of
my puffiness.
How do you keep your energy up throughout the hectic days?
Not staying out too late and making sure I eat healthy. Also, 1-2 cups of coffee help.
And then how do you find time to relax and wind down? What do you do to center yourself?
I love a long salt bath, especially when I'm traveling—it really helps me relax and get rid of my fatigue. I also go through a lot of Stress Relief Eye Masks and Advanced Night Repair PowerFoil Masks!
Of all the Fashion Weeks around the world, which city is your favorite
and why?
Paris, because the city itself is so beautiful and romantic. I always try to do non fashion-week related activities when I'm there, like go to the museums or other cultural visits.
What is the first thing you do after you've wrapped your last show? Eat a cheeseburger? Take a nap? Go to Disney World?
Go for sushi and take a looooong nap.