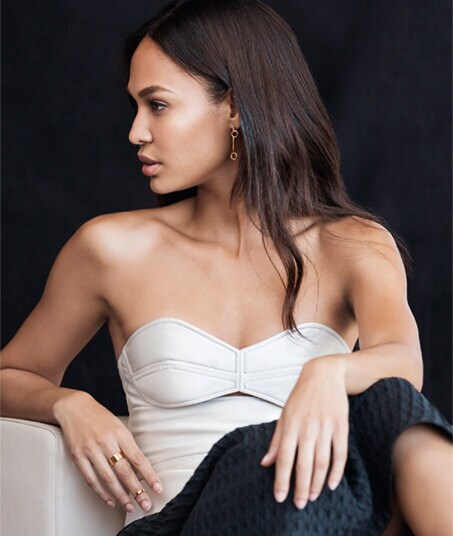 While we're all glued to our phones during New York Fashion Week, watching the latest trends roll right off the runways and into our social media feeds, supermodels like Joan Smalls are running from show to show, party to party, and then hopping on a plane to do it all over again in London, Milan and, ultimately, Paris. For them, it's a month-long marathon, not a sprint, and one for which the preparation and endurance required is similar to that of an athlete. Wonder how they make it through to the finish still looking gorgeous? Up next in our Fashion Week survival guide series, Smalls reveals all.
What is your preparation for Fashion Week like? Do you have any workout or nutrition secrets you can share?
I always have to stay ready throughout the year. Before Fashion Week, my workouts might focus more on my legs and abs, especially for Spring/Summer shows.
How does your beauty routine change leading up to Fashion Week? Do you do anything special to prep your skin?
I use face masks to hydrate my skin during the show seasons to counteract all of the makeup that's going on and getting rubbed off. I love the Advanced Night Repair PowerFoil Mask, and it's so easy to carry with me.
What is your favorite thing about Fashion Week?
Seeing my friends! Since we're all in the same city, it's easier to catch up.
What is the hardest part?
Jet lag and having no time to get adjusted. You just work through it.
Of all the Fashion Weeks around the world, which city is your favorite
and why?
Paris—it's the last one, and everyone is more at ease because they're closer to the finish line!
Which beauty products are always in your bag when you're running around from shows to parties and everything in between?
Pure Color Envy Blooming Lip Balm and a powder compact.
I put lots of inspirational quotes in my phone that I set as reminders to read throughout the day.
What else is always in your bag that helps you survive the week?
Chewing gum, vitamins and sunglasses.
How do you keep your energy up throughout the hectic days?
Going to bed early on the nights when I can and making sure to work out every day for at least 30 minutes. I also make sure to drink fresh juices and smoothies.
And then how do you find time to relax and wind down? What do you do to center yourself?
Listen to music, dance in my apartment and, if I have time, I'll cook for my boyfriend. Cooking Puerto Rican food makes me feel at home.
Any inspirational quotes that get you through the month?
I put lots of inspirational quotes in my phone that I set as reminders to read throughout the day.
What about guilty pleasures?
Sugar. I love a warm dessert with ice cream.
What is your no-fail trick to looking bright-eyed, awake and camera-ready, even when you're feeling exhausted?
Curling my lashes and applying mascara—and, of course, concealer. I love Perfectionist Youth-Infusing Brightening Serum + Concealer in Medium Deep, because it has a yellow undertone, which is great for my complexion, and the serum end really brightens.
What is the first thing you do after you've wrapped your last show?
If I can escape to the Caribbean, that does it for me. Being in the warm waters relaxes me. Eating a good baked mac and cheese helps, too. And basil chicken Thai fried rice!