What takes you from a tiny, horse-riding country town in Scotland to the bright lights of Fashion Weeks and behind the scenes on high-profile shoots? Makeup, that's what. And so was the journey for makeup artist and new Estée Lauder UK Makeup Ambassador, Lynsey Alexander. "I always had a love of fashion, but I knew I didn't want to be a fashion designer—for me, makeup was the perfect way to be creative and combine fashion and art", she explains.
A signature 'Lynsey look' is easy to spot a mile off: pared-down skin, minimal eye makeup and then a bright pop of colour on the lips. "My aesthetic isn't crazy", she admits. "It's just about being real and making someone look and feel the best that they can by bringing out their features and enhancing everything with skincare. I like to think of my approach as a nurturing way of doing makeup."
This is something that she has been championing devotedly, both in her professional work and what she wears on her face every day (Lynsey is seldom seen without gleaming skin and a bright pop of lipstick), but so too has it filtered onto the runways for Spring/Summer '16, in the form of beautiful 'real' skin, a sprinkling of faux freckles and a mouth-watering accent of neon on the lips.
Lynsey's guide to the new season staples? It's basic instinct: "This type of makeup is instinctual. If it wears you, then it's wrong. It has to go on and you love it immediately".
Here, watch Lynsey's video on how to work the trends, or follow her beautiful—but easy!—step-by-step guide to new season makeup:
It's just about being real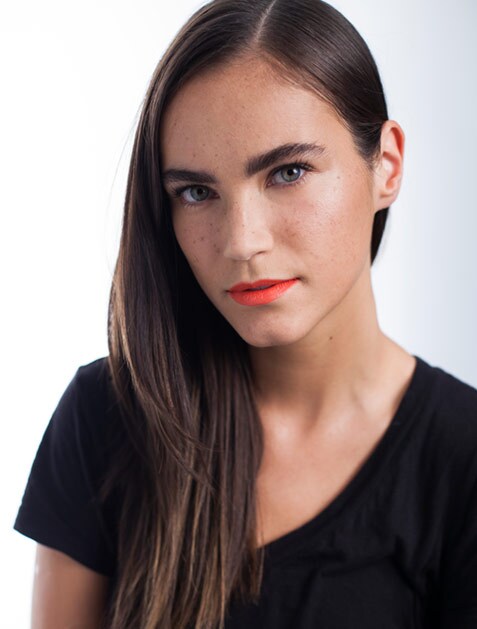 Barely There
Step 1: Massage ReNutriv Revitalizing Supreme Global Anti-Aging Creme into skin to plump out the circulation and even out skintone.
Step 2: Enlighten Even Effect "EE" Skintone Corrector SPF30 is like a golden kiss for skin and provides invisible cover on the face—layer this on next.
Step 3: Lynsey swears by Double Wear Stay-in-Place High Cover Concealer to cover imperfections. Buff it into skin where needed using an eyeshadow brush for flawless coverage.
Step 4: Apply Double Wear Brush-On Glow BB Highlighter straight from the actual applicator, dotting it down the different areas of the face where light would hit (under eyes, cheekbones, nose, brow bone).
Spot On
Step 1: Use Double Wear Stay-in-Place Brow Lift Duo pencil to add in the freckles, opting for the same color as you would on your natural eyebrows.
Step 2: Soften the penciled-in freckles with your fingertip. This gives the illusion you have no makeup on.
Step 3: Set with powder to finish.
This type of makeup is instinctual.
Neon Signs
Step 1: To begin, the trick is to scrub lips, because bright color reveals imperfections more. Lynsey uses a makeup wipe over the mouth, then dips a cotton bud in Advanced Night Repair serum and coats lips.
Step 2: Double Wear Stay-In-Place Lip Pencil in Clear will help seal lipstick in place and stop it from feathering.
Step 3: Use a flat lip brush to apply your neon colour (here Lynsey uses Pure Color Envy Sculpting Lipstick in Defiant Coral), gliding it from corner to corner of the mouth, with the full length of the brush against your lips.
Step 4: Next, layer it with the lipstick straight from the bullet to build up coverage.
Step 5: To complete the look, take a very thin layer of Little Black Primer and push it into the roots of the lashes.