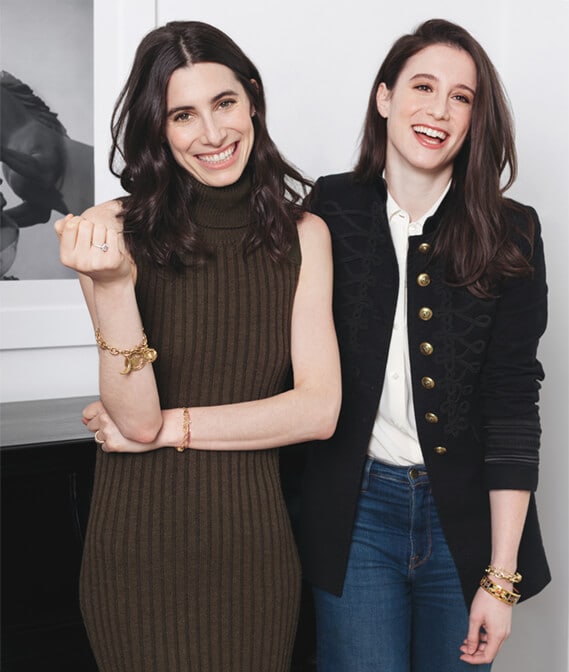 During a car ride on the way from New York City to their hometown in Connecticut, sisters Danielle and Laura Kosann got to talking. Danielle had been working in fashion while Laura was in television production, but, having grown up in an entrepreneurial family (their mom, jewelry designer and photographer Monica Rich Kosann, created our limited edition compacts this past year), they hungered to start a business together. And it was then that they formed the seed of an idea: "There was no site that approached food from a 360-degree angle in a cool, voyeuristic way, and connected it with other industries and people," Danielle explains. "We felt food should be just as much about what surrounds a table as what's literally on that table." With that, the two immediately cooked up a plan to launch their food and lifestyle website, The New Potato.
The site operates as a true two-woman show, with Danielle handling all of the photography and visual look and feel while Laura maps out the editorial calendar and does a majority of the writing. They've interviewed and photographed everyone from designer Donna Karan to chef Gail Simmons and even Robert DeNiro. And, in addition to recipes, they cover fashion, wellness, entertainment and, of course, beauty. It is this dynamic that makes them such a powerful pair—to borrow a beauty metaphor, they're like a serum and a moisturizer: they help each other to be even more effective.
In that spirit, we asked the sisters to talk about the experiences, challenges and most rewarding moments of working together. Here's what they had to say:
We come from the same place, and it makes collaborating on all the things we do that much more enjoyable.
What do you love most about working with your sister?
Danielle: We're always in sync. I never have to think twice about trusting my business partner to handle things the same way I would want them handled, which I would imagine is pretty rare. We have the same taste, the same goals, the same sense of humor...
Laura: I really love the level of trust and respect that we have for each other. I don't have to think twice about anything that Danielle is executing—I automatically know it will be great. I find that to be a rare thing when you work with someone. We come from the same place, and it makes collaborating on all the things we do that much more enjoyable.
[Editor's note: They weren't kidding about being in sync!]
How does your sister help you do your job better?
Danielle: I'm very visual and detail-oriented, so Laura is always inspiring me to think bigger. I could spend hours agonizing over the way one photo shoot looks, or if I write a note and don't like the way the handwriting looks, I will write it again and again. Laura is very good at pushing me not to do things like that!
Laura: I can tend to be a bit of a dreamer, in addition to being an all-or-nothing person, so I can get incredibly carried away that we need to take over the world in one day on a certain project. Once I get something in my head, it's hard for me to calm down about it, and Danielle helps me calm down and reminds me that not everything needs to happen in an instant.
What do you rely on your sister for the most?
Laura: That's a really hard question. I think I rely on Danielle to see and do everything I don't see and do, because she has complementary strengths to mine.
Danielle: I pretty much rely on her to do anything I'm not good at. Her strengths are most of my weaknesses.
What do you admire most about your sister?
Laura: Danielle has the best eye of anyone I know. Her photography is beyond amazing (she gets that from our mom, who is also an incredible photographer), and her talent goes hand-in-hand with her disarming personality. She can make any subject, anywhere, feel totally comfortable and happy.
Danielle: She's an amazing writer, but she's also an incredibly creative thinker and is very conceptual, which always inspires me. (She writes and conceptualizes all of our hilarious videos from start to finish!) She's also very passionate, focused, persistent and determined—once she sets her mind on something, there is no stopping her. It's one of the best qualities you can have in a partner.