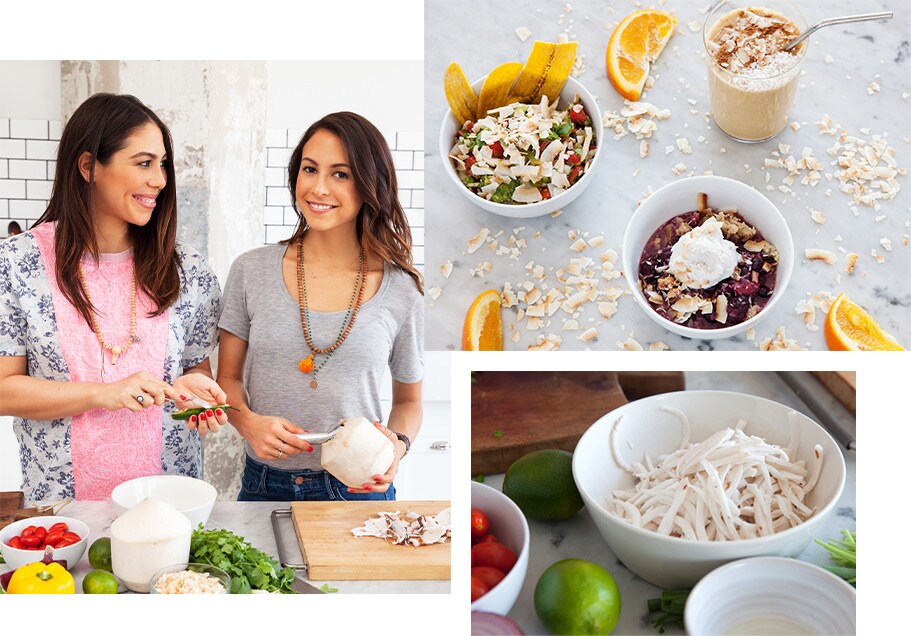 If you haven't noticed, coconut is having a moment. Between its multi-tasking oil, its refreshing and widely-imbibed water, and its versatile, meal-enhancing milk, the tropical fruit seed has made some serious inroads towards becoming a kitchen staple. "There's a reason everyone is nuts about coconuts,"insists Bonberi co-founder Vanessa Packer. According to the holistic nutritionist, its meat is a source of "good fats"that are easily converted to energy; its delicious water is super hydrating and provides a natural source of electrolytes, which makes it perfect for post-workout recovery; and its oil happens to contain the coveted element manganese, which helps assimilate fat and protein for some au natural body-slimming. "It also doesn't hurt smelling like you've just gotten back from a sun-drenched holiday in the Maldives,"jokes Packer's partner, Nicole Berrie, referring to coconut's warm, tropical scent that screams "Summer." That's where we come in. Long before coconut was trending, we made its evocative aroma one of the star ingredients of our best-selling Bronze Goddess Skinscent. To celebrate the fragrance's sensuous, transportive feel, we asked Packer and Berrie to create three exclusive recipes for Estée Stories that celebrate the incredible, edible coconut.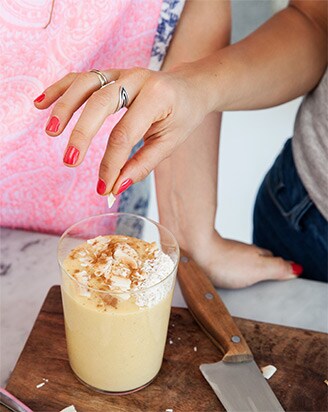 Coco-Lada
Smoothie
Ingredients:
1 young coconut (water and meat)
2 frozen ripe bananas
1 cup of frozen mango
A few sprigs of fresh mint
1 date for extra sweetness
Dash of cinnamon (optional)
A little filtered water if necessary

Directions:
Combine in a high speed blender, and enjoy!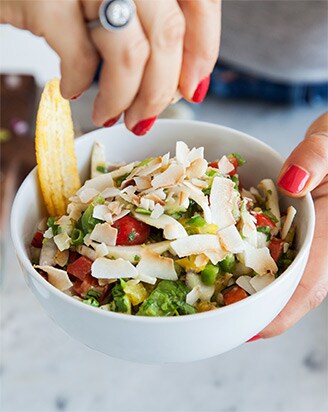 Coconut Ceviche
With Plaintain Chips
Ingredients:
Meat of 1 young coconut, shredded
1/2 cup of chopped red, green and yellow capsicum
1/4 cup of minced red onion
Handful of minced corriander
Juice and zest of 1 lime
Juice of 1 orange
1 jalapeño, deseeded and chopped
2 scallions, chopped
1 large tomato, chopped
1 avocado, chopped
Salt/pepper to taste
Dash of cumin (optional)

Directions:
Mix all ingredients in large bowl. Refrigerate 30 min to 1 hour before serving.
For The Plaintain Chips
Ingredients:
4 large plantains
1/4 cup of coconut oil
Sea salt/pepper to taste
Dash of cayenne pepper (optional)

Directions:
Preheat oven to 190º C. Using a mandoline slicer, slice plantains into long, thin stripes. In a large bowl, coat plantain slices in coconut oil and season with salt and pepper and cayenne pepper. Bake for 20-25 minutes, flipping halfway through, and until browned on the edges and crispy.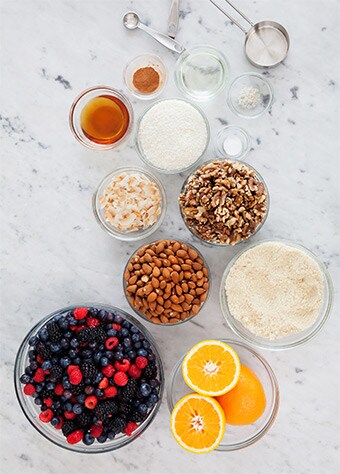 Mixed Berry
Coconut Crumble
(Grain-Free)
Ingredients:
6 cups mixed ripe berries
1 teaspoon cinnamon
1 cup coconut flour
1/2 teaspoon sea salt
1/4 teaspoon baking soda
1 cup unsweetened shredded coconut
1/2 cup raw walnuts, chopped
1/2 cup raw almonds, chopped
1/2 cup coconut oil
1/4 cup maple syrup
Zest of 1 orange
Directions:
Preheat oven to 175º C. In medium bowl, mix berries with cinnamon and orange zest. Place berries in a deep baking dish. Mix coconut flour with sea salt and baking soda in a large bowl, until well mixed. Stir in the coconut and nuts. Melt the coconut oil in a small pan over low heat, then add the syrup. Stir the melted mixture into the flour/nut mixture until well blended. Crumble the mixture over the berries. Bake for about 30 minutes until topping is golden brown. Serve with coconut ice cream!
Explore the other features in our Ready, Set, Summer Series: The Makeup Tutorial, The Mindset , The Beauty Regimen, The Workout, The Playlist, The Wardrobe.