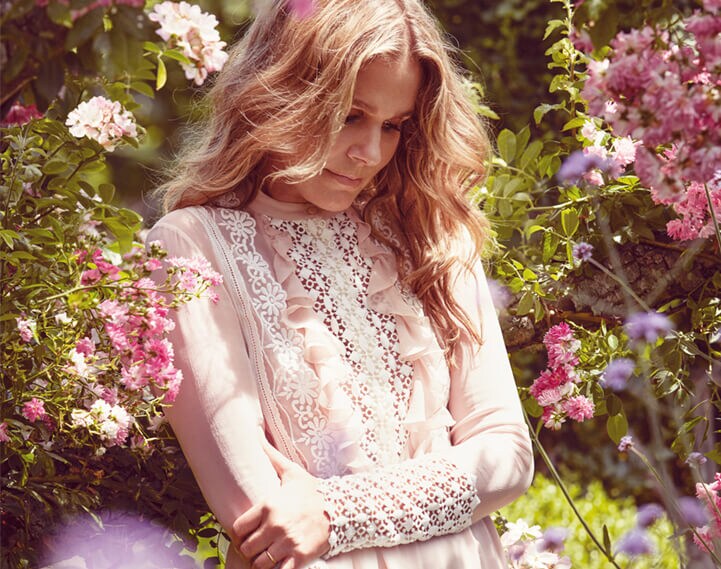 "I've always been drawn to the colors and the beautiful scent," Aerin Lauder explains of her connection to roses. "[They] are a big part of my fondest memories, so it is the perfect bloom to thread the AERIN Beauty Collection together."
Expanding on the concept of rose, which has become a signature for her brand, Aerin is launching a new collection of three light, luxurious Eau de Colognes for every day and any reason: Bamboo Rose, Linen Rose and Garden Rose. Each one features the rare, exclusive White Bulgarian Rose at its core, which is then surrounded by different green or amber notes, depending on the scent. Here, she sits down with Estée Stories to talk about her eternal love for the rose, reminisce about the trips that inspired the new scents and share the style ideas that best suit each one.
What is your earliest memory of roses?
My earliest memories are related to scent. I remember walking into my grandmother's house always greeted by a large arrangement of fragrant white flowers—often roses or tuberose. Later on I learned that we both shared a passion for flowers, especially roses.
What made you want to do a Cologne for this collection as opposed to an Eau de Parfum?
The cologne concept is lighter, more casual, and that's the idea of these fragrances—they are easy and effortless. The whole idea of the AERIN fragrance collection is about choice and different forms of fragrance, whether it's a rollerball, soap or Eau de Parfum, so incorporating an Eau de Cologne in this mix gives you another option to play with.
And what inspired you to create three rose colognes, versus just one?
There are so many varieties of roses, each with their own scent and unique beauty. I was excited by the possibility of developing a collection of colognes that could capture different facets. Each is tied to a very specific memory and I experience each memory every time I smell each cologne.
Can you talk a bit about the trips and memories that inspired each
Eau de Cologne?
What type of woman did you have in mind for these fragrances?
A woman who is inspired by the desire to travel and loves feminine floral notes.
The fragrances express her worldly spirit, her love of life and the quiet joy of being one's self.
What sort of look would you pair with each cologne?
For Bamboo Rose, something green—either a beautiful shirt or accessories. Garden Rose is more European; it would be great with a sundress. And Linen Rose reminds me of summery linen dresses, or a great pair of white shorts with a linen shirt. We're going to Tulum, Mexico, on spring break, and this is what I'll be wearing.
Is each cologne ideal for a particular occasion? Where would you wear each one?
They can really be worn anytime, anywhere. Garden Rose is the most dressed up, while Linen Rose is more beachy. Bamboo Rose is very clean and versatile.
What is your fragrance ritual like?
I apply fragrance the very traditional way, behind my ears and on my pulse points. But these colognes are so light and easy you can spray them all over—I'll even spray them in my hair. And they are great to reapply throughout the day.