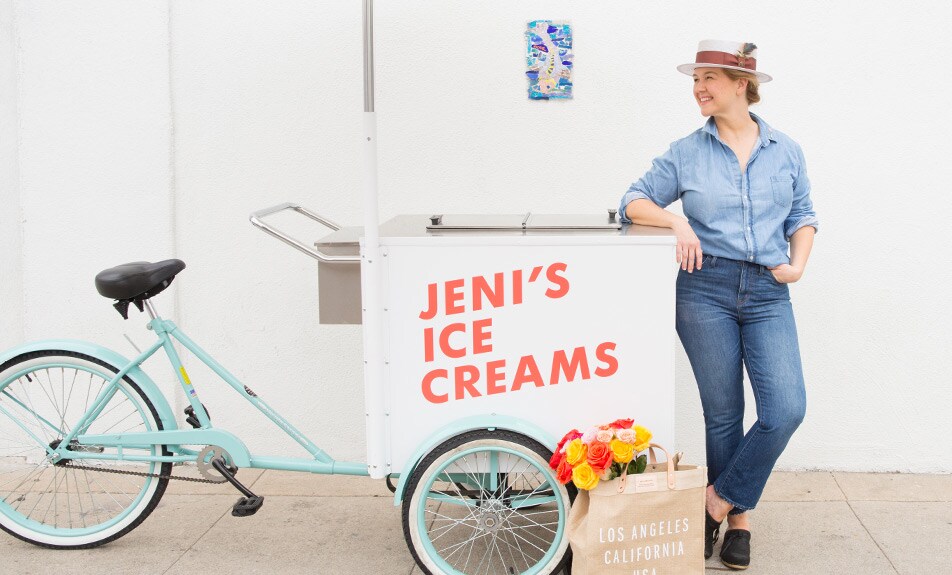 "No matter what I'm doing, I am always thinking of ice cream just a little bit," says Jeni Britton Bauer. (Real talk: Who isn't?) But for the founder of cult-favourite frozen dessert company Jeni's Splendid Ice Creams, the sweet treat is more than a frosty indulgence; it's a lifelong passion. The former hobbyist perfumer and art history major managed to funnel all her interests and talents into one beloved dessert, eventually expanding her ice cream empire, based in Columbus, Ohio, to 23 locations across the U.S., authoring a New York Times bestselling cookbook and earning a James Beard Award along the way. "I made my first ice cream back in 1996—I added cayenne essential oil to store-bought milk chocolate ice cream," she reminisces. "The sky opened up and I could see my whole life in front of me. Six months later I started my first ice cream shop, and I haven't done anything but study ice cream since."
It's interesting to note that Britton Bauer doesn't think of ice cream as a dessert. "Us Midwesterners will eat a gooey cinnamon bun and call it a dinner roll, so my perspective on sweets comes from that place!" she jokes. But she does view ice cream as an art form, with flavors like Birch and Marshmallows, Wildberry Lavender and Bourbon Salted Pecan in her palette—in addition to crowd-pleasers like Milkiest Chocolate and Ndali Estate Vanilla Bean. "I think of ice cream as an edible perfume. I have always been fascinated by scent," she admits. "One day I used ice cream to carry scent and it opened a new world to me. Soon after, I saw an exhibit where an artist filled giant vases with scent and viewers were encouraged to remove the lid and smell the air inside. When I saw that I connected scent to art."
I think of ice cream as an edible perfume.
The Bronze Goddess Sundae
Given this history, it's not surprising that the opportunity to create an ice cream sundae inspired by a fragrance would be a dream project for Britton Bauer. "It's truly ethereal," she says of the iconic Bronze Goddess fragrance. "It really does smell like [how] you'd want to smell on a beach or in the summer sun."
"This sundae highlights some our favourite elements of Bronze Goddess, echoing notes of fresh, fragrant stone fruit, orange flowers, coconut and some tawny notes from the caramel ice cream," Britton Bauer explains. "It's our Salty Caramel ice cream, topped with toasted coconut, honey whipped cream, and cherries cold-poached in sugar, lemon juice and orange blossom water."
Makes roughly 4 sundaes
For the cold-poached cherries
2 cups granulated sugar
1 ½ cups water
½ cup peach liqueur
4 tbsp lemon juice (1 large lemon)
3 tbsp orange blossom water
12 ounce bag fresh cherries (tart red or dark sweet), pitted and halved
To make cold-poached cherries
In a small saucepan, heat water over moderate heat until boiling. Add sugar and lemon juice, and whisk until sugar is completely dissolved. Set aside to cool.
Completely submerge cherries in the sugar syrup. Seal in an airtight container and let soak, refrigerated, at least 4 hours or overnight.
For the sundae
1 scoop Salty Caramel ice cream
2 tbsp cold-poached cherries
2 tbsp poaching liquid
2 tbsp tasted, sweetened coconut chips
Honey-Whipped Cream* to taste
*Whip 1 cup whipped cream with 1 tbsp honey
To build each sundae
Place one scoop of Salty Caramel ice cream in a bowl. Top with cold-poached cherries and poaching liquid. Add whipped cream to taste, then sprinkle with toasted coconut flakes. Garnish with a cold-poached cherry.