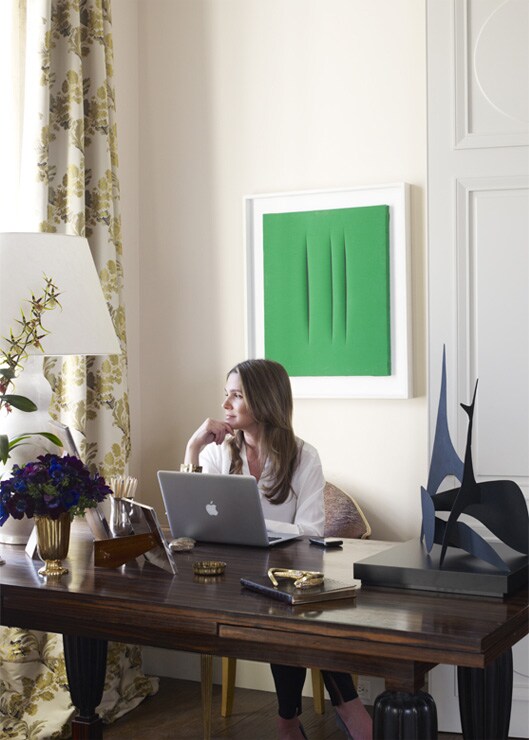 With her own line, her role as Style and Image Director for Estée Lauder, and a busy family life and social calendar to balance, Aerin Lauder has a lot going on. Luckily, today's digital-friendly world makes it easy for the beauty entrepreneur and mother-of-two to stay up-to-date on the important stuff from the comfort of her smart phone. Here, Aerin tells Estée Stories where she logs on to get her daily dose of fashion, beauty, and design inspiration.
I love Instagram!
On Fashion
"I go to Vogue.com and Style.com for my fashion and trend news, and to look at the runway shows. I'm always looking at shows. They're so inspirational—the way they're choreographed, the set design, and of course the backstage beauty. At the Oscar de la Renta Spring show, the entire back wall of the runway was filled with flowers. It was incredible!"
On E-Tail Therapy
"I'm busier than I've ever been and I just don't have time to shop. But I love clothes and style so for me NET-A-PORTER is a dream come true. The visuals are so great that I actually feel like I'm roaming around a store."
On Beauty
"Into The Gloss is great for beauty. I like to read the product write-ups so I know what's out there and what's new so I can understand the competition."
On Design
"I've always loved Habitually Chic. That was probably one of the first home websites I started going to. I love [founder Heather Clawson's] passion and her eye. I also regularly log onto Mark D Sikes, and I love to look at Pinterest for inspiration. I'll type in blue, gold, entertaining, or pink. I usually search by colour, or I'll type in a destination, like 'garden'or 'beach.'"
On Social
"I love Instagram! I check the Travel + Leisure feed a lot. It's so good. I'm always inspired by traveling and new visuals and the way they capture destinations—from a lake in Canada to Capri—they just make everything look beautiful. I also like to follow [jewellery designer] Aurelie Bidermann. She really knows how to reinforce her product in a lifestyle environment. And my younger son! He's the one who got me into Instagram in the first place. He'll put a Go-Pro on a surf board and post a picture. His knowledge of technology is amazing."
Image courtesy AERIN LLC.