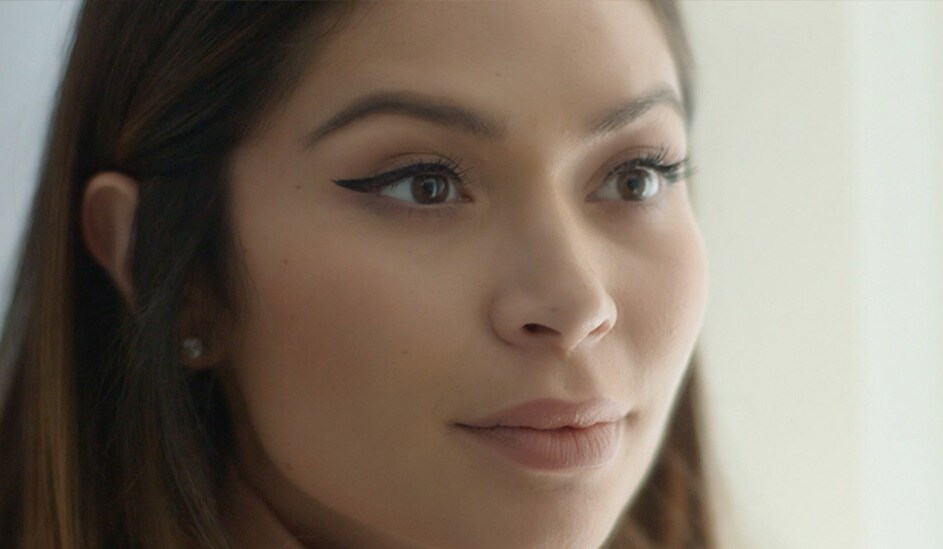 The paradox of choice is a common quibble, given our ever-increasing options in every arena—from choosing what to binge-watch to narrowing down lunch possibilities. One way to streamline a busy weekday morning is to cultivate a sort of beauty uniform, a single signature look around which to build your go-to face. For example, start with a cat-eye, then add variables, like blush versus bronzer, or a bold or nude lip. In collaboration with LeafTV, Estée Stories checked in with "Life With Me" blogger Marianna Hewitt to check out her classic swoop of cat-eye liner.
Marianna Hewitt discovered her longtime love of the '60s-screen-siren, elongated liner look, because "it's a simple way to transform my makeup with one easy step." In her words, "It really accentuates the eyes and makes your lashes look fuller."
Hewitt creates her cat eye wing-first, drawing it on the outer corner of each eye, and filling in from there. "I also never bring the liner into the inner corner of my eyes. I always leave the inner third of the lash line bare," she explains, which yields a more natural look.
A good eyeliner stays on all day or night with just one application.
And, fortunately, reapplication is rarely necessary. Hewitt says she doesn't carry an eyeliner on her unless she's travelling. "A good eyeliner stays on all day or night with just one application," she notes. "Another reason I love this look!" Here's to low maintenance signature styles.
With so many formulas, delivery systems and colors to choose from, Hewitt's standby is a classic black liquid, like Little Black Liner. "Liquid eyeliner gives a really precise line, lasts forever and looks clean and chic," she says. Though she gravitated toward a bolder, more dramatic look in the past, Hewitt now prefers a razor-thin line, "focusing on the outer corner of the eyes, giving the effect of more open, lifted eyes."
There you have it: an eye-makeup trick we can get behind just about every day.