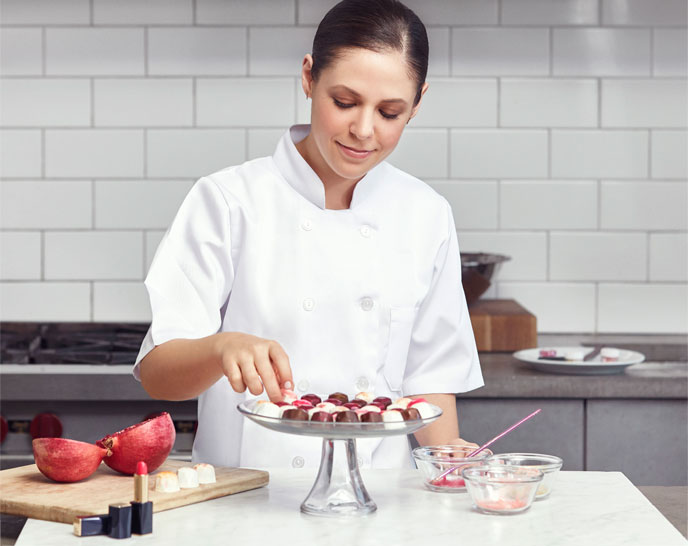 When you think of a chef with the pedigree of Melanie Moss—trained at the Institute of Culinary Education in New York, stints at the Michelin-starred kitchens of Babbo and Blue Hill at Stone Barns—you don't often imagine a soft-spoken individual with an even sweeter disposition. But Moss is a study in contrasts, down to the bite-sized truffles she creates for her namesake business, Mini Melanie. What looks like a fairly standard piece of white or milk chocolate reveals, upon first bite, a sweet-tooth satisfying cake filling, which can range in flavor from peanut butter to red velvet.
Moss started baking at the age of six with her Viennese grandmother, and she incorporates those same recipes into her kitchen today. But running her rapidly growing business doesn't leave much time for beauty—that is, until she was introduced to our newest Pure Color Envy lipsticks, the Hi-Lustre shades. Inspired by their bright colours and light-catching finishes, Moss whipped up a special recipe exclusive to Estée Lauder. The white- and dark-chocolate jewel shapes are embedded with a red velvet pomegranate cake filling and topped with an edible shimmer that is actually called luster dust. Turns out the worlds of beauty and baking couldn't be more compatible.
For a limited time, you can order a box of Hi-Lustre Truffles on minimelanie.com. Or try making your own batch at home—click here for the recipe.