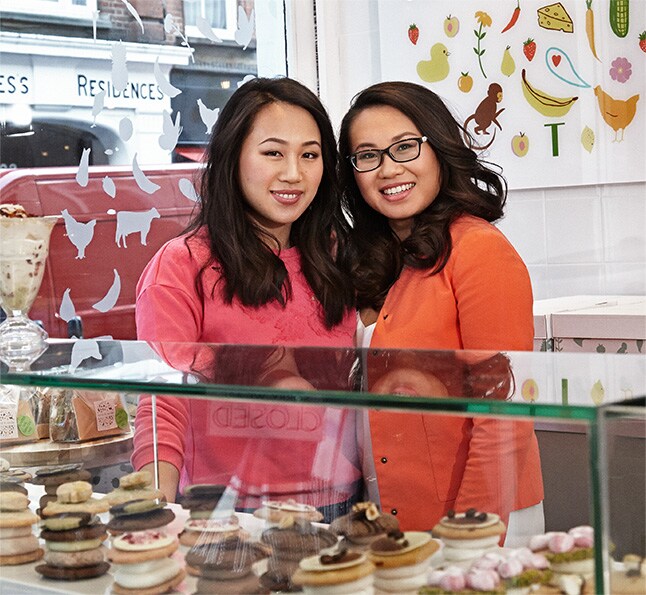 The Lui sisters, Annabel and Emily, are a force to be reckoned with. Their mission, in short, is to make cakes cool. Both with backgrounds in high-powered city jobs (Annabel in corporate finance and Emily in law), they had a brain spark after a batch of bad cupcakes. "We thought – why does it have to be cupcakes and why can't we do something better?", says Emily. With a father who is a chef by trade and a mother who bakes traditional weddings cakes, it's in their genes. "I guess it kind of rubbed off on us. But when it came to the idea of us doing our own thing as a business, we wanted it to be unique". Behold, The Biskie – the signature sweet treat that launched their brand. Imagine a combination cake-cookie-biscuit sandwich housing a scrumptious, creamy filling made with no artificial additives (all their flavors and colours come from natural ingredients) and 40% less buttercream. Flavours include green tea and raspberry, double chocolate salted caramel, lychee pearl, Nutella – and many more. "You eat it like a sweet burger. It's so easy to eat – you don't have to remove it from any packaging, you just hold it, squish it and eat it like a sandwich", describes Annabel. So after 10 months of product development and tastings, they created a home for their Biskies along with their Dream Cakes (large cakes served in generous slices): Cutter & Squidge, so called because Annabel was the one to cut the sandwich elements of the Biskies (the Cutter) and Emily made the soft filling (the Squidge).
We don't take ourselves too seriously. We just want to sell cake and happiness.
Subsequently, the cakes have inspired somewhat of a cult following. Go past the store on a Friday afternoon and you might witness something the ladies call "Cake Mania". "There is literally a queue around the block", explains Annabel. "We have people – men in particular – fighting over slices of cake. We even have men who get in an Uber from the City, come to the store, buy two whole Dream Cakes and take them back to the office – even though we offer delivery. Because we change the types of cakes we have in store every day, they want to see them and choose them themselves".
Based on Brewer Street in Soho (the same street that is home to the hub of London Fashion Week), the store itself looks like something from the Mad Hatter's Tea Party. With good reason, too. It was designed by Callum Lumsden, the retail designer for all the Harry Potter stores worldwide. To wit, the "outdoors-indoors" ethos of the shop is decorated with butterflies and fake grass, and downstairs in the basement, there is a Secret Garden, where the sisters plan to debut their new Afternoon Tea, featuring all of their hero treats served in cute Chinese steam baskets. "You can come have tea in the garden in winter when its raining!", says Emily. "We don't take ourselves too seriously", adds Annabel. "We just want to sell cake and happiness". Can't argue with that.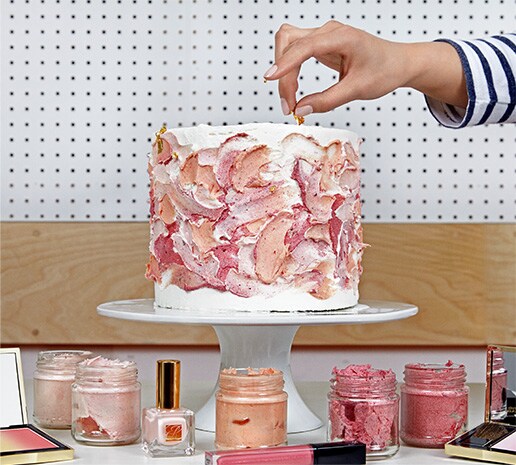 The Blush Cake
Tying together their love of baking with their love of makeup, the Lui sisters were inspired by the Pure Color Envy Sculpting Blushlights to create this exclusive Blush Dream Cake. Here, they break down how you can make your own at home:
1
Sandwich layers of your favourite classic sponge cake recipe with vanilla buttercream. Cover the surface of the cake with more buttercream, and smooth all over using a palette knife and cake scraper.
2
Next, add colour: individually purée fresh raspberries, passionfruit, carrot, beetroot and pomegranate to create your five favorite blush colours. Mix each purée with a few spoonfuls of buttercream. The more purée you add, the stronger the colours will be.
3
Place dollops of each colour all over the cake, then use a clean pallete knife to swirl and smooth the colours across the surface. Alternate between light and dark shades as you add each swirl to create a beautiful ombré effect.
4
Once you're satisfied with your colour scheme, sprinkle touches of gold leaf flakes for a sparkling 'Blushlight' finish.
Follow the sisters on @LuiSisters and @cutterandsquidge
www.cutterandsquidge.com