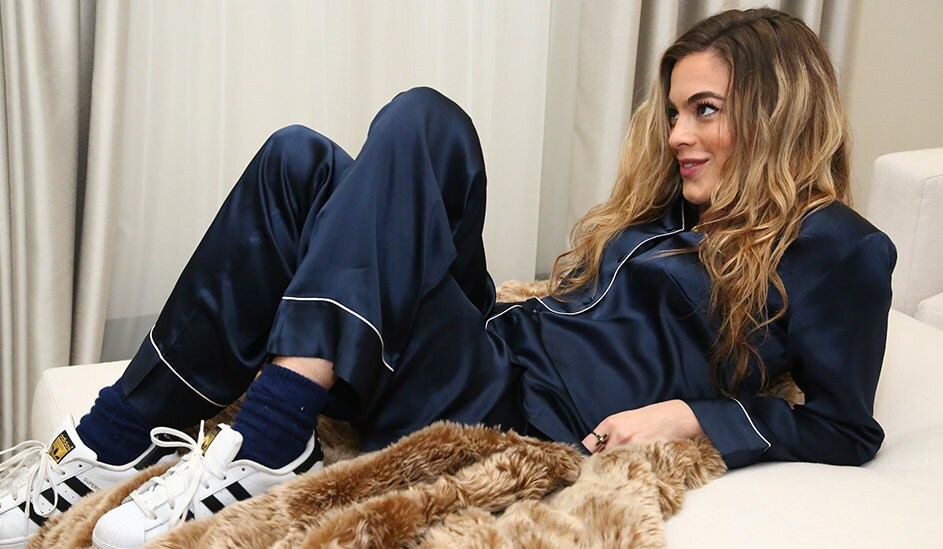 Being a DJ is inherently glamorous. Not only do you get the best spot at every party, but you're the one moving the crowd. It's quite a responsibility if you really think about it—the memories of an entire roomful of people depend on you to make an average night an unforgettable one. The ultimate cool-girl wardrobe is just part of the job; impeccable taste in music is a given.
But London-born, New York City-based DJ Chelsea Leyland takes her responsibilities to the next level. "You are taking people on a journey through your music," she says about her favourite aspect of the job. Though on the night she was set to DJ a rather posh Estée Lauder pajama party, Leyland was sidelined with a flu that kept her bedridden most of the day—until she rallied to ensure she still made it to the gig. Over a cup of ginger-infused hot water with lemon, we talked music and beauty, while global makeup artist Victor Henao crafted a nighttime-ready cat eye that eradicated all signs of sickness.
"I'm actually hopeless at doing a cat eye," Leyland admitted while she marveled in the mirror at Henao's work. "[But] it gets me in the mood for a party."
Read on for Henao's tips to recreate Leyland's party look for yourself. Whether you're a cat-eye beginner, in need of a night-out eye, or even trying to conceal the effects of a cold, this simply chic look is sure to stun.
1
"Since the highlight of this look is glowing skin, I used Double Wear Makeup To Go, because it gives just enough coverage with a natural, glowing finish. I always apply it first with a brush, then blend it out with a sponge for the most natural look."
2
"Finish off the skin with a dusting of Bronze Goddess all over, and a touch of Pure Color Blush in Lovers Blush on the apples of the cheeks. I'll also tap a dime-sized amount of Advanced Night Repair on cheekbones for a dewy highlight."
3
"Groom brows with Double Wear Stay-in-Place Brow Lift Duo for definition, then Brow Now Stay-in-Place Brow Gel to set them."
4
"Chelsea wanted to keep her eye look fairly simple, so I lined the top with Little Black Liner in Onyx. When it comes to getting the perfect wing, remember that your eyes aren't the same shape, so consider each eye individually. Draw the line as an extension of your lower lashline, winging it in that direction. Then connect it back to the top lashline, and it will automatically be symmetrical."
5
"To give the eyes a little extra sparkle, line the lower waterline with Double Wear Stay-in-Place Eye Pencil in Pearl, then top them off with Sumptuous Knockout Mascara."
6
"Complete the look with Pure Color Envy Sculpting Gloss in Suggestive Kiss."