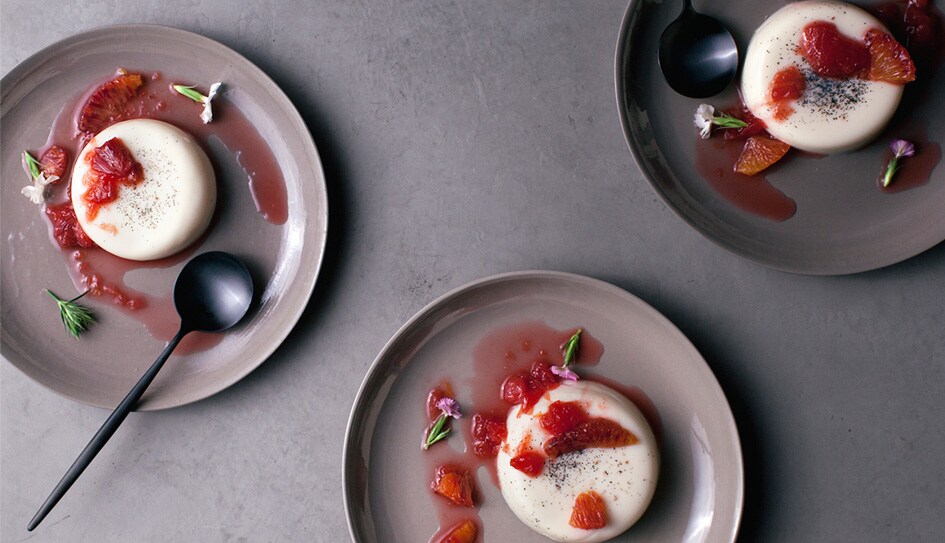 Fusing flavour profiles of savoury and sweet while offering a diverse take on texture, blogger Athena Calderone created an Estée Lauder-inspired holiday meal. Calderone started off by serving fig jam and charcuterie, playing off the famous fig scent in Pure Color lipsticks. Next, she pulled together a winter white shaved salad, studded with pomegranate—mostly because it's delicious (and partly because pomegranate stars in the Nutritious collection). For the main affair, a Meyer lemon risotto with shaved beets was served, inspired by the citrus notes in many Estée Lauder fragrances. And finally, vanilla panna cotta, created with Modern Muse Le Rouge in mind.
"Estée Lauder was such an exceptional hostess," Calderone says. She researched Estée's famed entertaining style and filtered it through a modern lens. In a nod to the vanilla note in Modern Muse Le Rouge, Calderone filled bottles with beans for each guest to take home, "inspired by the way Estée always made sure her guests left with a gift." In homage to our founder, who often printed her menu on napkins guests would take home as souvenirs, Calderone hand-edged her napkins using natural pomegranate dye.
When it comes to the end of the meal, "I swoon about panna cotta for the holidays not only for its richness, but for the fact that it can be made in advance and served in a variety of vessels and molds," says Calderone. She pronounces the dessert a timeless classic, thanks to its delicate vanilla notes. "It can be elevated with tart winter citrus for an elegantly beautiful presentation," she adds.
Estée Lauder was such an exceptional hostess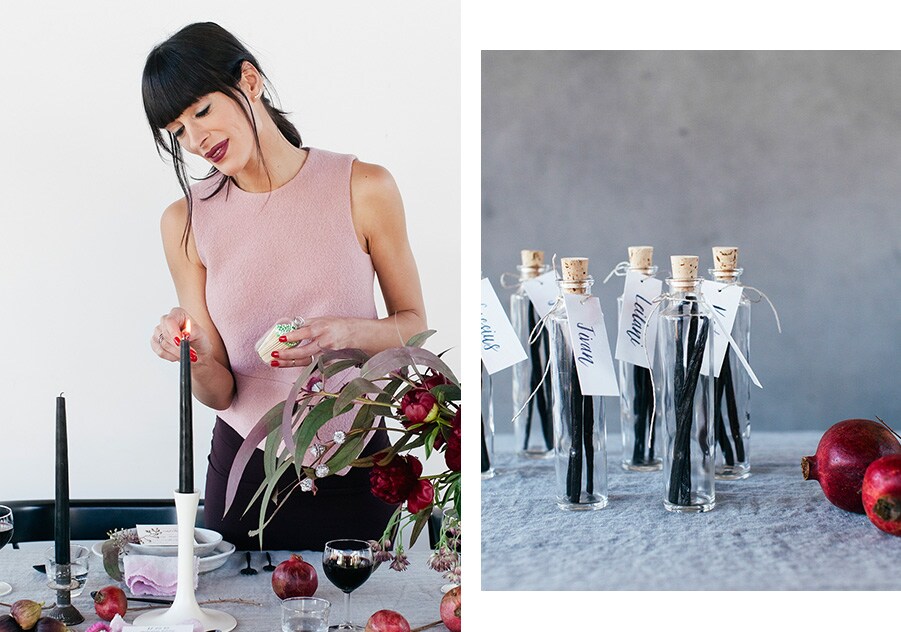 Here's how to make it:
Panna Cotta with
Winter Citrus Compote
For the Panna Cotta:
2 cups heavy cream
1 cup half and half
6 tablespoons sugar
1 vanilla bean split vertically, seeds scraped out
1/4 teaspoon salt
1 tablespoon water
2 teaspoons powdered unflavored gelatin
Directions:
In a heavy pot, bring the cream, half and half, sugar, vanilla seed and salt to a simmer over low heat, stirring frequently. While the cream is warming, place water in a small bowl and sprinkle the gelatin in to soften for a few minutes. When the cream comes to a simmer, remove from heat and whisk in the gelatin. Pour the mixture into a bowl and set it inside a larger bowl of ice water, allowing it to cool completely. Pour the cream mixture into 6 ramekins. Cover with plastic wrap and refrigerate for a minimum of 5 hours. To unmold, run a paring knife along the inside edge to release the panna cotta onto a serving plate. Serve with a dollop of citrus compote.
For the Citrus Compote:
2 pieces of citrus (blood orange and mandarin or pink grapefruit )
2 teaspoons zest
1/2 cup orange juice
2 teaspoons honey
Directions:
Section the pink grapefruit and cut each segment into thirds. Slice blood orange into disks. Combine all ingredients in a small saucepan and bring to a boil over high heat. Smash the citrus pieces with a spoon, then reduce heat to low and simmer for 10 to 12 minutes, or until texture thickens. Serves 6.
Photos by Sharon Radisch