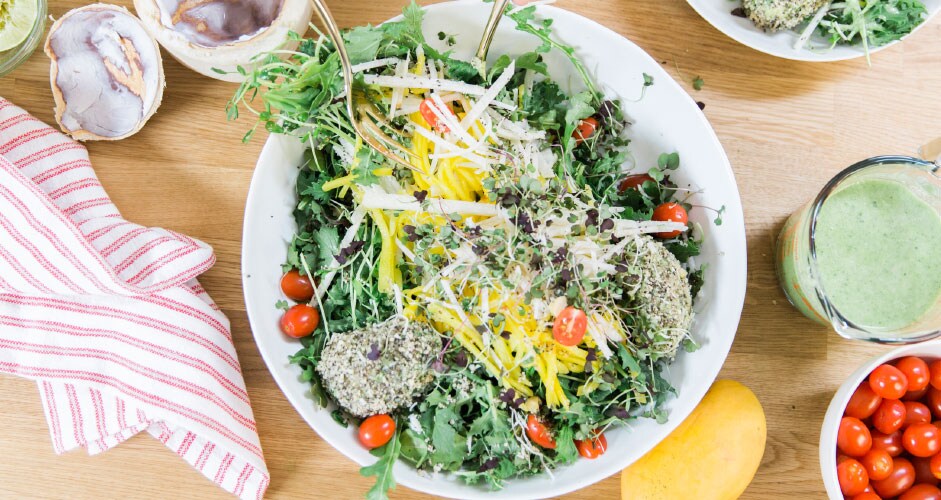 When childhood friends Danielle DuBoise, a former model and actress, and Whitney Tingle, an aspiring finance whiz, relocated to New York from Sedona, Arizona, they each carved out their own path. But the city's fast-paced, competitive environment wrought havoc on their respective beauty routines. DuBoise's lifelong battle with body-image issues and roller-coaster diets manifested itself in an unhealthy relationship to food, while the stress of working on Wall Street left Tingle overweight and battling cystic acne. "We both had health issues," says DuBoise, who admits that together, they tried everything to successfully get back onto the right track. "We were vegans and raw foodists; we did the master cleanse for 14 days—we became extremists," she reveals. So in 2011, with a pre-med education with a background in holistic nutrition, chemistry and anthropology, DuBoise and Tingle decided to seek out a healthy mind-body connection.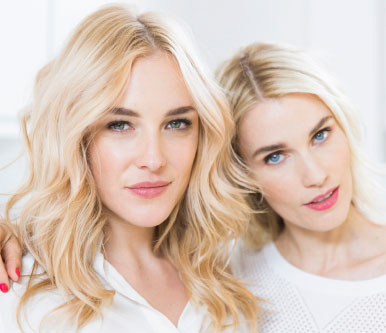 After consulting "every doctor, every nutritionist and every shaman," the duo devised a food system for themselves that was about empowering loving food choices, not counting calories. "It was totally life altering," says DuBoise. "I realized that food could nourish me, and it completely changed Whitney's skin." Sakara Life, their bi-coastal food delivery service that offers plans as short as one day and as long as three months, came from an overwhelming desire to share the incredible internal and external benefits both women experienced with the world.
"It's not a diet, it's a lifestyle," says DuBoise, who stresses that the New York-based business—which started offering its fresh-made meals to the Los Angeles area in June—is not about telling you what not to eat, but rather helping you commit to quality ingredients, thoughtful recipes, and a wellness structure that is set up not only to help you look good, but also help you feel a sense of wellness. Says Tingle, "You don't call us when you're hungry; you call us when you're ready to make a change." Here, the nutrition entrepreneurs share three of Sakara's guiding pillars as well as a delicious summer salad recipe designed exclusively for Estée Stories to help you look good—and feel even better.
1
Eat Your Water
"Eating your water—cucumber, melons and lettuces helps plump the skin. Eating our water changed our lives. The jicama in this recipe is 90% water!"
2
Eat Your Greens
"Greens are really high in water, but also really high in super nourishing ingredients like chlorophyll, which is a great alkalizer and body detoxifier. We make sure that our clients get 4-6 cups of greens in our breakfast, lunch and dinner program. Here, we added pea shoots to the microgreens, arugula, and mizuna so you're getting four lettuces in this recipe!"
3
Eat Your Rainbow
"If you focus on a plant-based lifestyle, it can get really monotonous unless you're attempting to constantly eat new things. When I was vegan, I would just eat rice, beans and kale every day. At Sakara, we focus on making sure you get every color of the rainbow because that's how you get an array of the good stuff, like the avocado and mango we used here."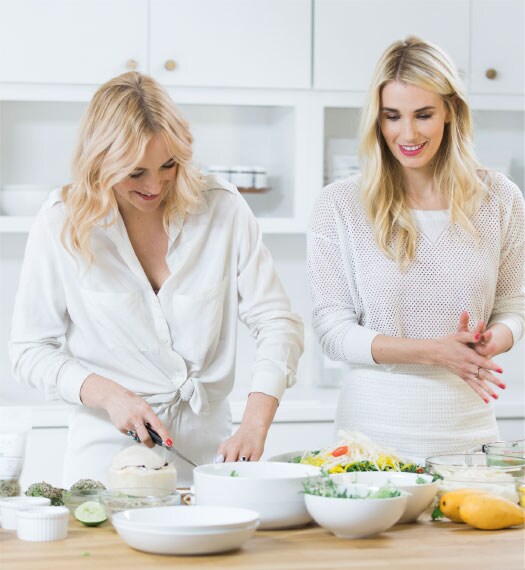 Sakara "Eat Your
Water"Salad With
Superfood-Crusted
Avocado + Coconut
Drizzle
Salad:
10 ounces mizuna and arugula
2/3 cup Brazil nuts
2 tablespoons chia seeds
2 tablespoons hemp seeds
2 tablespoons coconut flakes
1 teaspoon lime zest
1 cup jicama, julienned
1 cup mango, julienned
2 handfuls of pea shoots
2 ripe avocados, peeled, pitted and halved 1 cup microgreens
Coconut Corriander Drizzle:
1 cup coconut meat
1-1/3 cup coconut water
1/4 bunch corriander
1/3 cup lime juice (about 4 limes)
1 tablespoon raw honey
1 tablespoon tahini Pinch Himalayan salt
Direction:
In a food processor, blend Brazil nuts and salt until the mixture has the consistency of a crumble. In a bowl, mix together chia seeds, hemp seeds, lime zest, coconut flakes and your blended Brazil nuts. Take each avocado half, dip it in the lime juice and then dip it into the superfood crumble and set aside.
In a blender, blend together coconut meat, coconut water, corriander, lime juice, honey, tahnini and salt. Blend until smooth. Makes 2 cups of dressing.
Mix together mizuna, arugula, and pea shoots and top with jicama and mango. Place superfood-dipped avocado halves on greens and drizzle with coconut corriander drizzle. Garnish with microgreens.
Video and photos by Chris Ozer.