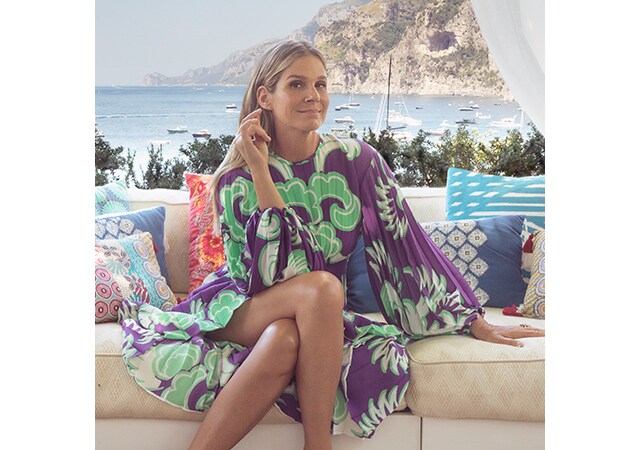 As Aerin Lauder, our Style and Image Director and Founder and Creative Director of AERIN, puts it, Mediterranean Honeysuckle in Bloom is all about a vibrant Italian summer—and we couldn't be more ready for it. We sat down with Aerin to learn more about her latest limited-edition fragrance, transporting our senses to an enchanting summer escape, illuminated with vibrant sun-drenched flowers. Read on to go on the journey with us.
I love the scent of the Mediterranean: the air is always heavy with the
fragrance of Honeysuckle, Tuberose and Jasmine. I associate these blooms
with a perfect summer's day.
With the end of winter drawing upon us, what is your go-to fragrance ritual to transition you into the warmer months?
I love to keep my rituals simple and easy. With the warmer months coming upon us, I opt for fresher, brighter fragrances. This season I'll be doing 1 spray of my new Mediterranean Honeysuckle in Bloom first, followed by a layer of Mediterranean Honeysuckle to bring out its unique sparkling fruit.

Has the Mediterranean Honeysuckle in Bloom concept inspired any of your other AERIN lines, home and style this upcoming season?
Fragrance is typically where my inspiration begins for any season. Whatever story the fragrance tells, we then run with that mood, memory, colour scheme or location throughout the entire AERIN brand. Mediterranean Honeysuckle in Bloom is all about a vibrant Italian Summer. These colors and textures will be incorporated into our new home collection, as well as our new accessories to make the lifestyle concept really come to life.
Is there a wine or cocktail that reminds you of the Mediterranean?
Some wines or cocktails that make me think of the Mediterranean include Aperol spritz, Rosé wine and white sangria with peaches. I also discovered a delicious drink last time I was in Greece, Eros, the god of love, a combination of ginger, passion fruit, kumquat and rum – it was divine.
Do you have a favourite Mediterranean recipe?
My favorite menu includes seafood paella served with sangria and a caprese salad. The Mediterranean has some of the freshest seafood I've ever had, and I like to infuse that when entertaining at home.
What is your favourite part of the Mediterranean culture?
The Mediterranean culture is about enjoying life, which I love and respect. Just the thought or scent of The Mediterranean can make you feel relaxed. It brings to mind long late lunches by the sea.
As temperatures start to warm up, what are your top five summer essentials for a day in the sun?
Sunscreen, straw hat, floral tunic, big sunglasses, and water.