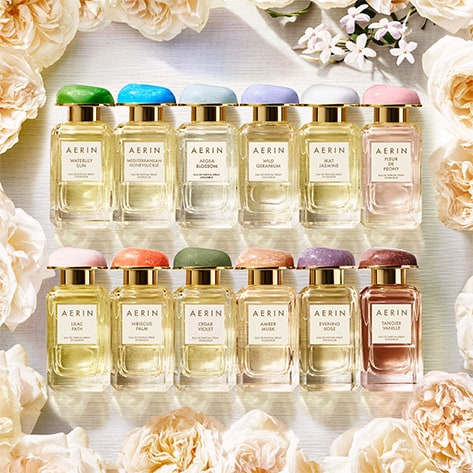 Every season and occasion deserves a perfectly paired scent. Discover AERIN's Fragrance Collection—a wardrobe of perfumes that explores the world of florals. This summer, AERIN has a scent that will match the mood of every moment. Keep scrolling to discover which one is right for you.
Poolside with Mediterranean Honeysuckle
With its notes of refreshing Grapefruit and sun-drenched Honeysuckle, Mediterranean Honeysuckle is the ideal scent for relaxing poolside and soaking up the carefree feeling of a long summer afternoon.
In Nature with Cedar Violet
Prepare for a getaway to the great outdoors with a spritz of Cedar Violet. Crisp notes of Violet Leaves and the sensual warmth of Cedarwood evoke the calm atmosphere of an afternoon in a sun-dappled forest.
Sunset with Hibiscus Palm
As the sun sets, celebrate another beautiful summer day with the tropical allure of Hibiscus Palm. Notes of lush Hibiscus, crisp Palm and smooth Coconut Milk accompany you on a sunset cruise across calm waters.
Al Fresco with Amber Musk
Let the warm glow of Amber Musk take you into golden hour. Notes of soft Musk, warm Amber and refreshing Coconut Water is a combination meant for evening cocktails on the terrace with friends.
Want more AERIN summer fragrance picks? Try our AERIN Fragrance Finder and discover the perfect scent for you or someone you love.