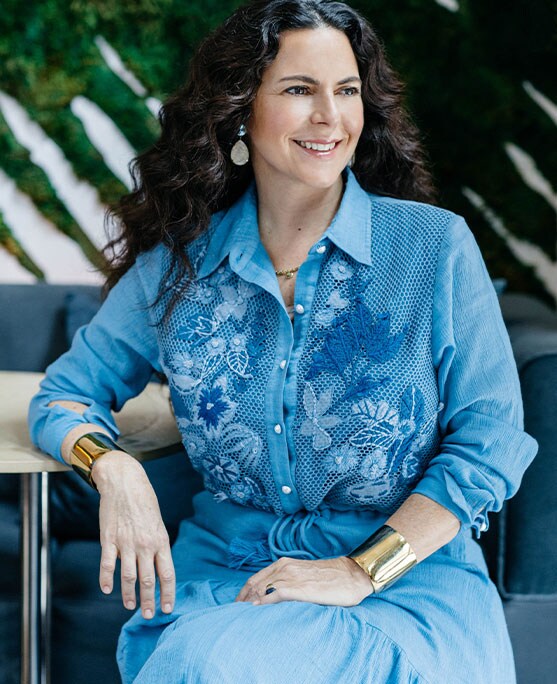 Since childhood, Paloma Teppa has been happiest when surrounded by nature. Now a successful entrepreneur, Teppa is the founder and chief creator of Plant the Future, a Miami-based company with the mission of connecting people to plants through art and design. "I grew up surrounded by nature in Córdoba, Argentina," Teppa says. "I always enjoyed playing in my treehouse and near the river in the back of my house. I was inspired [to start Plant the Future] by the need to feel that peace and happiness every day." Her goal is to minimize the divide between indoors and outdoors by infusing manmade environments like hotels and coffee shops with nature. High profile clients include 1 Hotels, Ritz Carlton, Nobu, American Express and Starbucks. Plants seem to be having a moment right now and Teppa hopes it will last forever. "Nature is love," she says, "and why would anyone want to be separated from love?"
What do you love most about your job?
I love being close to plants every single day and bringing people positive energy and happiness through my work.
Where do you draw inspiration?
My inspiration comes from biomimicry and the beauty of how nature grows and develops. I aim to replicate.
Can you describe a typical work day?
My work day starts by promoting positive energy in the work place. I burn sage and palo santo and play music. It is important for me to connect with my team every morning by asking how they're feeling. I meet with my team to plan out my day and establish a plan of action. Then, we all take on our tasks and work as efficiently
as possible.
What's the hardest part of owning a business?
The most difficult part has been learning how to delegate tasks and not take everything on myself. This is why it's so important to have the right team behind you and make sure they are all happy.
What has been your favorite collaboration or project you worked on?
I don't think I have a specific favourite. All the projects and collaborations I take on are because they align with my ideas and mission. One of my most important projects was with 1 Hotel South Beach because they were the first to trust us on a project of such a large scale, which gave us the opportunity to continue developing larger projects.
What advice would you give to someone looking to start a business?
My advice would be to know that the business you are starting is fulfilling your dream. It's also so important to make sure to surround yourself with the right team.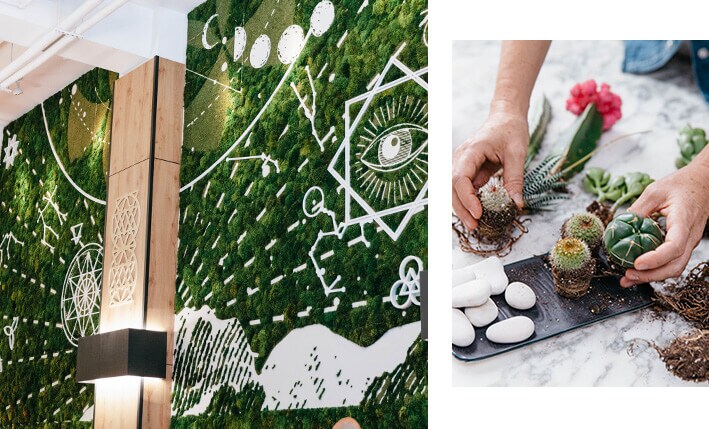 Nature is love, happiness is beauty.
Can you explain a little about what biophilic design means and how you came across it?
Biophilic design comes from an existing term, biophilia, which highlights humans' subconscious tendency to seek and form connections with nature.
How many plants do you currently have at home?
Too many to count. I have more plants than furniture. My goal is to remove the feeling of separation between indoors and outdoors in my home.
You do a lot to care for your plants, what's something you do for yourself?
I eat organic foods including as many plant-based meals as possible. I also love Pilates to recharge.
Can you describe your approach to skincare and beauty?
I try to focus on skincare as much as possible. I exfoliate my face using a Japanese towel and apply Vitamin C. I also use natural oils for my hair. I wear minimal makeup, but love a good mascara!
What's the first thing you do in the morning?
Drink lots of coffee!
How do you think exposure to plants and nature affect the appearance of skin and health overall?
I think being surrounded by plants and nature allows you to understand that we are all beautiful the way we are. The peace and positive energy nature provides can also positively affect your health and appearance; happiness is beauty.
How do you relax and unwind after work?
I enjoy reading and researching nature on my own terms in order to unwind. Creating with the freedom of not having deadlines also helps me relax.
What inspired you to combine architecture and art with plants?
Everything is an ecosystem that is interconnected, so I think multiple disciples can align and live in harmony. I hope to continue touching a variety of different areas through plants and nature.
What's the most difficult part of the process when designing a new piece or starting in a new space?
The beginning of a new piece is the best and most exciting part for me. The most difficult aspect is feeling like there hasn't been enough time to create since you have to meet certain deadlines.
What made you decide to work with living plants rather than cut flowers?
Flowers are beautiful, but once they are cut they are dead. I prefer the energy provided by living plants.
What advice would you give someone who wants to add a little greenery to their home or office but aren't sure where to start?
I would recommend starting with a cactus because they are low maintenance
and beautiful.
What's the most common mistake people make with their plants?
The most common mistake is not understanding or researching the amount of water required for each plant.
If you hadn't founded Plant the Future what would you be doing?
Living in the jungle!
What is your favourite plant or flower, and why?
Orchids because of their feminine energy and beauty.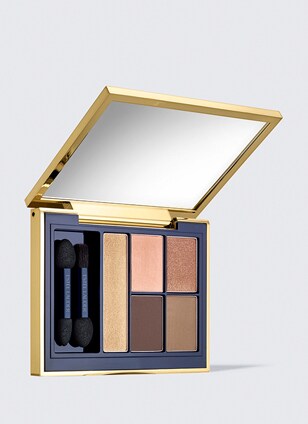 NEW SHADES
A colour story in a compact
1 shades