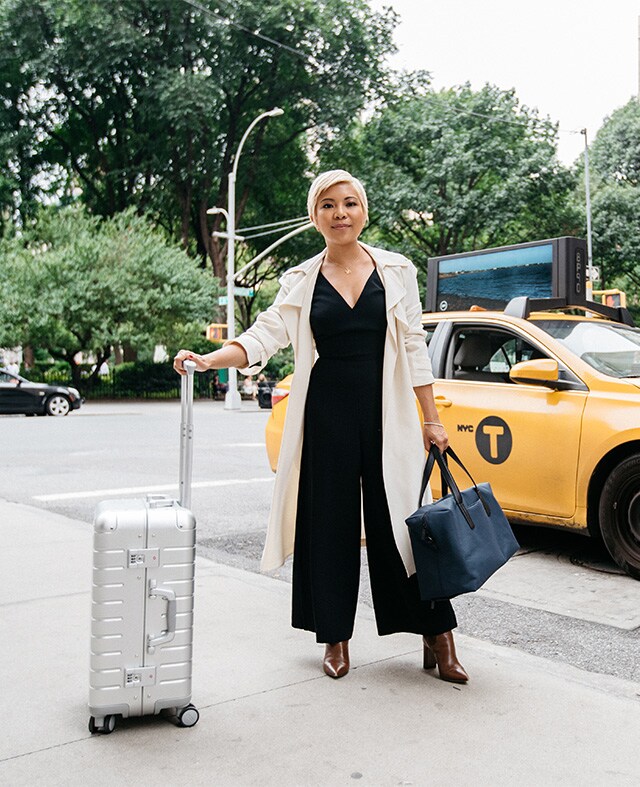 The word "luggage" is fraught with connotation. It's not cute, like tote—"I'm toting around my favorite things!"—you're literally lugging around a heavy brick full of stuff. And who wants to lug anything?
That's where friends Steph Korey and Jen Rubio saw an opportunity. As the cofounders of Away, they sought to take the lugging out of luggage, making travel a more chic, functional, and pleasant experience overall. Their signature rollerboard bags are now ubiquitous, seen at the sides of everyone from fashion insider Julia Restoin-Roitfeld to Estée's own Karlie Kloss.
If that alone doesn't make you want to book your next trip with an Away Carry-On at your side, check out our video with co-founder and Chief Brand Officer Jen Rubio. Her truly expert packing tips will make your travel experience easier and more organized than ever. We also sat down with both Rubio and Korey to dig even deeper into their best traveling hacks so you can now jet anywhere like a pro.
What is the best packing tip you've ever received?
Jen Rubio: Use packing cubes. I'm a notorious over-packer, but packing cubes are my biggest tip for saving space—I swear by them so much that Away launched a line of our own! Not only can you pack more in, but they'll also keep you organized so you'll spend less time digging around your bag and more time actually enjoying the trip that you're on.
What are the must-haves in your carry-on for every flight?
JR: I'm on a plane almost every week, so I have a few essentials that make my travels reliable, despite the sometimes chaotic schedule: Bose noise-cancelling headphones and a silk eye mask from Slip so I can catch a few hours of sleep; Four Sigmatic Chaga Elixir to keep my immune system in check; almonds to give me a boost of necessary energy and nutrients while still keeping it light; and the Estée Lauder Micro Essence Aquaceutical Mist, since flying can leave your skin really dehydrated.
Steph Korey: I'm all about comfort and only packing what I'll absolutely need on a flight. For me, that means: a pair of casual and comfortable shoes—Supergas have been my go-to for as long as I can remember; a sweater from Theory since it usually gets chilly on the flight; my laptop so I can get work done and keep up with Slack while I'm traveling; and DayWear Multi-Protection Anti-Oxidant 24H Moisture Creme to keep my skin feeling hydrated the whole trip.
Speaking of which, do you have any tricks to making sure your skin stays bright and hydrated during a long flight?
JR: The air inside the cabin can be really dehydrating, so I have a few favorite products that I always pack to take care of my skin during the flight—and to make sure I look rested and energized when I land! I don't like to wear makeup when I'm flying, so I start by taking everything off with Double Wear Makeup Remover Wipes. Next, I'll use the Advanced Night Repair Concentrated Recovery PowerFoil Mask. Some people feel weird about wearing a mask when they're flying, but I embrace it and use it as time to get some rest. I also love the Advanced Night Repair Concentrated Recovery Eye Mask, and then I finish my whole routine with the Set + Refresh Mist once I land to help lock in moisture and keep my skin looking hydrated for hours, since I'm usually right off the plane and into the next adventure.
If you could head to the airport and fly anywhere in the world right now, where would that be?
JR: I go to Tofino, British Columbia for long weekends as often as I can. I have a deep love for the Pacific Northwest, and Tofino is like a small slice of heaven to me.
SK: Nantucket is one of my favorite places in the world, so I'd definitely choose a weekend with my husband at the home we have there. Most people think Nantucket is best in the summertime, but my favorite time of year to visit is in December during Christmas Stroll weekend; the entire town is decorated for the holidays and it feels so festive!
I believe that travel and experiencing different places and cultures has the ability to make us better, more empathetic people.
What was your worst travel disaster or most embarrassing travel moment?
JR: Definitely the moment my suitcase broke at Zurich Airport, and my clothes spilled out everywhere. Even though it was pretty stressful at the time, that moment eventually led me to Away, so I guess I'm grateful that it happened!
What were you doing before you started Away? What was the moment that finally drove you to take the leap?
JR: Steph and I met while working at Warby Parker, where I joined as Head of Social Media and Steph as Head of Supply Chain. Even though we worked on different sides of the business, we quickly formed a great working relationship and continued to stay close after we each took on new roles. After Warby, I moved to London to join AllSaints as Head of Innovation.
I spent my career helping brands and consumers connect, and working with brands to figure out their unique voice and how to share it with the world. When my luggage broke at the airport, I started thinking more about the luggage industry, and it struck me that even though luggage is something you take on every trip, there were no brands that people were genuinely excited to associate with.
I called Steph soon after, and once we started digging into the luggage industry more, we realized there was an opportunity from both a brand and a supply chain perspective to create a great product at a great price point, while telling a broader narrative around travel.
SK: After Warby Parker, I went to Columbia to pursue my MBA while consulting on the supply chain team at Casper. When Jen called me after her luggage broke, we started doing tons of research and talking to hundreds of people to understand their pain points while traveling and what they might want from a suitcase. We were flying back and forth to Asia in between my finals to visit factories and test luggage prototypes, and about a year after Jen called me from the airport, we launched Away with The Carry-On!
What is it like to start a business with a friend and work so closely together (not to mention do so much traveling together)? How do you handle it when you have friction or a disagreement?
JR: I couldn't imagine starting Away with anyone but Steph. She was the first person I called when my luggage broke at the airport and Away was just an idea, because I knew she'd understand the vision I had, and, given our respective backgrounds, I knew she'd be the perfect person to help me figure out whether we could actually shake up the luggage industry in a meaningful way.
Our professional areas of expertise have always been completely different (mine on brand strategy, and Steph's on supply chain and operations), and today, we bring those different perspectives and skill sets to how we run the business at Away.
What do you make sure to make time for outside of work?
SK: Travel! Both Jen and I (and our team) share a deep love for travel, so it's something we all try to do as much as possible. I believe that travel and experiencing different places and cultures has the ability to make us better, more empathetic people; it's one of the reasons we started Away, because we want to inspire people to do it more often.
What is your advice to other women thinking about starting a business?
JR: Trust that your path won't necessarily be linear at every step of the way, and know that there's not one right way to approach your career. You'll take twists and turns that might not always seem totally rational on paper, but if the journey you're on feels intuitive, pay attention to that. You'll eventually land exactly where you're supposed to be.