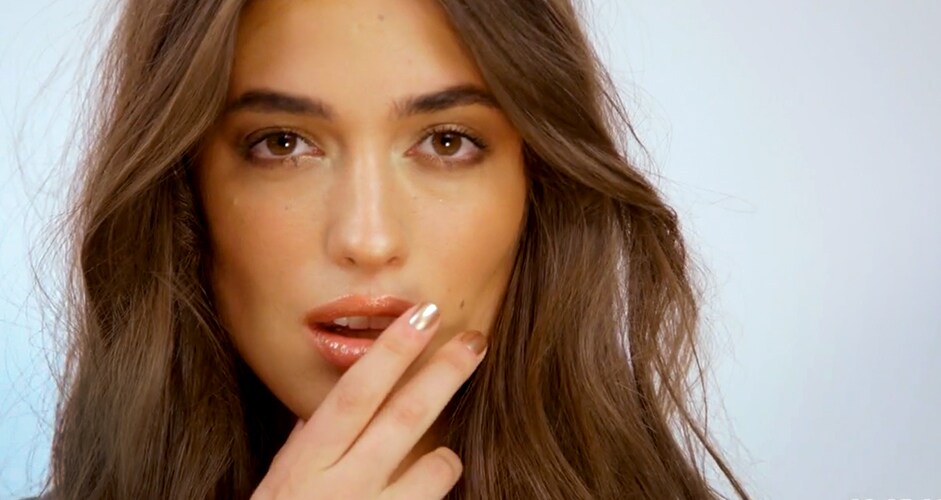 WATCH VIDEO
A Hollywood zip code means sunshine all year-round—and the sun-kissed skin to match. But Tinseltown's talented makeup artists do their part for the city's glowing reputation. When it comes to getting the kind of bronze contours that make singers and starlets look like sun goddesses, there are few who do it better than Mary Phillips. Click above to watch Phillips create the only beauty look you'll need this summer, and read below for the step-by-step tips.
1
Conceal to Contour
"I like to start with a concealer on the forehead, temples and cheekbones as a base for my contour. Because the skin and skin "occurrences" (like veins, acne, discolouration, dark circles, etc.) are not one colour, you need to be specific with each concern. So I cover red spots with a yellow concealer, and blue and purple spots with a peach concealer."
2
Apply a Light Layer of Foundation
"Once I blend in my concealer, I apply a light layer of foundation with a blush brush and buff it on. If you don't have a brush, you can apply it with your hands like a moisturiser."
3
Focus Your Powder Puffing
"Only powder the areas that you don't want to be shiny—just a little on the forehead and around the nose, under the eyes, and next to the corners of your mouth so they don't catch the light."
4
Brush Up Your Brows
"Fuller brows are of-the-moment and are a more flattering shape for everyone's face, but it's important that they also look well-manicured. Grooming your brows draws everything upwards—a key element in anything regarding makeup of the face. You never want to look pulled down or saggy. Always think up!"
5
Go for the Bronze
"Using a powder bronzer, like Bronze Goddess Powder Bronzer, dust pigment onto the cheeks, forehead and jawline to create the natural appearance of shape, shadow, and depth."
Blush is a vital and important part of bronzer and the two products should do a bit of a tango.
6
Your Best Blush
"After you work out, or you're out in the sun, take note of what colour your skin tends to turn when the blood rushes to your cheeks. Blush is a vital and important part of bronzer and the two products should do a bit of a tango; the wrong colour could offset your perfect glow. Once you've shade-matched to your post workout colour, apply your blush to the apples of the cheeks and blend everything together."
7
Go Nude on Lids
"A nude shadow all over the eye, from lash line to eyebrow, with a bronzy shadow in the crease and in the inner corner makes the eye look bigger by opening it up. Instead of using a liner, I like to drag a deeper shade of shadow along the upper and lower lash line, adding a lighter golden color right in the center to make the look pop. This eye style creates depth and strengthens the bronze on your face for a more monochromatic, cohesive look."
8
Shine On
"Patting a highlighter onto the top of cheekbones, on the browbone, and a slight bit down the bridge of the nose will help the skin look like you don't really have makeup on, just that it's fresh and shiny!"
9
Keep Lips Natural
"Line the lips with a natural liner and then use a neutral-bronzy lipstick to fill everything in. For milkier skin tones, look for nudes with pale, powder-pink undertones for a bit of depth. For medium/light skin tones, you want more pigment and rosier tones in your nude lipstick than someone who is fair. For warmer or darker skin tones, a caramel-toned nude is best."
10
Mind Your Décolletage
"If you're wearing something low cut, or if you want some shine on your legs, mix a cream or liquid bronzer in with your lotion and apply like a moisturiser. In a pinch, you can also use a butter knife to gently scrape a powder bronzer compact until you've made a sufficient anthill of dust; then add that to your lotion and mix well."
Explore the other features in our Ready, Set, Summer Series: The Playlist.