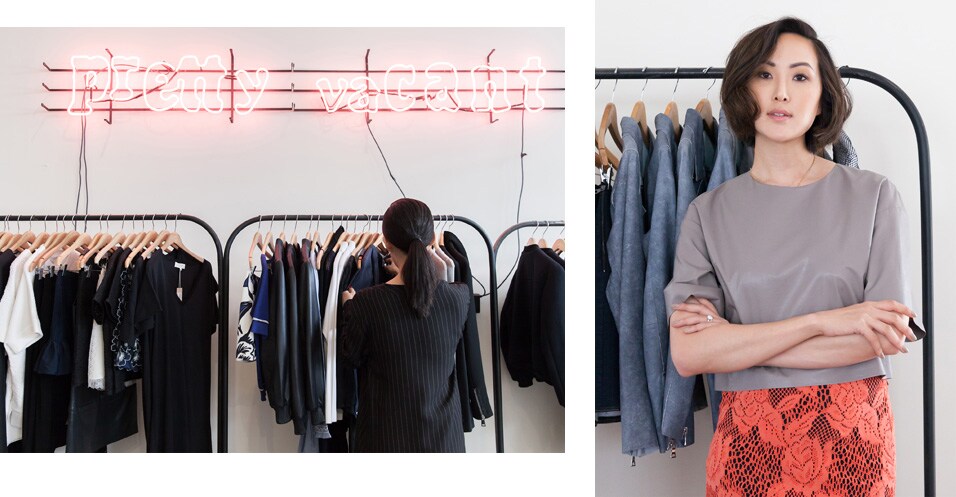 Since opening Satine, her well-loved West Hollywood boutique in 2003, Jeannie Lee has become a go-to resource for Southern California's fashion set. A former real estate attorney who also studied fashion marketing and merchandising, Lee helped pioneer the "high-low" shopping concept, stocking top luxury designer lines alongside small, independent brands at a time when mixing and matching was a rarity in retail. The novel idea helped her build a cult following of editors, stylists, celebrities and socialites—at home and abroad. In 2008, Lee expanded her concept to Tokyo's Aoyama district. Three years later, she launched her in-house label, which is a reflection of her L.A.-centric style sensibility. "I really like to have layers, and to not have a lot of weight in my clothes," says Lee, who admits that her main objective for warm-weather dressing is to not overheat, but still be relatively covered "because I'm not 20." To celebrate the onset of the sleeveless season, we asked Lee—pictured above with her good friend Chriselle Lim (the fashion vlogger and Creative Director of Satine's newly re-launched website)—to list a few of her favourite Summer styles while pondering the age-appropriateness of shorts; the surprising versatility of jumpsuits; and the one on-the-go beauty product that can save your skin on a particularly hot and steamy day.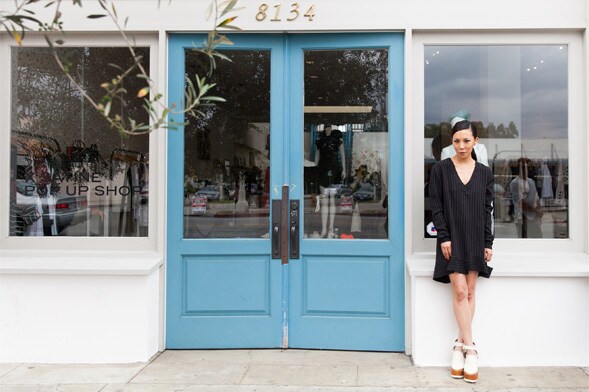 1
Wear A Wedge
"If I could wear only one pair of shoes in the Summer, I'd pick Stella McCartney platform sandals. I need a wedge or a stacked heel in the Summer to give me a little height because it's so much more flattering with short outfits/styles and with mid-length ones too, which can look a little frumpy with flats."
2
Invest In A Sleeveless Jumpsuit
"A sleeveless pants jumpsuit is totally essential and is one of the most useful pieces of clothing you'll ever own. You can put a jacket on over it if it's air-conditioned inside. You can wear it with a blazer to work. Or you could pair it with open-toe high heel sandals for evening. And even though it's pants, your arms are exposed so you will be cool enough. Right now, I'm obsessed with Sonia Rykiel jumpsuits."
3
Make Midi, Maxi
"Midi-length dresses and skirts are just so chic. They can be really casual or really dressy—and they're self-ventilating. The mid-calf length is very 70s but it feels very fresh right now. It's romantic, and showing the ankle is just sexy. Preen is really good at this length, and Tibi does a lot of great midi-length skirts, too."
4
You're Never Too Old For Shorts
"I'm going to wear shorts until I die! And the truth is, shorts don't have to be that revealing. If you wear them with a beautiful silk blouse, instead of something skimpy, they can even look sophisticated and balanced. For a great day-to-evening look, pair shorts with a long vest and leopard espadrilles. I call this my 'summer suit!' Philip Lim makes really cute dress shorts."
5
Pack Your Powder
"In the Summer, you're exposed to sun even if you're not trying to be so I make sure to have SPF in my foundation, and I use a lot more powder to control the shine. I carry my pressed powder with me at all times so I can reapply it if I get sweaty! It helps keep things neat."
Explore the other features in our Ready, Set, Summer Series: The Makeup Tutorial, The Mindset , The Beauty Regimen, The Workout, The Playlist.