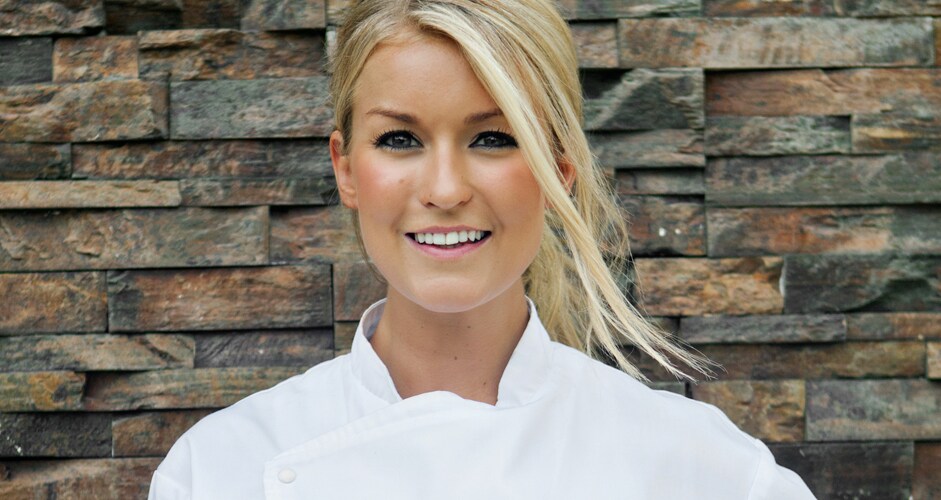 The first time Australian chef Janine Booth tasted Southern comfort food, she was hooked. "It doesn't exist in Australia," Booth admits of the biscuit-and-gravy culture born below America's Mason-Dixon line. Having moved to Miami from Perth in 2009 to attend Le Cordon Bleu culinary school, Booth stopped by the city's Asian-barbecue favorite, Gigi, for lunch and was blown away by a braised short-rib riff on the 1950s-American staple, meatloaf. She also found herself smitten with the man who made it. "I had one bite and I was like, 'this is the best thing I've ever tasted.' I ended up coming back and having the meatloaf a second time that day, and that's when I met Jeff," she says of the restaurant's then executive chef, Jeff McInnis, for whom she started working part-time.
"I love bright red lipstick, so I typically reserve it for special occasions.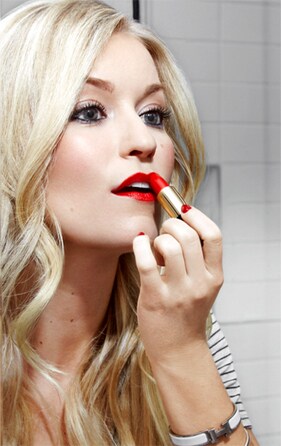 A Southern-boy from the sunshine state, McInnis has an acute awareness of farm-to-table cuisine, having grown up going to his grandparents pastoral spread in the Florida panhandle. Combined with Booth's appreciation for fresh, natural flavours, which she acquired while living in Australia's diverse, multi-cultural landscape (as well as on a nine-month culinary sojourn that took her across Europe and Southeast Asia), the duo quickly became a formidable team in the kitchen. Booth finished culinary school and following a few different restaurant gigs together—and separate stints on the popular Bravo reality show, Top Chef—she and McInnis moved to New York in 2013 to start their own restaurant. Root & Bone, their East Village eatery dedicated to Southern fare and country comforts, opened last June.
A cosmetology school alum, Booth is hard to miss in the cozy restaurant's open kitchen. With her long, flaxen locks and warm smile, she often works the line in makeup. "I probably shouldn't but you never know who will be there!" she laughs. Here, the 27-year-old chef de cuisine reveals how she manages to feel beautiful even after a full day of working the deep-fryer.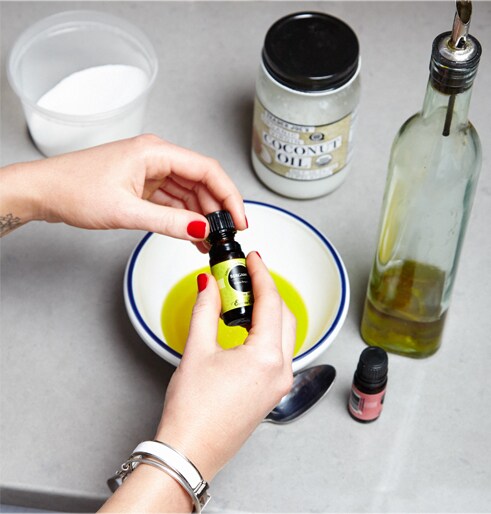 On Skincare:
"I had acne when I was younger so I would experiment with all kinds of remedies—tea tree oil, emu oil, baking soda—I've tried everything! Now, I wash my face twice in the morning and at night with Estée Lauder Nutritious Vitality Radiance 2-in-1 cleanser—once to take away the residual dirt, sweat, and oil from the kitchen, and then again to re-cleanse. It works well as a deep treatment mask one to two times a week, too! Then I'll use a rosewater mist to tone my skin and take off the last legs of make up, followed by a really thick and nourishing moisturiser, which I'll put on twice a day—especially when it's cold and dry outside."
On Bodycare:
"I'm not a beauty school dropout. I actually finished my course! I've studied naturopathy, aromatherapy, and have experimented a lot with different remedies—I used to put oatmeal in a stocking and rub it onto my skin to remove self tanner! I still make my own sugar body scrubs with extra virgin olive oil, sugar, and a few drops of my favorite essential oil like bergamot, grapefruit or rosemary. It just makes your skin look shiny and new."
On Makeup:
"Most of the cooks at the restaurant are guys so sometimes I do try to downplay myself; I love bright red lipstick, so I typically reserve it for special occasions. I always have a light foundation on when I'm working, though. Then I'll wear a little bit of blush, a little bit of black mascara, and a little bit of eyeliner on my top lid with just a flick on the corner of my eye."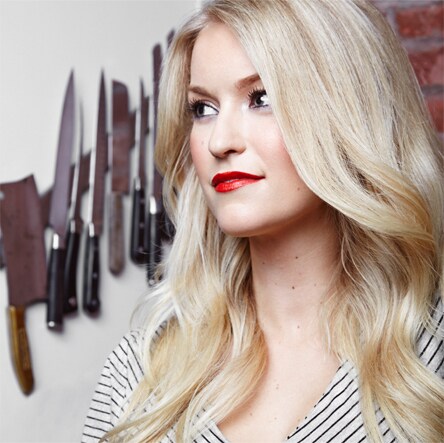 On Hair:
"When you have dry hair like mine, it's great to do a hair mask whenever you have time. I'll warm extra virgin olive oil—whatever we stock at the restaurant—and mix it with egg yolks and honey that we get from a farm in Upstate New York; then I'll comb it through my hair and wrap it in plastic wrap and a warm towel. I leave it on for 30 minutes and then rinse it with shampoo. The extra virgin olive oil is also great on cuticles. At the restaurant, I will grab a drizzle of it and rub it into my hands a few times a day!"
On Nails:
"Sometimes, I look at myself at the end of the night, and I'm filthy, my hair and face are a hot mess, and I stink like chicken. But if my nails are nice, I still feel good. I like bright red nail polish and sometimes I'll use a black colour, but usually I'll wear something very neutral when I'm working. I also use a product my mum ships to me from Australia that helps keep my nails strong, because my hands are in water all the time and my nails can get brittle."