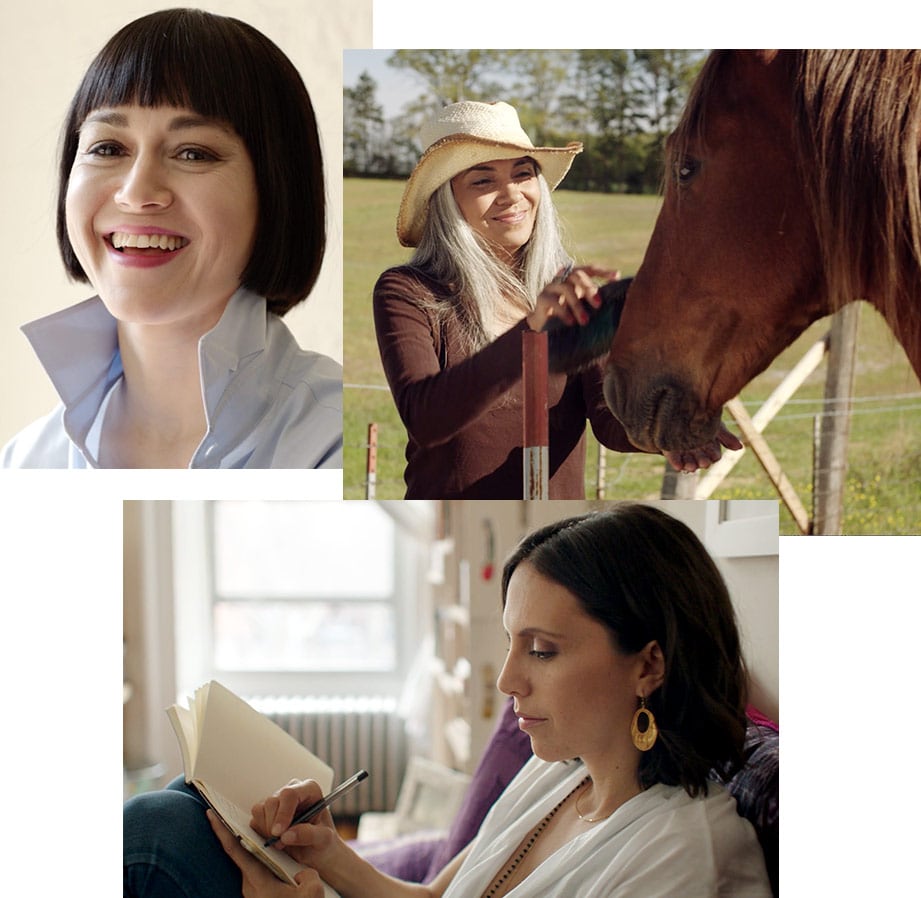 The typical Hollywood trajectory sees many of the world's most beautiful and talented women competing for stardom, vying for roles, or merely trying to stay relevant once they've "arrived." But filmmaker Paola Mendoza is changing that narrative. After training as a theater actress, Mendoza took control of her career and started creating and directing the films she performed in. "As an artist, your duty is to tell the truth, and my truth is very different from what I saw portrayed—about women, about Latinas, about the immigrant experience," says the Sundance, Tribeca, and Toronto Film Festival-veteran, who came to the U.S. from Colombia as a little girl with her mother and brother. Her at times heart-wrenching childhood story became the basis for her acclaimed 2009 film, Entre Nos, which led to the celebrated novel, The Ones Who Don't Stay (2013, Penguin).
The director, actress, screenwriter and author is also the mother of a two-year-old son, a job that she approaches with similar determination. "You learn to not waste time, to be as present as possible, and most important, to be gentle with yourself," Mendoza says of how she is trying to successfully balance her art with being a new parent. The multi-hyphenate admires the same virtues in other multi-tasking mothers, an archetype she is capturing on film this month for Estée Lauder. Mendoza's cinematic series of two vignettes profiles women in nontraditional roles while documenting what she calls "unexpected beauty." The project focuses on a hardworking chef based in New York's Chinatown and a Virginia farmer fighting to maintain her independence from large agribusiness conglomerates while mixing up all-natural beauty remedies with her daughter at home. "Beauty is important and fundamental," Mendoza insists. "I want to help shift the cultural definitions of it." Communicating the truth, she continues, is what changes the world. "That's my beating heart."
Here, the Brooklyn-based artist discusses flipping the script on the movie business, the traditional Latina immigrant story, and what, in the end, is genuinely beautiful.
Beauty is important and fundamental, I want to help shift the cultural definitions of it.
EL: How did you get into the business of creating your own films?
PM: I originally studied acting—for the theater, exclusively. I sort of raised my nose at the idea of working in film. But after I graduated, I had the opportunity to co-write and act in the film On the Outs (2004) and I just fell in love with making movies. The experience empowered me, showed me I could tell a story that I thought was important on a global stage.
EL: What inspires your work?
PM: Stories about the people and places I grew up with were never what I was seeing on stage, on TV or in films. I want to be a bridge to these worlds that are not often told about in a truthful way. That's my mission...
You can change the narrative, you can change the culture.
EL: How were you first exposed to the idea of beauty?
PM: My mom was a woman who put on makeup every day, but it definitely wasn't the center of her life. I remember her teaching me to pluck my eyebrows, put on lipstick and use face cream—she always told me to make sure I put some on my neck, too. 'The neck is where we show our age,' she said. I still think of my mom when I'm putting on face creme. In Colombia, I went to an all-girls school, where no one wore makeup at all—and that was liberating for me. I learned to embrace me without makeup, to celebrate whatever flaws I might have.
EL: These days, when you do wear makeup, what are your go-to products?
PM: I'm more of an eye person. I have big eyes so I like to accentuate them. I like to do black eyeliner, and if I'm feeling bold, I smudge it out with brown shadow. For just a regular day where I need to look presentable, I do a little mascara and blush, and maybe a little lip—right now I'm into fuchsia.
EL: Do you have any tips for managing an amazing career while being a parent?
PM: The secret is having an amazing partner. My boyfriend Michael and I share responsibilities for our son—like, today I'm filming in Virginia, and the day I get back, he leaves for his work for a day or two. We coordinate our schedules. I realized when I had a baby, for me to be happy, I needed to be making art. When the baby was first born, he would take naps and I'd write while he was asleep. And then while I was breastfeeding, I'd be thinking about what I was writing about. The other secret is daycare!
EL: What's up next for you?
PM: The film I'm working on now deals with women in a fictional town in Colombia in the middle of a drug war, and how they survive under the most impossible circumstances. How the drug world affects men—that's a story we know, we've seen it over and over. We always see men, yet the majority of victims of the drug trade are women and children. It's kind of a sprawling film; we start shooting next year, and at the same time, I'm getting into the TV game. I'd love to do a series!