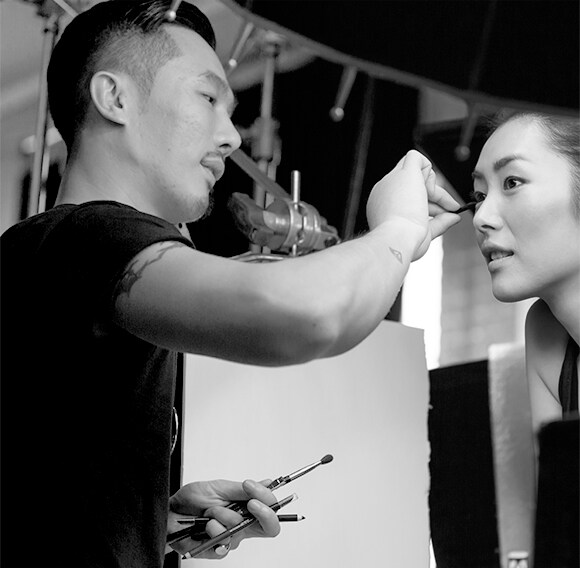 Next in our series is Bobby Wang, an artistry star from Asia who is bringing his unique trends and techniques to the rest of the world.
What made you want to be a makeup artist?
My major in college was actually political science, but I never wanted to be a politician. Before I graduated, I started to learn makeup and hairstyling from an academy near my college. They had a fashion magazine that I loved, and I knew that was what I wanted to be doing. I knew it would be a risk, but that it could be a very cool job.
Was your family supportive of this sudden change?
My mom said to me, "As long as you feel like you really have the passion for this job, you can do very well."
What does makeup mean to you? What is the power of makeup?
I've been a makeup artist for 14 years, and I still feel the same passion for this job as I did when I was just starting out. I like that it's educational. I can share my expertise or point of view with women [all over the world] and I see how much it changes each one. I really get great satisfaction from it.
What has been one of your most memorable experiences doing makeup?
My first time at New York Fashion Week, working with Bobbi Brown herself. I was so nervous, because it was my first time meeting her and working with her. When you do makeup for Fashion Week, you work on your model and then you have to send her to Bobbi to have her check the makeup and approve it. It's very stressful! But I learned so much from Bobbi. It's not just about having the skills; she showed me that it's also about being nice and having a great attitude.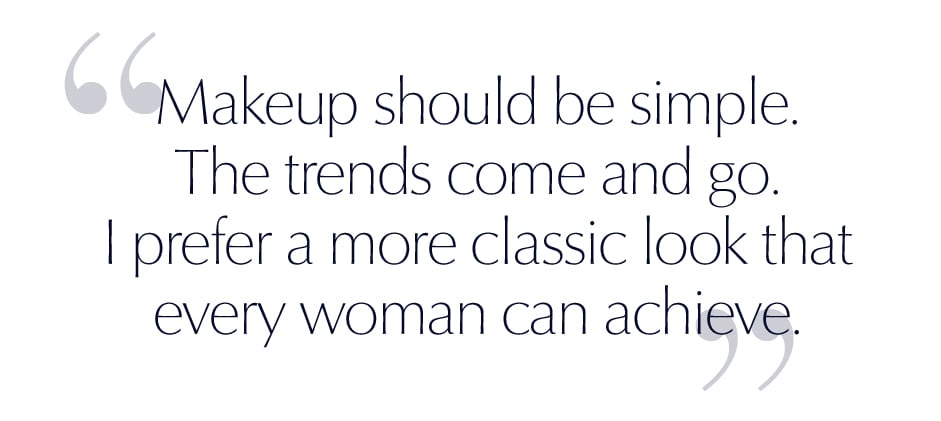 Having worked for Bobbi Brown and now Estée Lauder, you've had the chance to experience a ton of products. What are your top 5 Estée Lauder products and why?
Double Wear Stay-in-Place Flawless Wear Concealer. This is a quick fix to brighten the face. I just apply it where needed and blend it out, sometimes even in place of foundation.
Double Wear Stay-in-Place Makeup. I love the formula. It's great for photo shoots, but also for everyday makeup. It stays in place, and the color stays true throughout the day. I can use it with any skin type.
Pure Color Envy Sculpting Lipstick. I love the statement shades. It gives the lips a great finish, with good coverage and pigment.
Pure Color Envy Blooming Lip Balm. It has a very light, blossom pink color. That little bit of pink on the lips can wake up a dull, tired face.
Advanced Night Repair. I'm a very loyal user of both the face and eye serums. When I'm working, I always apply it before makeup to hydrate the skin, but then I also press a few drops on the tops of the cheekbones and on the T-zone to get a gorgeous glow on the skin after the makeup is done.
You've worked all over the world, and especially throughout Asia. Is it hard to anticipate what a woman is looking for when the trends and cultures are so different in each region?
I love to meet and work with customers in different countries. It's so interesting. Even from Japan to Korea, the makeup is totally different. In Japan they love matte foundation. They like Double Wear and they love a powdery finish. But in Korea, women want their skin shining and glowing.
I was in Indonesia recently, and a woman came to the counter and said, "I want very natural makeup." I said, "Great, I can do that." So I did my usual natural routine, with beautiful skin and softly defined features. And she looked in the mirror and said, "There's no makeup. Can I have more?" I enhanced the look with a smoky eye. She looked at it again and said, "That's not strong enough." It turns out the culture in Indonesia, and in Thailand, is to have a very intense look.
It seems like a ton of beauty trends have been coming from Asia, especially Korea. What are some of the latest you've seen on your travels?
In Korea now they have this term, "MLBB. My Lips But Better." It's about finding your most natural lip color, to give the look of bare but perfect lips. It also helps women get the truest color when they want to wear an intense shade, like a deep red or berry. You apply your MLBB shade first, which neutralizes the lips. Then, when you apply the more colorful shade on top, it's instantly more wearable.
I like to know about new trends in each city or country, but for me personally, I believe makeup should be simple. The trends come and go. Women shouldn't have to catch up with trends. I prefer a more classic look that every woman can achieve.