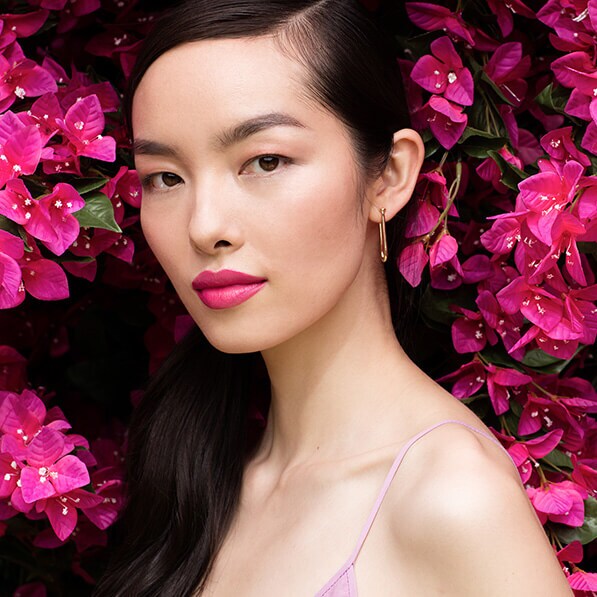 Fei Fei Sun has been a force in the fashion industry for the better part of a decade, though you might not realise it. Her quiet dedication and humble work ethic has kept her on catwalks and magazine covers around the world, but she's not one to shout about it. Now, she's crossing the threshold into beauty as Estée Lauder's newest spokesmodel. On the set of her first campaign with the brand, we caught up with her to learn more about her modeling journey, beauty routine, and favourite city in the world.
How did you get started in your career?
It's a long story! When I was in middle school, I was taller than my other classmates. I often walked hunched—I just wanted to be the same height as my friends. But my mum really worried about it, and her friends told her I should learn how to be a model, because that teaches you how to walk elegantly. You learn some basic ballet and posture. So I went to a modeling school that summer, and I enjoyed it so much that I wanted to keep going. My mum wanted me to focus on my education through high school, though, and I agreed with her. But in my first year of college, there was a modeling competition in Shanghai, and my now fiancé encouraged me to enter. I was the first Asian girl in the Top Three in 25 years of this competition. I went into modeling full time after that.
What does beauty mean to you?
Courage and confidence.
What is your first beauty memory?
I was 9 years old. My mum and my auntie always had red lips. It was so beautiful. So finally I asked my mum, "Can I put some on, too?" And she said, "Yes, why not?" I felt like I was the most beautiful girl in the world at that moment.
When do you feel your most beautiful now?
I feel the most beautiful when I achieve something I've never done before.
Representing Estée Lauder means I have a second family now, and I can work with all of my family members to bring beauty to the world.
Your career requires a ton of travel. What beauty product do you always have with you?
Advanced Night Repair Concentrated Recovery PowerFoil Mask!
Where is your favourite place in the world?
Definitely New York. I love Central Park and the Metropolitan Museum of Art so much.
Where do you get your beauty inspiration?
I get it from New York, and all of the people from different countries and different backgrounds. They all have unique styles and ways they do their makeup.
How many steps are in your routine?
I have 3. Keeping skin clean is very important. So, deep cleansing is the first step. After that, I apply moisturiser and spend a few minutes giving myself a facial massage. The last step is to apply sunscreen to protect my skin from UV damage.
Do you have a favourite Estée Lauder product?
The Double Wear Cushion BB Compact!
What does it mean to you to represent Estée Lauder?
What inspires me most is that it's such a wonderful and successful brand. They bring the best to everyone they touch, and they've been the best at what they do. To be a representative of Estée Lauder means a lot to me—it's like I have a second family now, and I can work with all of my family members to bring beauty to the world.