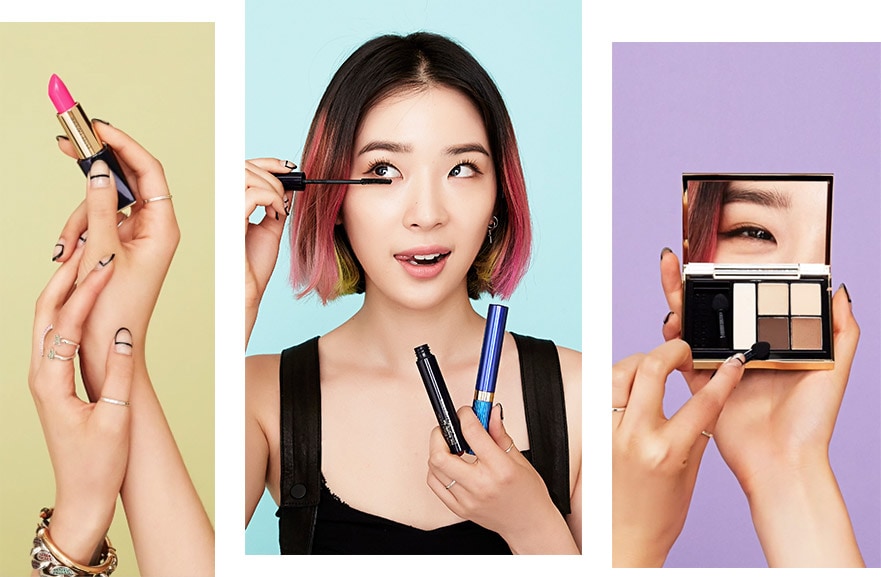 In a sea of street-style stars, Irene Kim stands out—and not just for her rainbow-hued hair. The Seattle-via-Seoul native's sunny personality and joyful approach to everything she does, from beauty tutorials to fun behind-the-scenes fashion show round-ups, helps too. Just ask the 500,000-and-counting fans on Instagram and YouTube who follow her at @IreneIsGood.
And she IS good, which is why the model and TV personality is joining Estée Lauder as our Global Beauty Contributor. "It's still unreal and I'm so excited to be a part of the Estée Lauder family," she exclaims. "I was actually at a party in Los Angeles being introduced to Kendall, and my agent announced it in front of us both as a special surprise. My jaw dropped!"
Not surprisingly, Irene was already intimate with the brand. "My mom introduced me to the famous Advanced Night Repair serum," she reveals, "and I always use it. Modern Muse is my scent—I love it because it's subtle." As for her signature hair, which is currently a lovely shade of lilac, "I first dyed the ends blue two years ago because I got bored of my black hair," she explains. "I remember people telling me that I wasn't going to get any more work because it was just not normal for Asian girls to have coloured hair! But now, it has become a part of my identity. My rainbow hair definitely influences my style and makeup, but it doesn't define me."
Her positively tenacious attitude serves her well, and as an influential member of an ever-growing global beauty community she has an equally empowering message for her fellow beauty enthusiasts. "The idea of beauty now is how you define it—social media has truly made beauty about individuality and discovering what works best for you," she encourages. And if you ever have to face a wall of photographers outside a show or take a selfie with someone you admire take Irene's advice and play it playful: "I love to have fun with the photographers outside the shows because I'm always honored and happy that they want to shoot me," she acknowledges. "I think the more fun you have the better the photos turn out to be!" That's great advice for life, too.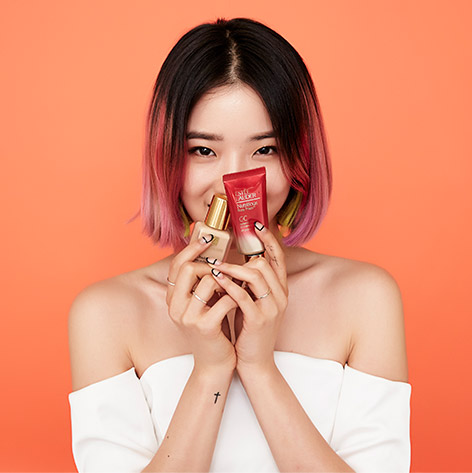 Beauty is confidence and how you carry yourself.
EL: What's your definition of beauty. When did you first become interested in it?
IK: Beauty is confidence and how you carry yourself. It's really about finding something you love and making it your own. The first time I became aware of it was when I decided to cut my own bangs with a pair of scissors when I was four! Back then I also used to play in my grandmother's lipstick drawer. She had the best colours.
EL: Who was your first beauty crush?
IK: The Spice Girls!
EL: Who are your beauty icons now?
IK: I love Charlotte Gainsbourg. She has this ease about her and it doesn't seem like she tries too hard. Makeup-wise, Kate Moss will always be my favourite. From her iconic cat eye to a sexy red lip, she just pulls everything off with class.
EL: Could you talk us through your day-to-day routine? We know that good skin is important to you.
IK: Skin is incredibly important to me because I've always had sensitive skin, so I'm always on the hunt for any soothing remedy. I like to keep my steps simple though, because I feel like too much won't let my skin breathe. I keep it to five steps: cleansing, toning, essence, moisturising and sun-blocking. In the morning, I simply wash my face with water instead of cleansing.
EL: What about makeup?
IK: I love playing around with makeup but my everyday look tends to be more natural, with healthy-looking skin, mascara and a lip tint. For special occasions, I like a cat eye or a pop lip colour.
EL: You travel all the time for Fashion Weeks around the world; what are your must-haves on the plane?
IK: A facial mist, my eye cream and moisturiser and an eye mask!
EL: Everyone is going crazy over Korean beauty products at the moment. Any personal favourites?
IK: I love all the lip tints, BB creams and sheet masks. There are actually so many products that I'm trying a new one every week!
EL: K-Pop! We have to know, who are your favourites?
IK: My current favoUrite is Sistar—they are one of the hottest girl groups in Korea right now! Their style, makeup, dance moves and music always hit the top of the charts. And of course there are my friends in the business, Amber from f(X) as well as members from Miss A and SNSD (Girls' Generation). Korean hip-hop and R&B are also very hot right now and there are so many talented musicians.
EL: And finally, if you could take a selfie with anyone you haven't met yet who would it be with and why?
IK: Karl Lagerfeld! He's just beyond.