Take a glance at fashion designer Jenni Kayne's lifestyle blog, Rip & Tan, on any given day, and you might find a slew of ideas for healthy living—anything from vegetarian and vegan recipes to rustic-chic entertaining tips, advice on sustainable living, or even how to prepare dried herb bundles.
But Kayne wasn't always so into holistic living. "When I was pregnant with my first son, Tanner (half the namesake of Rip & Tan, along with Kayne's daughter Ripley), I just started really paying attention to everything I was putting in and on my body," she says. Since then, Kayne has become devout about health (though when pressed for her favorite food indulgence, she does concede, "I probably can't say no to French fries, and I definitely enjoy a margarita…"), so we decided she'd be the perfect person to create a nourishing recipe inspired by our newest anti-ageing skincare collection, Revitalizing Supreme +.
Kayne was inspired by the collection's key ingredient, Moringa extract—an extraordinary plant packed with nutrients, essential ions, amino acids and omega 3 fatty acids. "I feel like it's the next super food," she says. And our research partner, Dr. Ilya Raskin of Rutgers University, can back that up: "If we had nothing else to eat, you would find all of the nutrients you need to survive in a single Moringa plant," he explains. Revitalizing Supreme + specifically features Moringa Oleifera extract, which has more calcium than milk, more vitamin A than carrots and more vitamin C than oranges. What's more, Moringa Oleifera extract helps to "turn on" multiple anti-ageing benefits for skin, reducing irritation and boosting natural collagen. This is next-level beauty from the inside out.
Understanding its superpowers, Kayne suggested a smoothie bowl as the perfect way to highlight Moringa. "I love smoothie bowls and think they're a great option for breakfast," she explains. "There's something more satisfying about eating it with a spoon out of a bowl, so we make it a little bit thicker."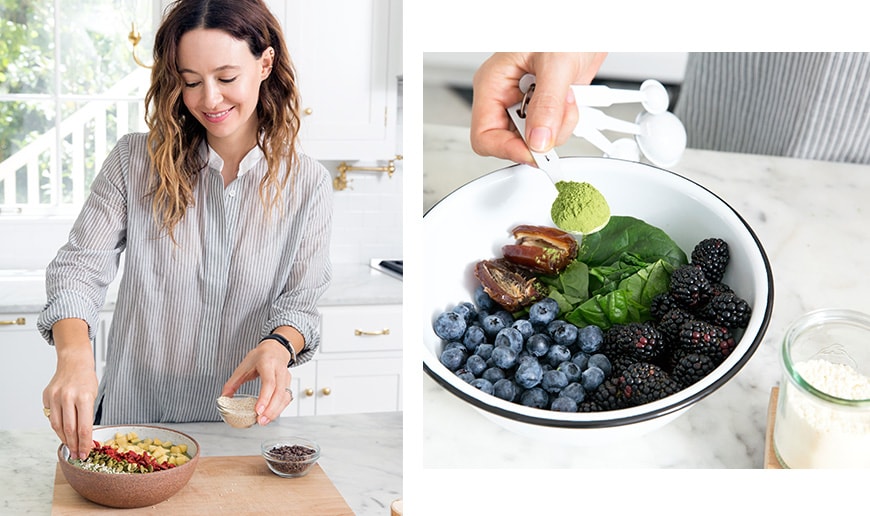 A Supreme Smoothie
Kayne's smoothie, like most traditional ones, starts out in a blender. But instead of pulverizing it into a liquid, she mixes it just enough to soften the ingredients. Much like her fashion designs, the resulting dish has a simple, classic beauty. "I really love all the details in life and think everything should be functional, but also beautiful and special," Kayne says. "I feel like that's represented in the recipe. All the ingredients are classics: avocado, berries—things that you always have in your kitchen. Then adding Moringa powder is newer and a little bit earthy, but it doesn't stand out in the smoothie. I really liked that it didn't overwhelm the taste but you know you're getting the benefits." Like Kayne, you can add your own design flourish with toppings, choosing from a variety of shapes and colours to make it your own. Kayne describes the end result as "sweetish—not super sweet—and a little bit tangy." In other words, you can find the version that suits you—and your skin—perfectly.
The Ingredients:
1-1 ½ avocados
2 teaspoons Moringa powder (find it in the supplement section of a high-end grocer or drugstore)
1 handful of spinach
1 ½ cups coconut water (or regular water)
1-2 dates
1 small handful of the berries (choose your favorite)
1-2 teaspoons of plant-based protein powder (optional)
Blend all ingredients together until softened, but not liquefied.
To top it:
Cacao nibs
Passion fruit
Sesame seeds
Or just be creative!