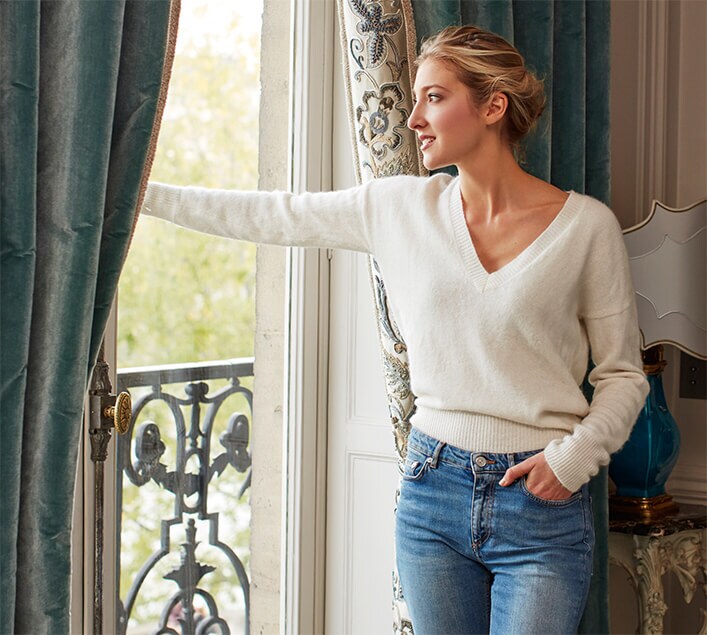 When it comes to handbags, we have a tendency to choose function over form. We seek out a style we're happy carrying for months at a time, then let it slowly transform into a repository of useless objects—old receipts, more than one pair of sunglasses, a collection of forgotten lipsticks. But for handbag designer Chloe Perrin, the process is much more considered. With a personal collection of about 20 bags, Perrin switches up what she carries daily, making sure to maximise each one. It's an admirable approach in terms of style, though less functional in practice, Perrin admits. "It's a huge problem, actually," she says. "I've forgotten my keys, I've put my phone in the wrong bag, you name it." No one said enviable style comes easy.
And Perrin's style, from accessories to clothing to beauty, certainly is enviable. As the Creative Director of Perrin Paris, her family's line of handbags and leather goods, she is the visionary behind the brand's signature architectural and sculptural bag shapes (see: the endlessly chic champagne bucket-inspired Le Seau, shown here). "I like the idea of a bag being very practical and serving a purpose, but also being a beautiful object within itself," Perrin explains. "When I go to a restaurant, I can't put my bag on the floor, so I often put it on the table. Therefore, it gets people's attention, and it becomes a conversation piece. They're like little art pieces."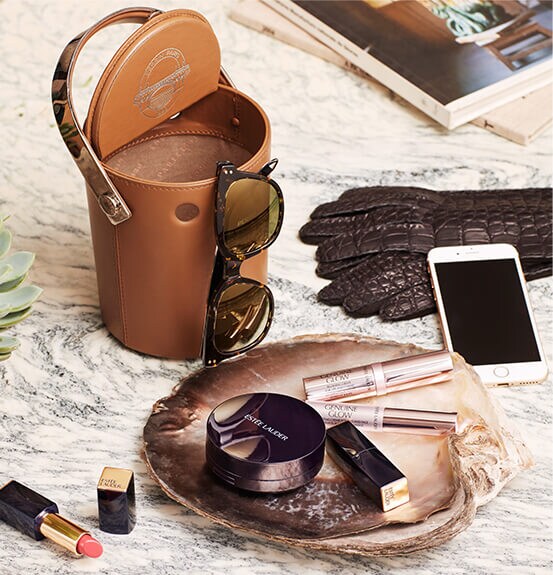 I like the idea of a bag being very practical and serving a purpose, but also being a beautiful object within itself.
No surprise, then, that some of Perrin's biggest inspiration comes from Parisian art and architecture. "I often go to the decorative arts museum, Les Arts Décoratifs, because you can see all kinds of incredible objects," she explains. "I'd say the '20s Art Deco period is my favourite. It inspires me to incorporate unusual materials in my handbags—I use a lot of wood, lacquer. I always imagine a context for my creations, just like if I designed furniture. I imagine what kind of a setting I'd want it to be in."
Which leads us to what Perrin actually carries in her works of art. "I always have a pair of gloves—I'm very old school that way—a lipstick, and Tic Tacs," she says. "I hate junk in my bag. I'm minimal. I don't like carrying useless stuff. That's why a lot of my bags are quite small."
When it comes to her beauty routine, Perrin is similarly streamlined. "I wash my face night and day, then use a toner, a serum and a moisturiser. I don't really have a day or a night cream, just a great, solid moisturiser." The makeup is also effortless: a dash of tinted moisturiser, a stroke of brown eyeliner, and a lipstick just slightly darker than her natural colour. (Here she wears Pure Color Envy Lipstick in Desirable.) And we're inspired to follow suit—an approach this simple leaves more time to switch up our bags.