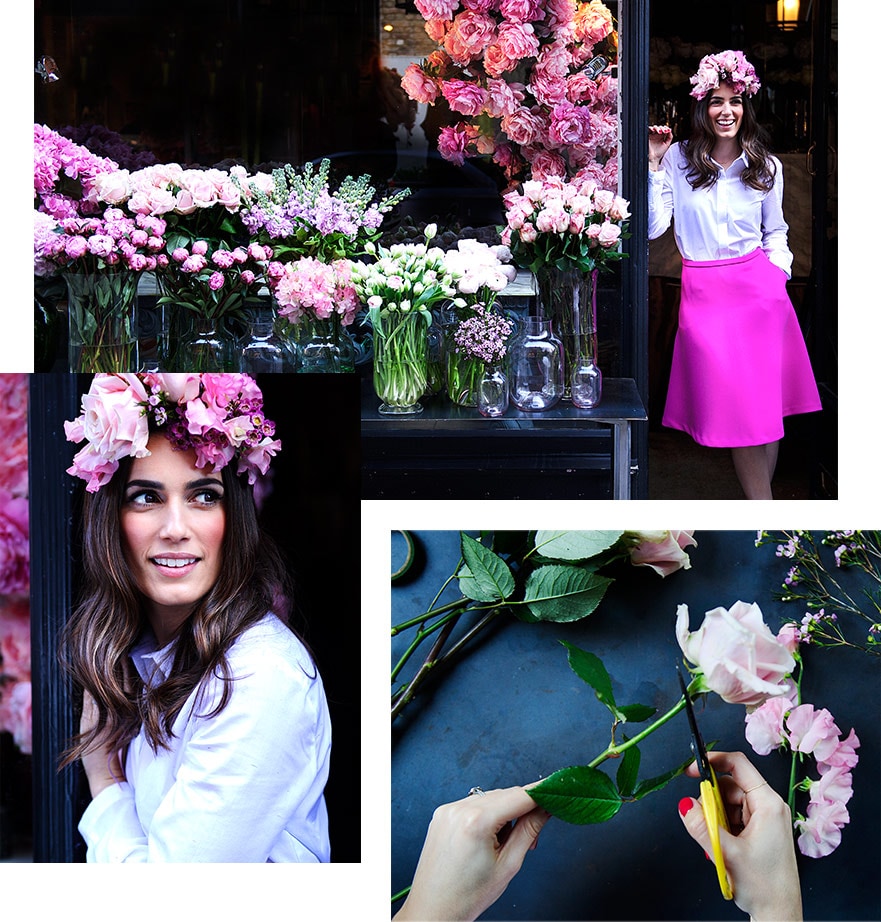 As pop culture's recent embrace of bohemian fashion trickles down to the mainstream, flower crowns have gone from casual craft projects to must-have accessories— for music festivals, weddings, and dinner parties. But By Appointment Only Design's Javier Salvador has made the ancient practice of weaving fresh blooms into a headdress more of an art form than a fleeting trend. "It's something quite fun and quite romantic," the London-based floral maestro confirms from his popular Marylebone styling and concierge headquarters, which has become a destination for discerning brides, businesswomen, and entertainers in the know. Along with his talented team, Salvador's knack for texture and colour is so impressive, he could teach a masterclass on hand bouquets and floral installations—which he does with three different course options for aspiring florists and fresh stem enthusiasts. Estée Stories invited Beauty Editor and Editorial Director at Birchbox UK, Jessica Diner, to sit in as Salvador leads a lesson in flower crown design starring the rose—Estée's favourite flower and the base of our best-selling Youth Dew, Beautiful, and Knowing fragrances. Follow along below.
1
Measure your head from ear to ear to determine how long your crown should be.
2
Prepare a roll of gutter tape and two wires cut to your head measurement. Make a loop at either end of the wires and wrap completely with gutter tape.
3
Select your flowers, avoiding species like hydrangeas, which wilt quicker,
and selecting sturdier blooms—like roses or wax flower—instead. Five rose
heads, like spray roses with some little wax flowers in between should
suffice, although flower quantity is really a matter of personal taste.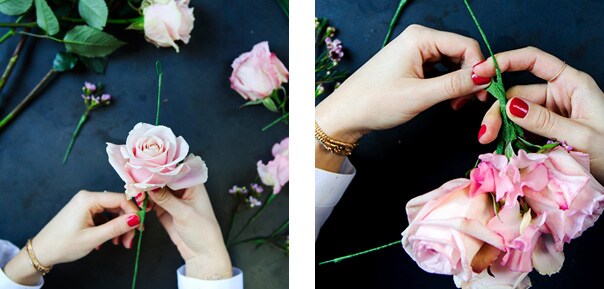 4
Cut each rose almost to the bud and stick a small piece of wire through
what remains of the stem to create a tiny rod. Then, stem by stem, bind each
flower to the crown and secure with gutter tape. (Note: As flowers tend to bruise
easily, the more you touch the petals the more prone they are to going brown.
Try to touch only the underside while building your crown).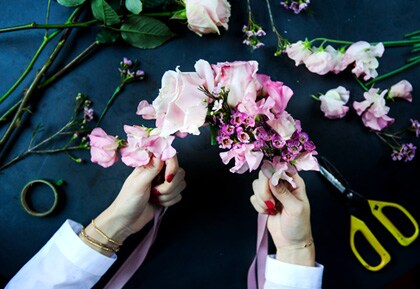 5
Finish by tying a piece of ribbon to each loop and fastening with a bow above the nape of the neck to secure some ribbon with a lovely loop to tie onto the head.