Give set designer, illustrator and prop maker Rosy Nicholas an untouched surface and, chances are, she is going to customise it. Crafty from birth (both her parents are artists), it's in her blood: "I'm a magpie. I will see something and think 'what can I make out of that?'" You might recognise some of her work from the Louis Vuitton "Spirit of Travel" ad campaign, or heard of her installations with Nike Air Max or at the Ace Hotel in London's hip hood, Shoreditch, and you may have seen her quirky props jumping out from the pages of i-D, Dazed and Confused or Italian Vogue. Her job entails making something out of nothing—and it's an extension of who she is.
I don't feel like myself if my brows aren't 'on'
"Basically, my nails and my face are another surface to colour in and it ties in with what I do as my job. Every morning, my face is another thing I get to paint and dress up and there is nothing better than the ritual of a fresh coat of varnish, whether it's on my nails or on something at the studio." Rosy's signature beauty style? "I like strong brows—I don't feel like myself if my brows aren't 'on'—strong lips, and I like my cheeks to be pink. Almost a bit too pink!" she laughs.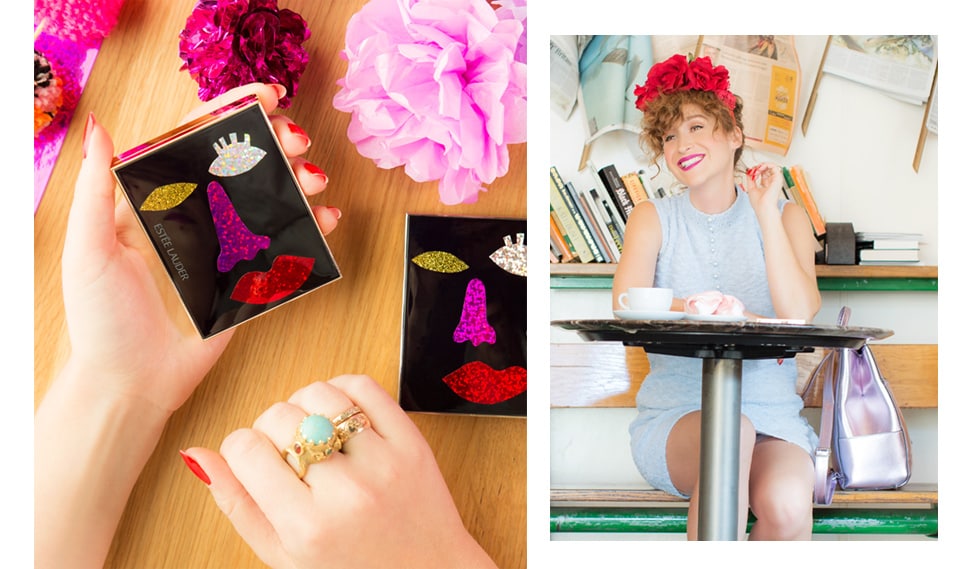 Her forthcoming project is something a little more personal: her own craft book, set to launch next summer, with 25 DIY projects to prettify yourself. "I like the idea of girls around the world referencing a craft book, like I used to when I was younger, and making things—then wearing them out after." Starting with every woman's makeup bag staple, the compact, it was an easy surface for Rosy to get onto straight away. "Bespoking your compact is so easy—anybody can do it! Buy some vinyl foil sticker paper from a craft or art shop and then cut the paper into shapes. I love the idea of cutting abstract Matisse-style face shapes, peeling the sticker away from the paper and arranging them on the compact case in an abstract Picasso way. It's such a good gift idea."
Being an artisan though, it's hard for her to give gifts. "Friends and family want something custom made. I especially can't buy birthday cards or wrapping paper—they get insulted! So, I always have coloured paper and kit in my desk so I can make or wrap gifts for people quickly."
People appreciate the personal touch.
It's A Wrap
Get in on the customisation by wrapping The Rosy Way. Here, she tells Estee Stories exactly how:
1. Use a ream of wool to wrap up your gift instead of ribbon. It's cheap and colourful—but it's also so cool. Then, stick a pom-pom in the middle of the box as your embellishment.
2. Buy lining paper (it's cheap and cheerful!) and with a paintbrush or ink, trace a repeat pattern or write their name in your own handwriting. People appreciate the personal touch.
3. Wrap with brown parcel paper and then customise the paper with vinyl foil stickers that you cut out into shapes and stick all over. I like lip designs or polka dots.