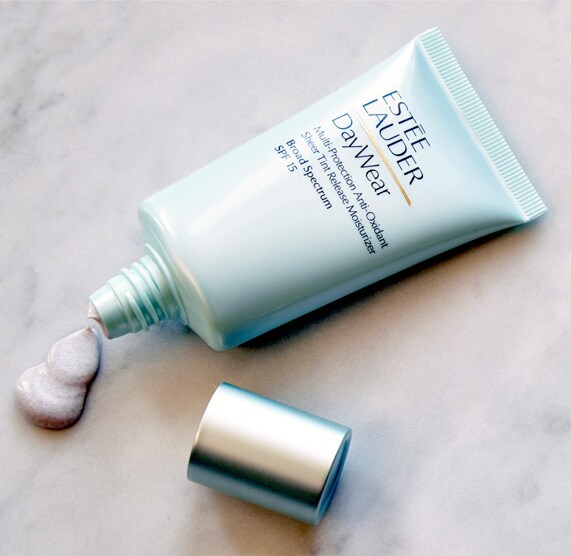 DayWear Multi-Protection Anti-Oxidant
Sheer Tint Release Moisturizer SPF 15
Long before CC creams came onto the scene, DayWear Sheer Tint Release Moisturizer filled the void. This complexion-evening, glow-inducing, skincare/makeup hybrid is packed with a blend of anti-oxidants including nourishing vitamin E, brightening vitamin C and the super anti-oxidant Eukarion, which has the ability to keep fighting free radicals, attack after attack, when most of its brethren grow too tired and give up. To boot, it also contains hyaluronic acid, a potent, plumping ingredient that helps prevent moisture loss, plus a mix of lipids that help repair skin's protective barrier and ward off irritating environmental yuck.
But what really got us hooked is the immediate benefit. Think insta-dewiness and glowiness, without looking like we're wearing makeup at all. And prepare to be surprised when you squirt it out of the tube: it's an off-white shade that appears to be speckled with tiny dots. The magic happens when you smooth it on your skin, and the formula's encapsulated pigments pop and blend to even out your skintone—somehow adjusting to any complexion (there's just one sheer shade)—and add that subtle, youthful sheen. You almost have to see it to believe it, but once you do, you'll become a convert.